With Cloth Face Coverings Now Mandatory on Campus, Experts Offer Engineering Tips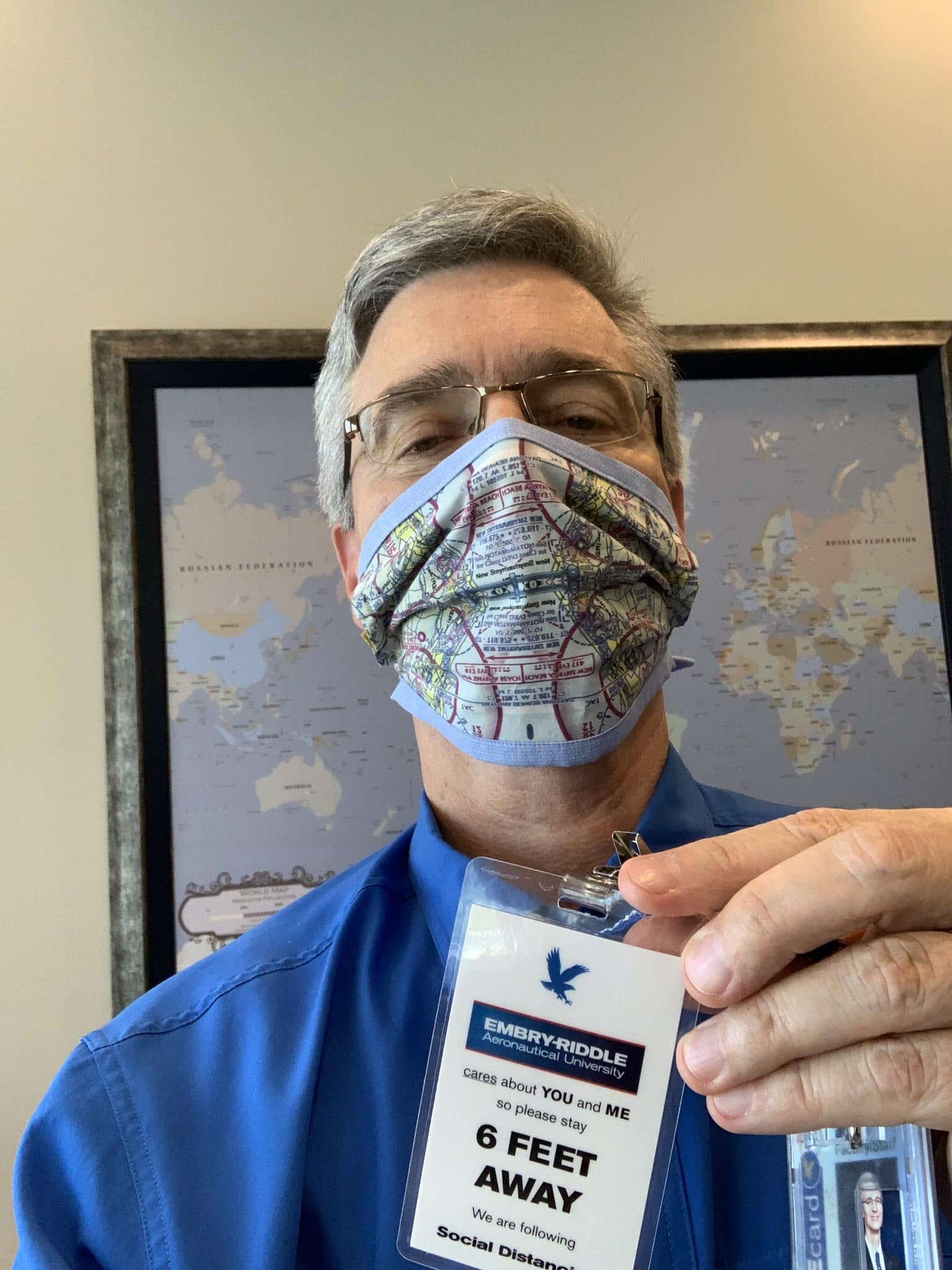 It's true that big fashion houses like Prada and Yves Saint Laurent are cranking out face masks by the hundreds of thousands. But you don't have to be a clothing designer, or even know how to sew, to make yourself a perfectly workable face covering using materials you have at home.
Along with social distancing, cloth face coverings are now mandatory on Embry-Riddle's campuses. Face coverings must be worn at all times by all students, faculty, staff and visitors whenever they are on campus.
Cloth (non-surgical) face coverings can be purchased, but they're easy to make, too. The U.S. Centers for Disease Control and Prevention (CDC) website offers three options for producing a home-made mask. Two are no-sew methods, and one of them is demonstrated in an easy-to-follow video on the website in which U.S. Surgeon General Dr. Jerome Adams makes the face covering himself.
A third CDC option requires some basic sewing. All of the instructions are straightforward. On the sewn mask, Embry-Riddle recommends hooking a small safety pin through the end of each elastic piece (and then closing the pin) to help push the elastic through the mask's side hem.
Engineering Solutions
As a follow-up to Embry-Riddle's production of emergency face masks and shields for health workers, several efforts to make cloth face coverings are also under way.
Multiple faculty and staff members donated fabric and volunteered their time to make 240 face coverings for the Daytona Beach Campus, using the sewing instructions on the CDC website, according to Director of Health Services Pamela Petrone. The masks are being distributed through Health Services.
Petrone added that wearing face coverings and practicing social distancing on campus are both critical (and now required) to help prevent the spread of illness.
"For now, until there is a vaccine, these are the precautions we must take for all of us to be responsible in doing our part to control the spread of disease," Petrone said.
Sandra Palmer, director of Embry-Riddle's Prescott Campus Wellness Center, said several volunteers from campus are cutting patterns and sewing masks at home. Wellness Center staff are doing the same in the office. So far, they have made about 50 face coverings, with some intended for flight students. A private donation helped purchase the mask materials, including 1,000 pieces of elastic, which Marti Biel, who coordinates the front office of the Wellness Center, was able to purchase from someone in the parking lot of a fabric store.
Biel, who researched and tried several mask designs, said she preferred one she found on YouTube. "I made several different ones to see what worked for my skill level, time frame and comfort," Biel said. Although the design can accommodate a filter, she said the filter makes the mask very hot and uncomfortable, so she prefers using the recommended layers of tightly woven cotton with the filter.
Dr. Audrey Butler, spouse of Embry-Riddle President P. Barry Butler, used her background in engineering — and sewing — to make 350 masks. Consulting with her sewing/quilting community, she said, "The consensus seemed to be [that] cloth masks with cloth ties was a good design for comfort, coverage, and ease of construction," but she wanted a design, "that lent itself to kind of an assembly-line technique — the engineer in me is never far away."
Butler settled on a modification of instructions by Jenny Doan at Missouri Star Quilt Company. Doan is known for simplifying things and making clear, concise tutorials, Butler noted.
For do-it-yourself (DIY) mask makers, Butler recommends tightly woven cotton fabric, often referred to as quilt-quality or quilting cotton. The denser the fabric, the better, so fabric with a high thread count is preferable. If the design you choose calls for elastic but you are unable to find elastic ribbon — which Petrone said can be as difficult to locate as toilet paper — try cutting up t-shirts or leggings into 1-inch by 18-inch strips to make ties, rather than elastic loops, to secure the mask.
If you are on the Daytona Beach Campus and unable to make your own mask, contact Petrone at petronep@erau.edu or (386) 226-7583. Prescott Campus faculty, students and staff can contact Palmer at palmers@erau.edu or (928) 777-6653.
Remember, before donning your face covering, wash your hands with soap and water, or a hand sanitizer that has at least a 60% alcohol content. Position the mask so that it covers your mouth and nose. When removing your mask, wash your hands again and grab only the elastic loops or ties to pull it off. Wash your hands. Wash the mask in sudsing soap and water before reusing.