Wings for Success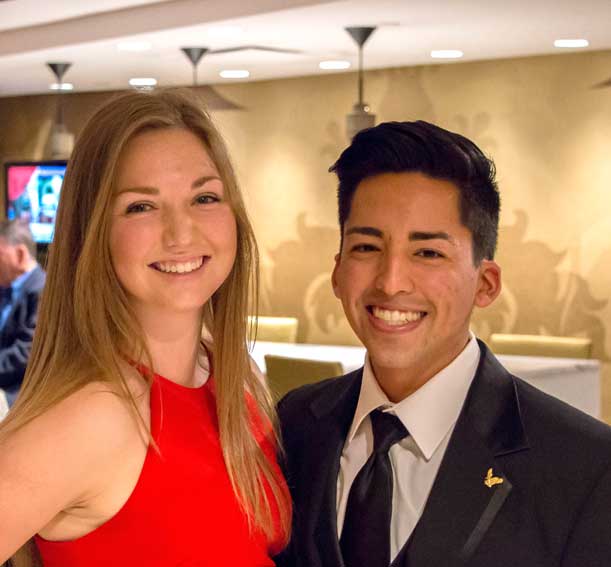 Historic aviation club supports Embry-Riddle students with scholarships.
Lindsey Hanbidge loves airports so much that she prefers taking flights with a lot of connections instead of direct flights.
"I love to see different airports," said Hanbidge, who graduates May 8 with a B.S. in Aviation Business Administration from Embry-Riddle's Daytona Beach Campus. "To me, airports are so exciting because they connect people from all around the world."
By providing scholarship grants to talented Embry Riddle students, The Wings Club is helping to support the next generation of aviation leaders."
Hanbidge received a major financial boost her senior year. A $30,000 Wings Club Scholarship helped pay for her undergraduate tuition and reduced her student loan debt.
"Receiving The Wings Club Scholarship was one of the biggest blessings of my life," Hanbidge said. "I will be forever grateful to The Wings Club for its generosity."
Hanbidge was one of two Embry-Riddle students who received a scholarship from The Wings Club Foundation this past year. The scholarships help offset tuition and school expenses for students who are pursuing careers in the aviation or aerospace industry.
Wings Club Distinguished Scholar
Lorenzo Cabral, a junior at the Prescott Campus studying aeronautical science, also benefited from The Wings Club's generosity. He received the $10,000 Wings Club Foundation Distinguished Scholar Award.
Cabral, who fell in love with flying at age 11, said the scholarship has helped him with his expenses and motivated him in his studies.
"Receiving the scholarship meant that all of my hard work has been noticed," he said. "It solidified for me that what I do in college does make a difference."
New York City
Hanbidge and Cabral traveled to New York City in October 2016 to formally accept their awards at The Wings Club Foundation Annual Gala. The black-tie event was held at the Waldorf-Astoria Hotel.
"The Wings Club Foundation recognizes the critical role that education plays in the competitive field of aviation," said Thomas Fitzsimmons, who is executive director of The Wings Club Foundation. "By providing scholarship grants to talented Embry-Riddle students, The Wings Club is helping to support the next generation of aviation leaders."
A Track Record of Success
Both Cabral and Hanbidge have a track record of academic success and are involved in numerous campus and community organizations.
Cabral is an officer on the Golden Eagles Flight Team and a Prescott Campus Ambassador. He is also involved with the Archery Club and the local chapter of Big Brothers Big Sisters of America.
"He has an extensive history of committing his time to bettering his community, just as he uses his talents to promote and support the field of aviation," said Brent Bowen, dean of the College of Aviation at the Prescott Campus.
Service Excellence
Hanbidge coordinates the Daytona Beach Campus Women's Ambassador Program, is a resident adviser for a freshman hall, and a peer mentor. She served as treasurer for the university's Women in Aviation chapter and Sigma Sigma Sigma and is a student blogger for Embry-Riddle's Admissions department.
She also completed two summer internships: one in aviation operations at Seattle-Tacoma International Airport and the other as a schedule planner at Alaska Airlines' corporate headquarters.
"She stands out due to her exemplary classroom performance, excellent service in a variety of extracurricular organizations, and her passions for both aviation as well as helping others," said Mike Williams, dean of Embry-Riddle's College of Business.
Future Aviation Leaders
Both students want to work at a major airline after graduation. Cabral plans to become a pilot. After graduating, Hanbidge will start working June 12 as a revenue management analyst for American Airlines in Dallas, Texas.
"Although it is a very competitive industry, scholarships like this show that everyone looks out for each other and wants to see each other succeed and advance the industry," said Hanbidge.
Support Embry-Riddle with your gift today.