'Don't Let Your Pain Define You': Veteran Student Determined to Earn Degree, Despite Health Challenges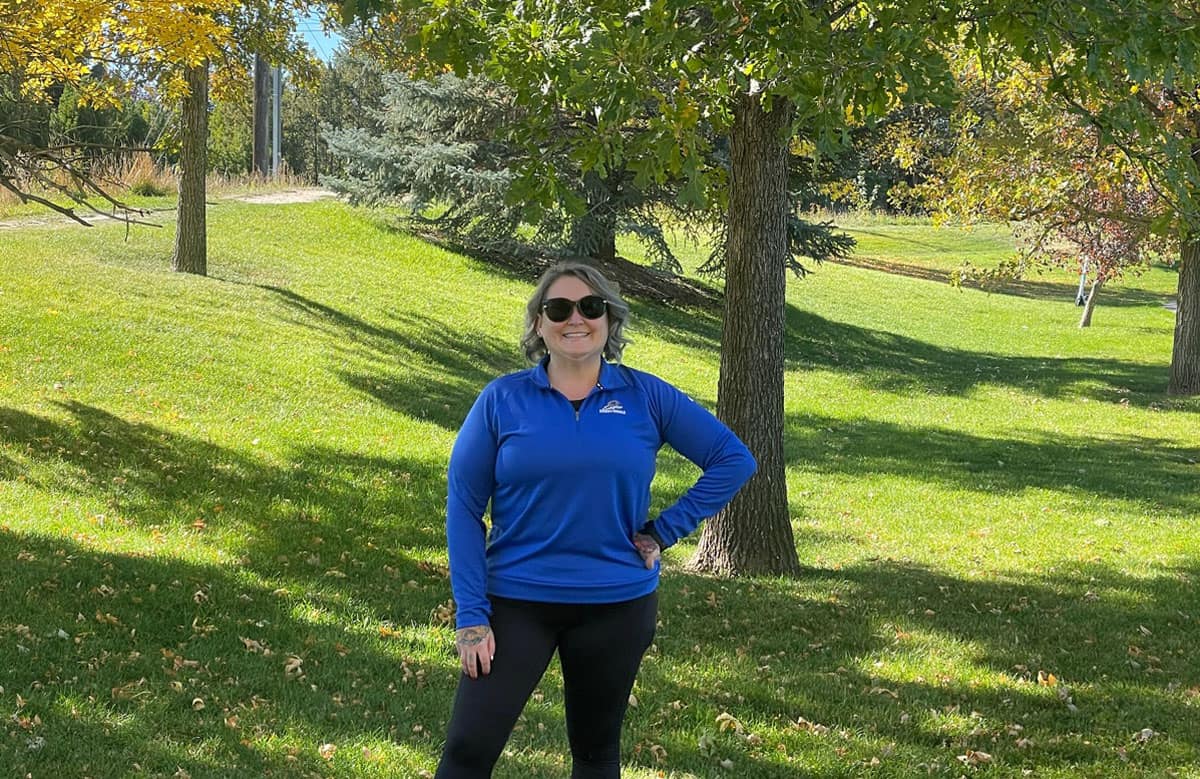 Debilitating nerve and joint pain from a severe back injury have been part of life for Embry-Riddle Aeronautical University junior Keri Weaver for years now, but she has never lost sight of her goal to complete her degree.
"I tell people to just never give up," said Weaver, a student in Embry-Riddle's Worldwide Campus. "If it's something you want to do, don't let your pain define you."
A U.S. Air Force veteran who served in Iraq, she started her Bachelor of Science in Technical Management with an emphasis in Information Security in 2017.
"I've always been drawn to aviation, and my dad worked on aircraft," said Weaver, who lives in Idaho Falls, Idaho, with her family. "I was an airfield manager in the military, which is why I felt so connected to Embry-Riddle."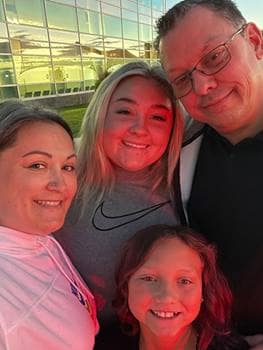 Keri Weaver with husband, Charles; daughter, Layna; and niece, Airalynn, at Idaho Falls airport. (Photo: Keri Weaver)
Weaver was just 19 years old in 2003 when she slipped on ice while serving in Germany, severely injuring her back in the process. She has had more than 40 injections and radio frequency ablations for pain and had a spinal cord stimulator implanted in 2020. She has also undergone several hand and foot surgeries.
"There are some days I wake up that I can't feel my legs," Weaver said. "I don't rely on any kinds of pain medication. It's been a total lifestyle change to function."
Despite her health challenges, she has remained determined to continue her studies. Her husband, who retired from the U.S. Air Force, is an overseas contractor, so she is also the main caretaker of her teenage daughter and 8-year-old niece.
Weaver credited her academic advisors for helping her succeed. For example, after she had hand surgery, Weaver's advisor helped her find a course that required minimal typing. The advisor also helped her acquire dictation software from the campus's Disability Support Services office.
"I came to my advisor with what I thought was [an] impossible [situation], and in less than two days, she made it happen," Weaver said. "I have a really good team of people, and I have the will to want to finish my degree."
Chloe Barbour, site director for Embry-Riddle Worldwide's China Lake learning center, said Weaver succeeds by staying organized and strategically selecting her classes.
"Keri has shown continued commitment to her education and has learned how to effectively balance work, school and home, all while undergoing dozens of procedures in the past few years," said Barbour. "She's truly just a driven, optimistic person who has a beautiful perspective on education."
Weaver said she wants to finish her degree program, in part, to honor her grandparents, who always encouraged her to continue her education.
"I lived with my grandparents off and on, and I was super close with them. They were my rock, and they had a huge contribution to defining who I am today," Weaver said. "Besides my grandparents and their memory, I want to show my daughter that no matter how old you are and what challenges are put in front of you, you can finish."
Weaver said that, ultimately, she hopes to complete her bachelor's degree in the next year and then eventually earn a master's degree in Aviation Cybersecurity.
"I would like to work with Homeland Security," she said. "The military is where I found I had a passion for computers. It's just another way of serving my country."
Posted In: Business