U.S. Navy Taps Embry-Riddle to Help Promote `What Right Looks Like'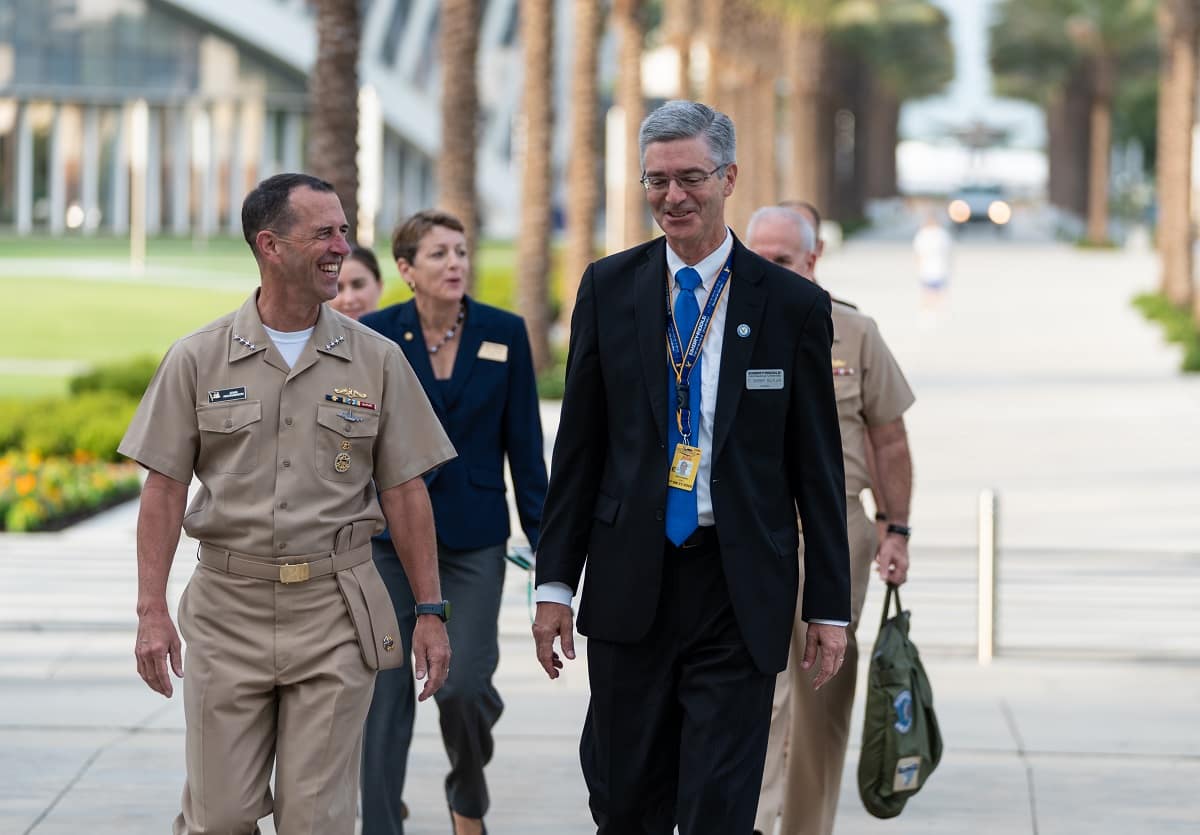 On his last official trip as the highest-ranking officer in the U.S. Navy, now-retired Adm. John Richardson flew to Embry-Riddle's Daytona Beach Campus, met with University President P. Barry Butler and spoke at a training summit focused on preventing sexual assault, substance abuse and suicide.
The purpose of Richardson's visit was to support training "focused on laying a foundation to enhance our inclusive and diverse Navy team by promoting positive behavior and healthy norms, and by role-modeling what right looks like across our Navy," explained Navy Behavior Development and Performance Branch Head Capt. T.J. Dixon.
To bring the training to Embry-Riddle, Dr. Karen Gaines, dean of Embry-Riddle's College of Arts and Sciences, teamed up with professor and Human Factors Chair Scott Shappell, who served as an Aerospace Experimental Psychologist in the U.S. Navy for two decades. Moving forward, Human Factors faculty members Alex Chaparro and Elizabeth Lazzara will supervise Embry-Riddle's continuing work with the Navy, Gaines announced. Drs. Chaparro and Lazzara will work to help the Navy get new training and related software up and running.
Destructive behaviors such as suicide, sexual assault and domestic abuse have plagued society, and the U.S. Department of Defense (DoD) has not been immune to these problems, Shappell noted. The DoD has devoted significant resources to combat destructive behaviors, and yet the problem has persisted. Techniques from the field of human factors can help the Navy more effectively predict and reduce destructive behaviors, Shappell said, by focusing on leadership and organizational oversight issues as well as the specific individuals with problems.
"Consider, for example, if you have a son or daughter who is arrested for underage drinking – you might pull your child aside and give them a stern lecture and probably punish them," Shappell explained. "However, simply focusing on what the child did wrong and resorting to punishment may not be the only answer. Perhaps the parents should also be asking, `Is it because of the friends my child is hanging out with? Perhaps I should consider a new neighborhood? Or maybe a new school? Or perhaps I'm not providing proper oversight … or I need to spend more time with my child.' In the end, simply focusing on the individual has not worked. Efforts need to focus on supervisory and organizational factors, as well."
Embry-Riddle's top-rated Human Factors program is well-recognized nationally and "leading the way with regard to addressing supervisory and organizational factors that influence destructive behaviors," Shappell noted.
In addition to Adm. Richardson, participants in the five-day train-the-trainer event at Embry-Riddle included Navy sexual assault prevention and response officers, inclusion and diversity officers, alcohol and drug control officers, chaplains, command climate specialists, and other professionals working to prevent destructive behaviors, Gaines noted. Embry-Riddle faculty helped deploy the Navy's curriculum from a human factors perspective, she added. "The Navy is taking a forward-thinking approach to encouraging healthy behaviors and a positive climate for all sailors," Gaines said. "The recent training summit was the springboard to a cultural change regarding destructive behaviors. We're honored to help support the Navy in achieving that goal."
Dr. Monique Clinton-Sherrod, the Navy's expert for primary prevention, noted that the Navy developed foundational training through a collaboration with the Office of the Secretary of Defense, other federal organizations, academia and industry. The goal, she said, is to "ensure that our Navy team is building prevention capacity to implement comprehensive, research-informed strategies that drive healthy sailor choices, increase signature behaviors and promote positive cultural normal overall."
During his visit to Embry-Riddle, Adm. Richardson said, "This is a human business. Don't pass up an opportunity to come together as a team. Don't pass up leadership opportunities, and don't outsource them to PowerPoint. If you have an opportunity to come together as a team, to increase belonging, do it."
Posted In: Human Factors | Institutional News