Unmanned Aircraft Systems Team Assists with Tracking Shoreline Erosion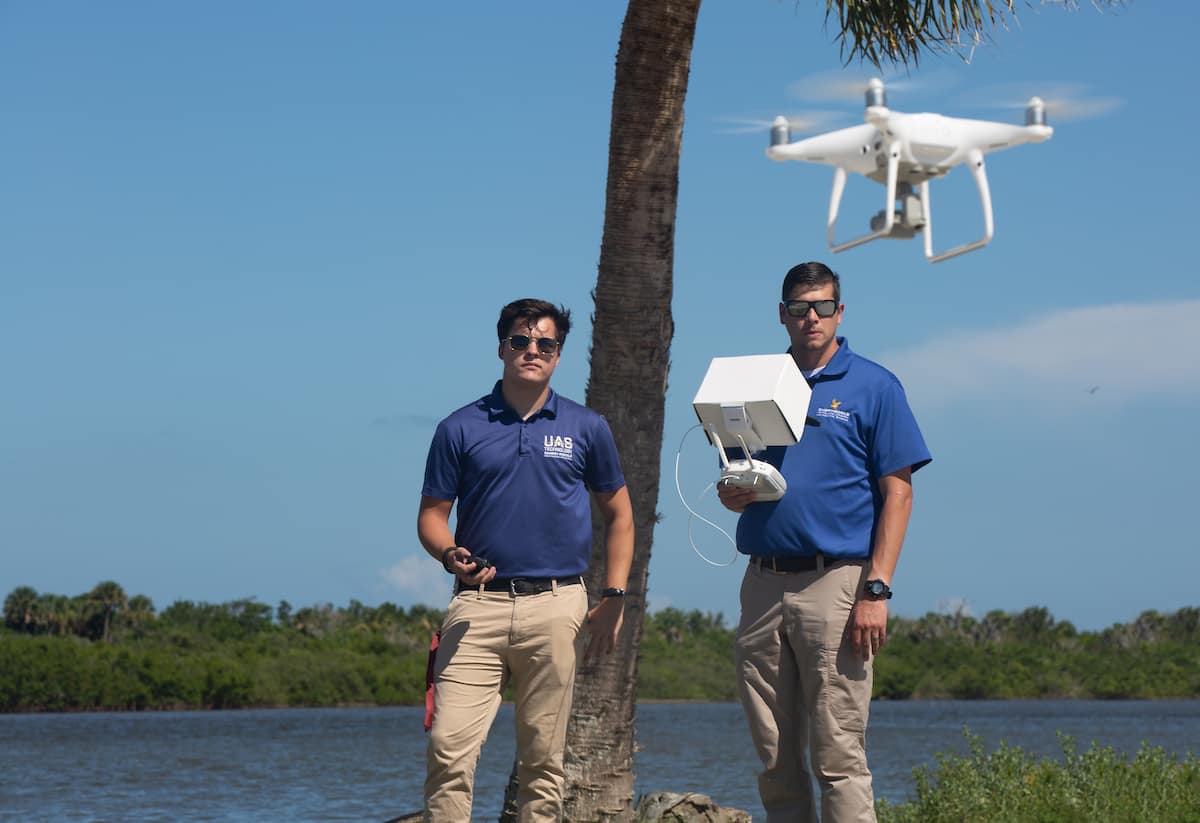 Along the shorelines of Menard-May Park in Edgewater, Florida this week, Embry-Riddle Aeronautical University unmanned aerial vehicles (UAV), or drones, flew high above the water capturing high-resolution images and video of this area of Mosquito Lagoon, which is part of the Indian River Lagoon system.
The aerial reconnaissance survey, organized and flown by faculty, staff and students from Embry-Riddle's Unmanned Aircraft Systems Science program, supports the Riverside Conservancy, a non-profit group dedicated to restoring and preserving living shorelines in southeast Volusia County.
"With a UAV, we can obtain an aerial perspective and create detailed imagery to determine where problems or inefficiencies may exist," said John M. Robbins, Ph.D., associate professor and Unmanned Aircraft Systems (UAS) program coordinator at Embry-Riddle's Daytona Beach Campus. The UAS program provided volunteer support on this project. Robbins was joined on the survey by alumnus Shane Aldridge, UAS Simulation Lab manager, who is working on his master's degree in Project Management from the Embry-Riddle Worldwide Campus; Billy Rose, UAS Simulation & flight instructor and part-time student, and Senior Dallas Slovak, vice president of Embry-Riddle's Unmanned Aircraft Systems Technology student organization.
Slovak, who is working on his bachelor's degree in Unmanned Aircraft Systems, said not only does this type of UAS work allow him and other students to gain real-world experience, but "it will provide data for a good cause."
"I like to help the community this way because I can give someone the opportunity to have valuable data they may not otherwise be able to obtain," Slovak said.
The images from the DJI Phantom 4 Pro drones will be compiled into a true scale, orthomosaic map of overlapping images that will assist the Riverside Conservancy with a baseline view of the water's edge in the hopes of mitigating erosion in the future. Vegetation being planted will help to absorb pollution and provide habitat for fish species, according to Greg Wilson, Ph.D., chief science officer of the Riverside Conservancy.
The organization has been working alongside the City of Edgewater, the Center for Earth Jurisprudence at Barry University Law School and Volusia County to make the shorelines more resilient. This planting project is being led by Bethune-Cookman University through a federal grant.
"We will be able to track with Embry-Riddle's footage how successful these replanting projects are in stopping and preventing erosion and flood surge and hopefully even pollution uptake," said Kelli McGee, executive director of the Riverside Conservancy.
Samantha Bergeron, Parks & Recreation director for the City of Edgewater, added that Embry-Riddle's drones are a "key part" to documenting how various plants will provide needed support to the shorelines and provide cleaner habitat.
This is the first of similar missions planned with the Riverside Conservancy for Embry-Riddle's UAS students and professors. The projects, Robbins said, provide hands-on skills to students in the UAS program and helps them meet service learning requirements, which can include an internship or working with a community organization.
"This is a great opportunity for our students to work with a community-based organization and assist with projects that are incredibly important to the preservation of our natural resources," Robbins added.
Embry-Riddle's UAS Science program has been active in helping local communities in Volusia County, including flight and safety training for public safety officers and by using unmanned aerial vehicles to assess damage in Daytona Beach last year after Hurricane Irma for the Daytona Beach Police Department.
A UAS Disaster Study Away summer program in May also had students and professors assisting the Oklahoma Department of Wildlife Conservation with surveying damage from recent fires that will help ranch owners develop recovery plans.
Embry-Riddle has the largest and most comprehensive UAS programs in the country, with numerous bachelor's and master's degree opportunities throughout its campuses, as well as professional educational options. Degrees include a Bachelor of Science in Unmanned Aircraft Systems at the Prescott and Daytona Beach campuses and a Master of Science in Unmanned and Autonomous Systems Engineering at the Daytona Beach Campus and a new UAS specialization as part of the Master of Science in Aeronautics degree.
The Worldwide Campus offers a Bachelor of Science in Unmanned Systems Applications and Master of Science in Unmanned Systems; undergraduate minors in Unmanned Aerial Systems and Small Unmanned Aircraft System Operation; a graduate UAS specialization, and professional sUAS education opportunities. Daytona Beach and Prescott campuses offer a minor in Unmanned Aircraft Systems.