Unmanned Aircraft Systems Science Program Thriving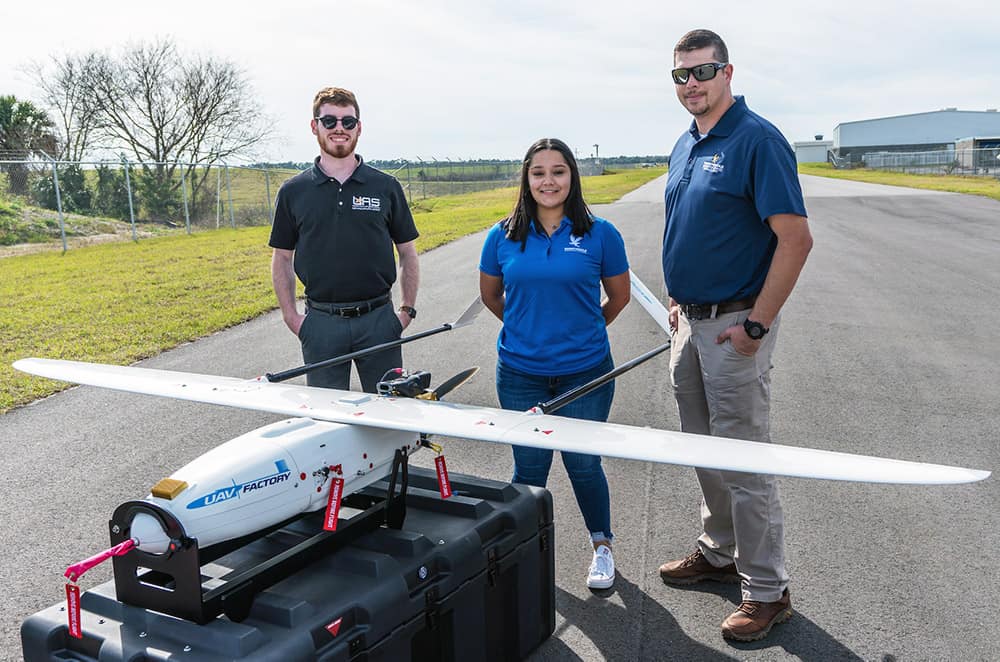 Since its launch in 2011, Embry-Riddle Aeronautical University's Bachelor of Science in Unmanned Aircraft Systems Science (UASS) program has grown to become one of the nation's most respected UAS programs with several new partnerships and study abroad programs.
"I'm so proud of what we've been able to achieve in such a short time," says Alan J. Stolzer, dean of the College of Aviation at Embry-Riddle's Daytona Beach Campus. "With the support of philanthropy, this program continues to grow to be one of the university's signature programs, providing future leaders for this fast-growing industry."
With help from the College of Aviation Dean's Fund for Excellence, the UASS program has been able to upgrade its equipment and expand its curriculum to serve an increasing number of students majoring in the field.
The key to the university's UASS program includes a curriculum focused on developing professionals with technical and leadership skills that transfer to any segment of the UAS field, Stolzer says. Student experience hands-on flight training that progresses from advanced simulation to professional-level, complex aircraft, including the university's UAV Factory Penguin C with Piccolo Ground Station.
Embry-Riddle became the only university in 2019 to acquire the Penguin C – one of the most sophisticated long-endurance, long-range professional unmanned aircraft systems on the market today – specifically for flight training. The UASS program also has an emphasis on crew coordination, safety, procedures, and use of state-of-the-art payloads, including Electro-Optical/Infra-Red systems, LiDAR, and numerous others.
"The goal of Embry-Riddle's program is to train highly qualified, professional UAS pilots who have deep knowledge of best practices in mission planning, data collection, data delivery and safety protocols," says Stolzer.
UAS Flight Training
Samantha Villagran ('20), who graduated in May from the Daytona Beach Campus, was in the first group of students to fly the university's Penguin C aircraft. Villagran completed an internship with Duke Energy as an UAS pilot and is currently working for Lockheed Martin as an aeronautical engineer on the F-35 program.
"Samantha is the first female UAS student to progress through Penguin C flight training for the new Bachelor of Science in Unmanned Aircraft Systems Science curriculum," said Shane Aldridge ('15) , UAS flight training manager at Embry-Riddle. "She has proven through the training events that she is eager to learn and possesses a strong work ethic. Additionally, her attention to detail is a critical attribute in the small UAS tactical Intelligence Surveillance Reconnaissance (ISR) industry."
Associate Professor John Robbins, who is the coordinator of the Embry-Riddle UAS program, says the program is wide open to women like Villagran.
"The UAS program continues to seek a diverse and well-rounded student population, by continually working to recruit female and minority students," Robbins said. "The industry yields unbounded potential and prospects for anyone interested in exploring innovative technologies that will change the future of aviation."
UAS Partnerships and Programs
UASS students are also expected to engage in service-learning opportunities either through research or community service, says Stolzer, and the program has also created several partnerships and programs, leveraging UAS technology for public safety, environmental and conservation initiatives.
Jonathan Hale ('20), an Unmanned Aircraft Systems major who graduated in May, completed four internships – his final internship was with Volusia County, Florida, where he was developing a Small Unmanned Aircraft Systems (sUAS) program to use in the county's mosquito control plan.
"The use of drones would save time and allow inspectors to fly in the areas where they would have previously called in for a helicopter," Hale says.
UAS research opportunities range from studying micro-meteorology in urban environments in support of NASA's Advanced Air Mobility Ecosystem Working Group to working with the National Center for Atmospheric Research by providing near-surface observations to develop and validate micrometeorological forecast models to support UAS operations.
The UASS program is working with Tampa International, Dallas-Fort Worth, and other airports to better understand how UAS detection technologies can prevent hazardous incursions into controlled airspace.
UAS technologies are being used to support aquatic wildlife and shoreline conservation efforts through several initiatives, including collaborating with the University of Central Florida to find ways to study oyster reefs in inshore environments. Students conducted a service-learning program recording changes to shoreline erosion in conjunction with the Riverside Conservancy. Additionally, several faculty are working with the Brevard Zoo and others to see if turtle migration and survival can be studied in near-shore environments using UAS.
Study away and abroad opportunities with UAS have included working with the Oklahoma Department of Emergency Management in the assessment of damage associated with tornados, fires, and floods, and student projects to record and document cultural heritage structures for the nation of Kosovo.
"While working with local and other governmental agencies, we have not only helped establish the standards and protocols for deploying UAS in public safety operations, we are creating opportunities for students in this rapidly developing field," says Stolzer.
---
With help from the College of Aviation Dean's Fund for Excellence, the Unmanned Aircraft Systems Science program has been able to upgrade its equipment and expand its curriculum to serve an increasing number of students majoring in the field.