Undergraduate Researchers Target Space Debris Removal in Rare Publication Opportunity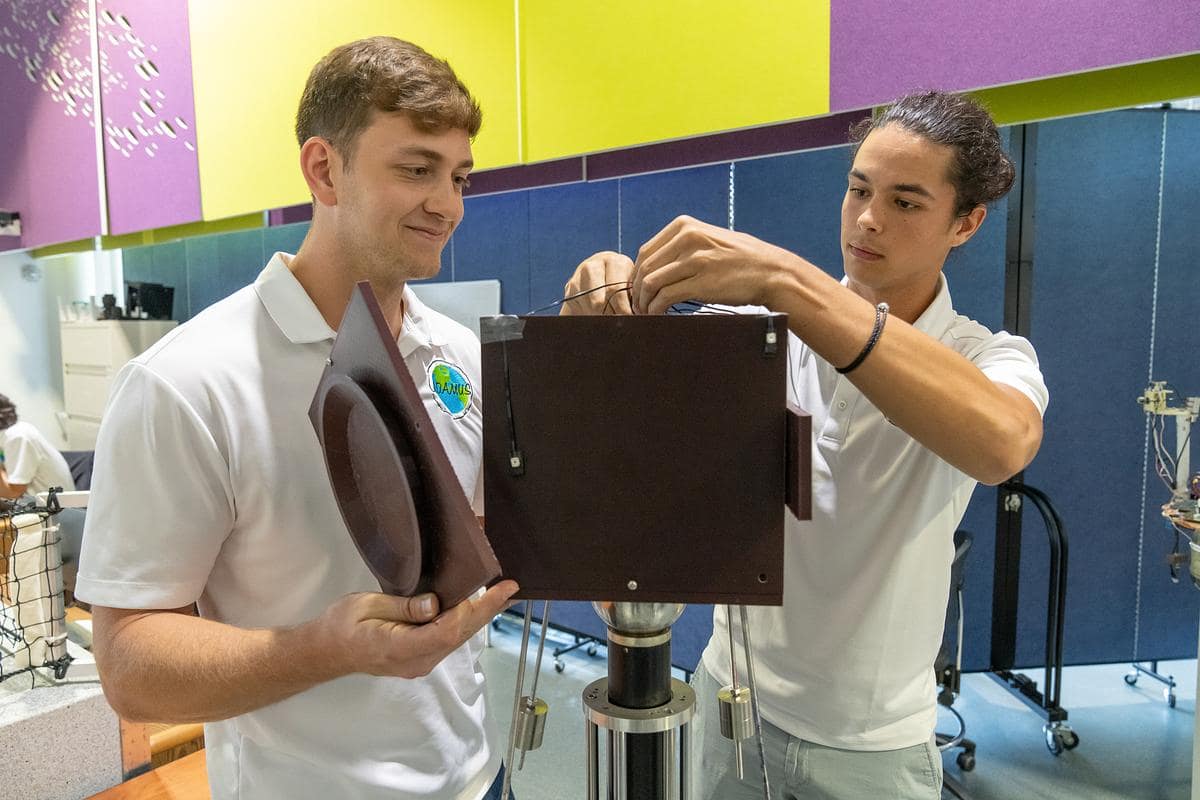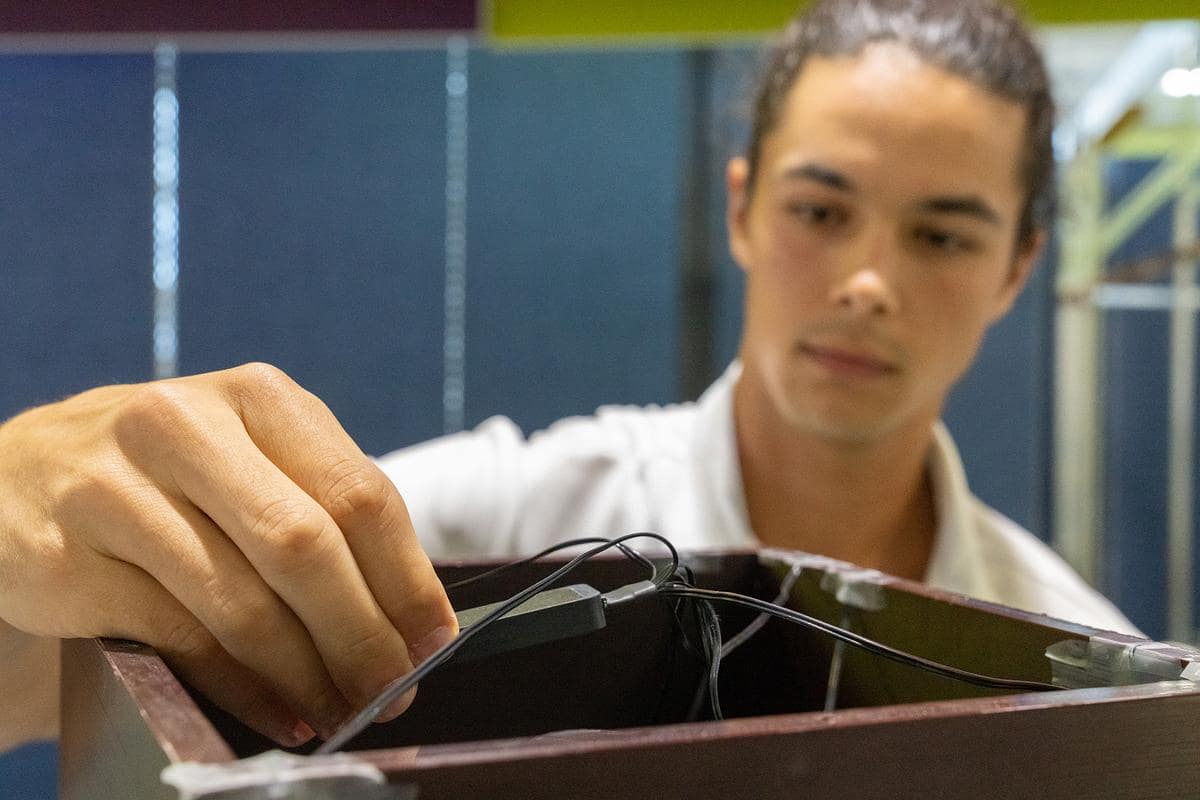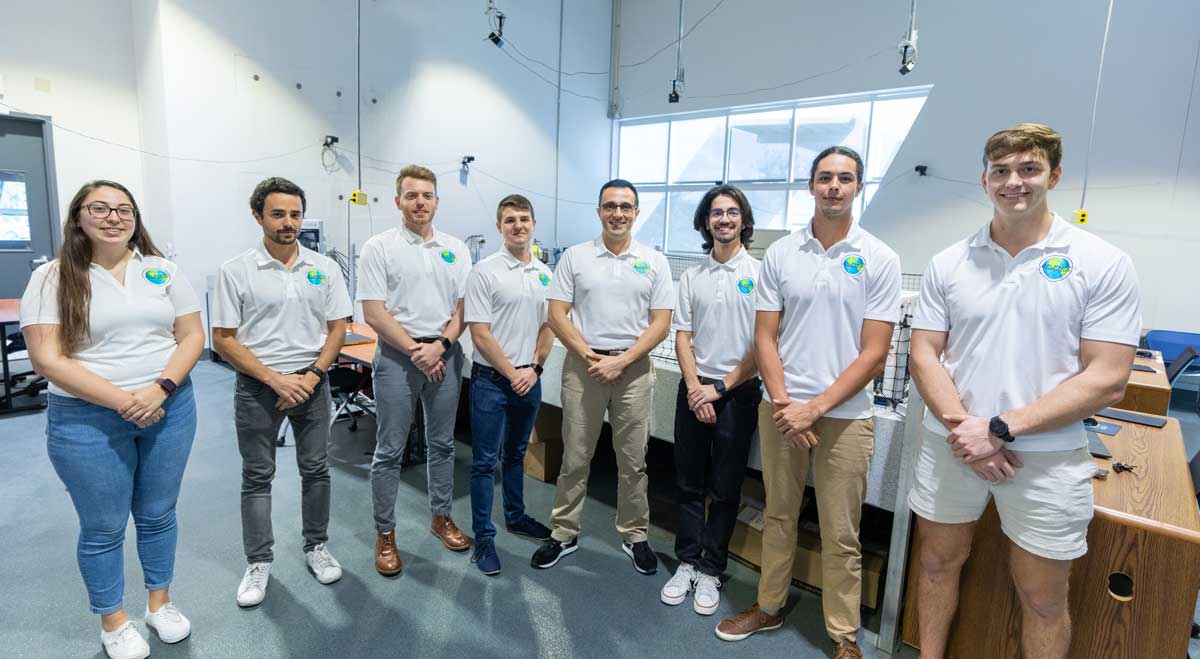 Aerospace Engineering student Spencer John has translated his lifelong love of space into a significant accomplishment: publishing a paper in an academic journal as an undergraduate student.
"To be published as an undergrad makes me extremely proud," said John, an Embry-Riddle Aeronautical University senior. "Even more, I'm incredibly thankful to all of the people involved with the paper, and for how fortunate I am to be at a college where this opportunity is available."
The paper, which appeared in the journal Acta Astronautica earlier this month, presents research undertaken to help solve the problem of debris — such as defunct spacecraft and rocket bodies — in space. Although extensive efforts are under way to slow the accumulation of such debris, many studies have suggested a need for actively removing the largest abandoned objects orbiting the Earth, according to the paper.
Dr. Riccardo Bevilacqua, professor of Aerospace Engineering and also an author on the paper, said the Acta Astronautica paper looks at characterizing debris objects in orbit from an operational spacecraft, calculating the objects' size and motion, so they can be safely removed to "maintain future access to orbital regimes of vital importance."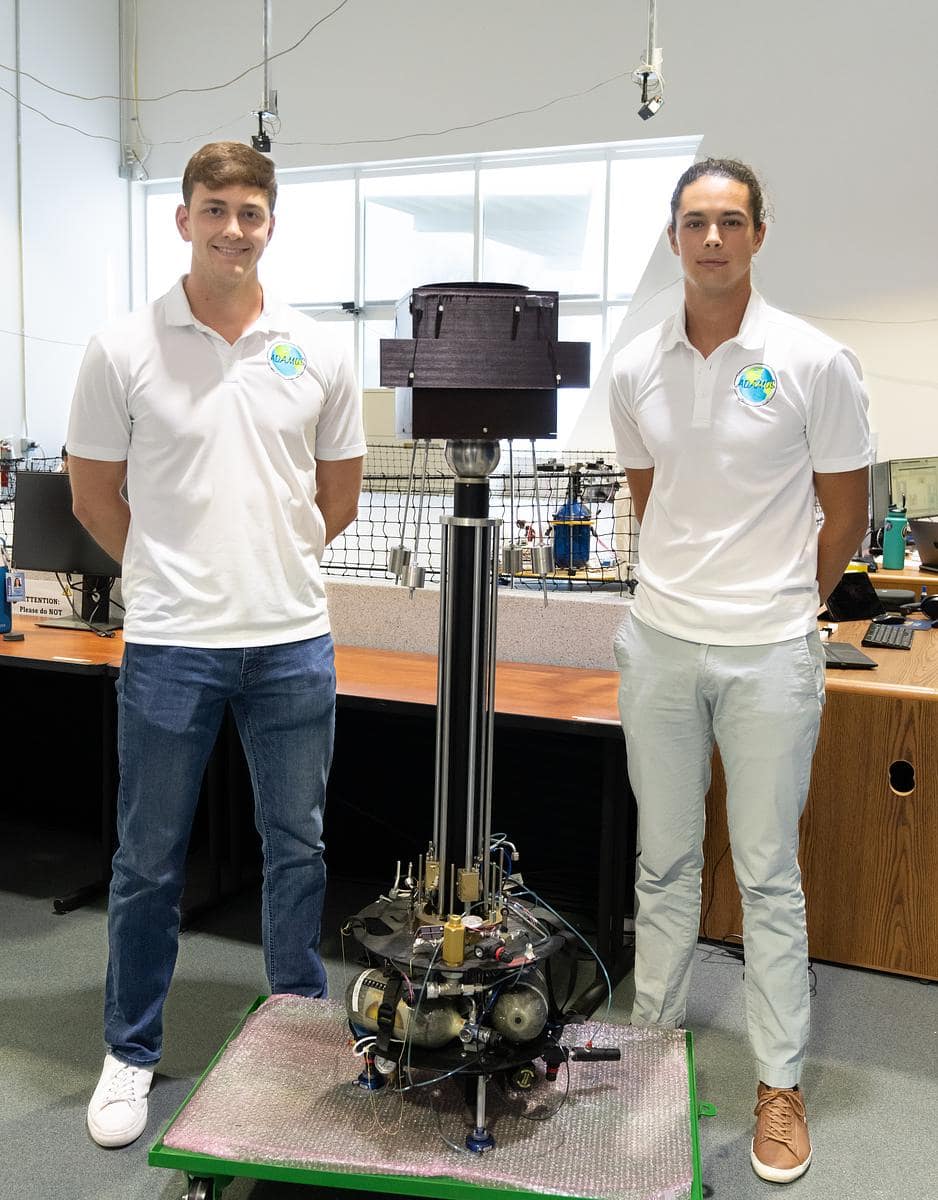 Aerospace Engineering seniors Spencer John and Pol Fontdegloria Balaguer stand with the "spacecraft" that is at the center of the research paper they recently published in Acta Astronautica. (Photo: Bernard Wilchusky/Embry-Riddle)
The research uses LIDAR, a sensing method that employs pulsed laser light to measure distances, to construct a 3D model of the debris object, Bevilacqua said, "and from there uses first principles to estimate rotational and translational motion and mass properties."
Pol Fontdegloria Balaguer, another senior in Aerospace Engineering, is also an author on the published paper. He explains that Bevilacqua welcomed him into his ADAMUS (ADvanced Autonomous MUltiple Spacecraft) lab in the fall of 2021, increasing his level of responsibility over time.
"Dr. Bevilacqua has encouraged me to get involved in more and more research, and he has always recognized my work in the lab," Fontegloria Balaguer said, adding that he did not anticipate being published while an undergraduate.
"I did not expect this work to be recognized so early in my career," he said. "However, Dr. Bevilacqua has ensured that my contributions to the team do not go unnoticed."
Fontdegloria Balaguer, who will pursue a master's degree in Aerospace Engineering with a concentration in Dynamics and Controls, said being involved in research at the ADAMUS lab has given him invaluable experience.
"It gives me a perspective of group and work dynamics that cannot be taught in class," he said. "Also, it has given me the opportunity of working with different hardware, which I could not have used otherwise. Finally, it has also given me the opportunity to manage responsibility, by having to manage budgets and schedules, and making decisions on how to conduct experimentation."
John said being involved in the research has been immensely helpful to his development as an engineer, as he develops his design and CAD (computer-aided design) work so he can one day work as a designer for a rocket company.
"Being involved in this research will help me immensely in my career path, to a point where I can't even describe how much. I have been able to experience the fun part of engineering, when designs you make become real, working pieces of equipment," John said, adding that while working on the research, he had "vastly" broadened his knowledge by reading many other journal papers, learning about electrical engineering and how to wire robots, as well as learning how to work the interface of a Raspberry Pi computing and programming device.
"I have grown in so many ways and would argue that my experience with research has prepared me better than almost any class," John said.
Posted In: Engineering | Research | Space