Undergraduate Helps Prove the Effectiveness of New Biological Research Method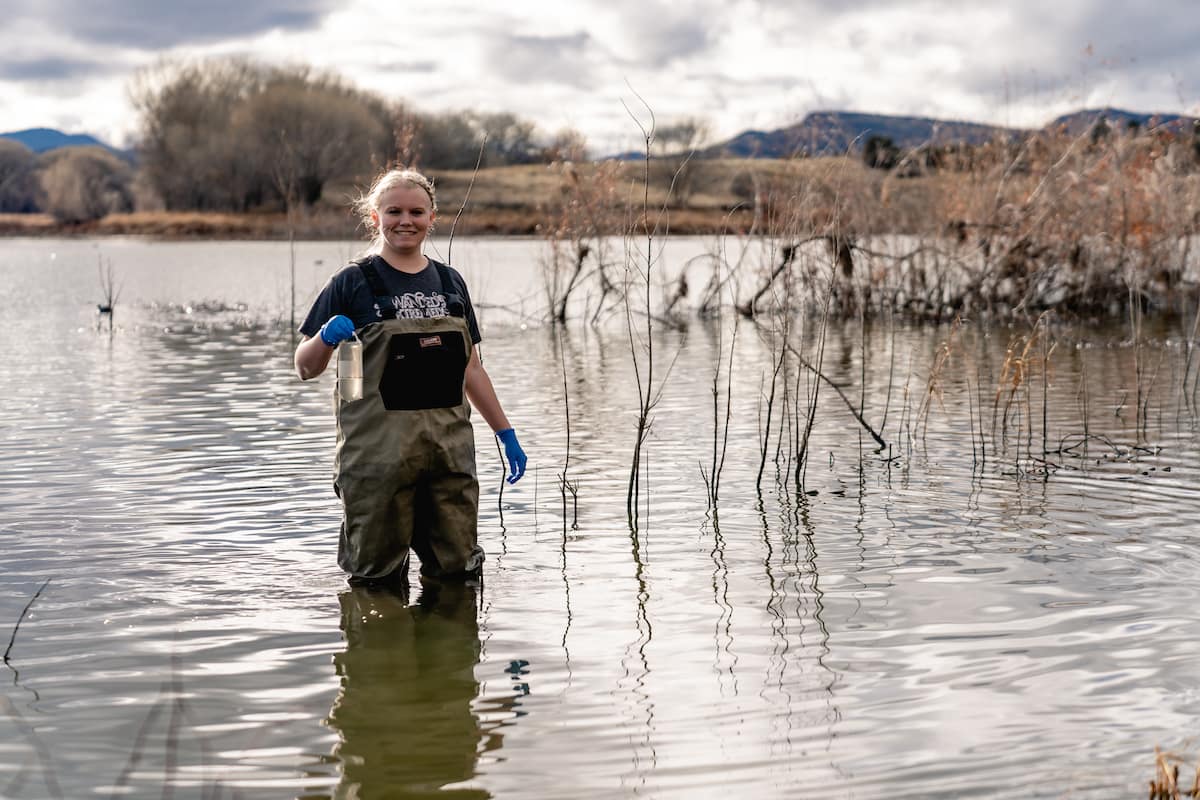 An Embry-Riddle undergraduate has tested field research methods that demonstrate a cheaper, more efficient and less invasive way of identifying and assessing wildlife communities.
The research, conducted by student Courtney Turner-Rathbone, originated at Embry-Riddle's campus in Prescott, Ariz. The project involved drawing water samples out of the Verde River in Arizona's central highlands and analyzing the DNA present in those samples using sophisticated sequencing methods. It represents the first research to come out of a collaboration between Embry-Riddle's new Forensic Biology and Wildlife Science programs.
Turner-Rathbone, who grew up on a farm, said her interest in biology began with a high school class that provided an explanation of what she had learned about the natural world up to that point.
"Everything just clicked. All of the things I knew about were explained in more detail," she said. "And everything new I learned absolutely fascinated me."
That fascination led Turner-Rathbone to a class with Dr. Hillary Eaton, Embry-Riddle forensic biology assistant professor and chair.
Last summer, Eaton approached Turner-Rathbone about becoming a research assistant on the biodiversity assessment project. It was the kind of opportunity, Eaton said, that at many institutions would only be available to a graduate student. Turner-Rathbone was chosen because she had not only acquired valuable research skills in freshman and sophomore science classes, Eaton said, but also because she demonstrated punctuality, good attendance, an ability to meet deadlines and a positive attitude.
"Courtney excelled at all of these," Eaton said.
The experiment was based on the observation that all organisms, from bacteria to humans, leave a genetic footprint in their environments. DNA in water from two collection points was extracted, subjected to polymerase chain reaction and gel electrophoresis, and sequenced. Data analysis identified many vertebrate taxa, including fish, reptiles, amphibians, birds and mammals — results that echoed and even improved on traditional survey results in which biologists literally count members of certain species in the wild. Such traditional ecological surveys can stress the species being assessed.
Also involved in this project were Embry-Riddle Professors Dr. Catherine Benson and Matthew Valente. Their involvement and Eaton's guidance were crucial, Turner-Rathbone said, explaining that she learned the molecular techniques necessary for the research as the project proceeded.
According to Eaton, Embry-Riddle is building relationships with the U.S. Forest Service and Arizona Game & Fish so that the school's Forensic Biology and Wildlife Science programs can provide a research and service laboratory for wildlife forensics for the region that would employ undergraduates from both majors, Eaton said.
Such research opportunities create significant advantages for students, she said.
"It is always valuable for students to work in a service or research lab so that they can see how what they are learning in their classes is actually applied in the real world," Eaton said.
For students like Turner-Rathbone who present their research, they "have the opportunity to travel and network with other professionals in the field," said Eaton, "which opens doors to places of higher learning and employment, and sets them apart from everyone else at their level."
— by Michaela Jarvis