Undergraduate Featured at National Research Showcase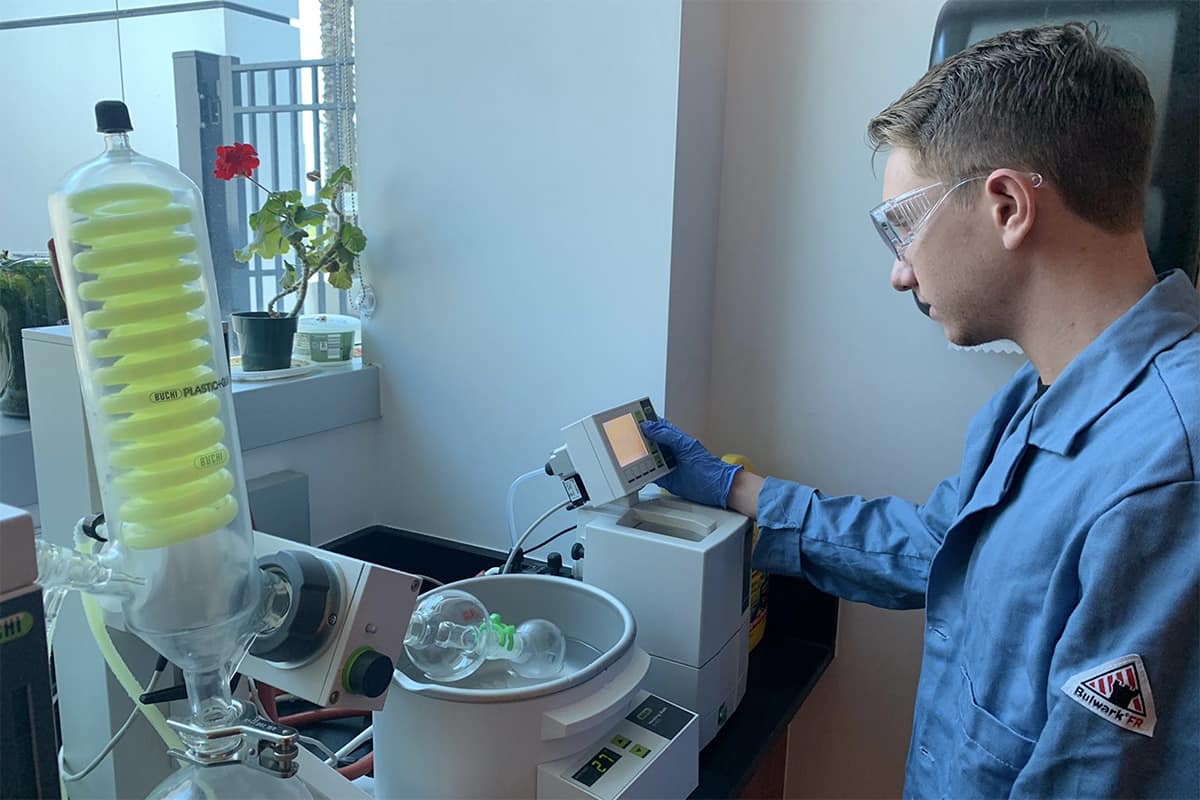 Aerospace Physiology junior John Veracka recently gave tips to a freshman biology class for how to get started on a research project. "Reach out! Ask questions! Set up a meeting with a faculty member," he said. "If you make the extra effort, take the extra step, work hard and ask important questions, then you will be rewarded. You will be able to conduct amazing research here at Embry-Riddle."
Veracka knows this personally.
A recent research project of his, focused on a new polymer for use in aerospace settings and soft electronics, was one of just 60 undergraduate students chosen from among hundreds of entries in the national 2021 Posters on the Hill undergraduate research conference, which took place April 27-28.
Veracka's work aims to develop a material that can stretch and self-heal, two characteristics that are somewhat opposed to each other, he said. By finding just the right balance in the chemical components of the material, he envisions a wide range of applications, including self-healing space habitats that would be resilient against space debris and damage.
His project was funded by the Summer Undergraduate Research Fellowship (SURF) program through Embry-Riddle's Office of Undergraduate Research.
Veracka came to Embry-Riddle as a computer science student but was soon lured to the Aerospace Physiology program, where he has taken advantage of opportunities to assist local Covid-19 contact tracing and vaccination efforts, and has shadowed health providers at two different hospitals. Having witnessed countless procedures including an angiography, in which dye is pumped into the heart to reveal its arteries and veins, and a bladder-removal surgery, Veracka is intent on attending medical school and becoming a physician, perhaps a surgeon.
"Now I know for a fact that medicine is something I want to do," he said.
At the same time, he works on campus as a resident advisor, a chemistry tutor and a chemistry laboratory assistant — in addition to performing research. Posters on the Hill was his fourth conference this semester, Veracka said.
"John directs so much energy to his field of study and numerous related activities," said Dr. Karen Gaines, dean of the College of Arts and Sciences. "With that kind of enthusiasm, there'll be no limit to what he can accomplish."
Referring to his polymer research, he points out that existing self-healing materials often require very low or very high temperatures, plus their self-healing abilities occur only after being subjected to UV light or a chemical catalyst. The material Veracka aims to develop, he said, "can work by itself," and therefore could be useful in a much broader range of applications. Initial uses could include car paint, phones and diabetic sensors, he said.
"I'm extremely passionate about my research and I am very excited to see where the project can go," Veracka said.
Posted In: Applied Science | Research | Space