Two More Embry-Riddle Professors Named Fulbright Scholars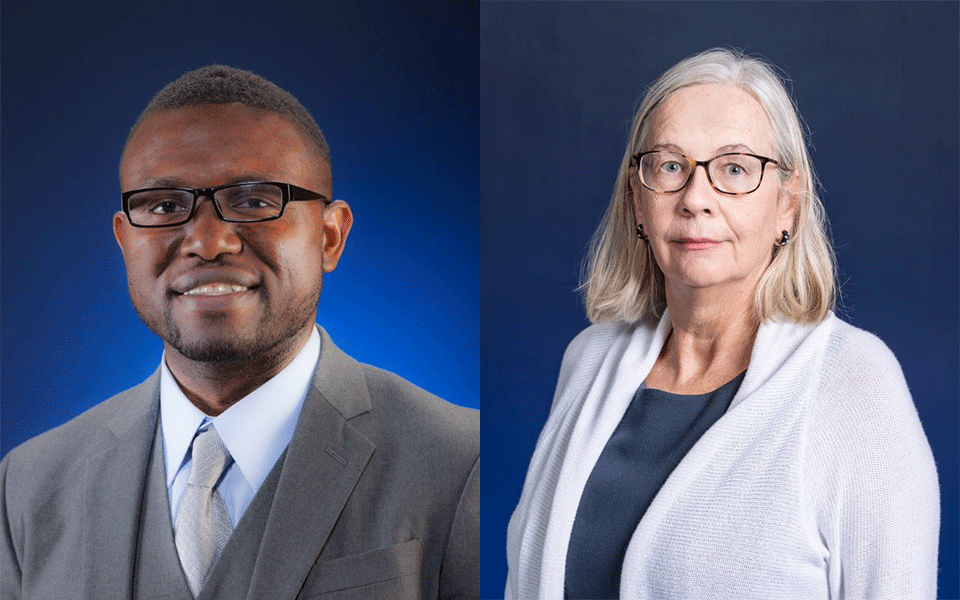 Three newly named U.S. Fulbright Scholars at Embry-Riddle Aeronautical University -- including award winners from Prescott, Arizona; Daytona Beach, Florida; and the school's Worldwide Campus – will soon conduct projects in Estonia, Italy and Norway as part of their research programs.
In February, Embry-Riddle announced its first 2023-2024 Fulbright Scholar: Dr. Shawn Milrad, associate professor of Meteorology at the Daytona Beach Campus, who is headed to Norway to study heat stress and climate change.
Prescott and Worldwide Campus Winners
Since then, Embry-Riddle has learned of two more winners. From the Prescott Campus, associate professor Dr. Jules O. Yimga, department chair of the School of Business, will teach and conduct research at the Estonian Aviation Academy.
"This opportunity is monumental," Yimga said. "I'm looking forward to the collaboration and immersing myself in a new culture." In addition to teaching a new class on airline network planning, he will be studying the risk factors associated with drone operations.
"The recent growth in drone use brings economic opportunities, but it also opens the door to illegal usage," Yimga said. "I will be looking at what kind of interventions could be designed to protect high-risk venues and fend off malicious users."
Yimga holds a doctorate in economics from Kansas State University, a master's degree in business administration from Alabama A&M University and a bachelor's degree in banking and finance from the University of Buea in Cameroon. Much of his research examines competition issues in the airline industry.
"Having Dr. Yimga named a Fulbright Scholar was wonderful news for the university, and everyone at the Prescott Campus is very proud of his achievement," said Pauline Filemoni, director of the Center for International Programs and Services.
From the Worldwide Campus, Dr. Marie Lathers, professor in the College of Arts & Sciences, Department of Humanities and Communication, plans to teach at the Suor Orsola Benincasa University in Naples, Italy.
Lathers, who joined Embry-Riddle following 12 years of service at Iowa State University and 20 years at Case Western Reserve University, holds master's degrees in English and French studies as well as a Ph.D. in French studies.
In Naples, she will teach African American literature and film, as well as a graduate course on the history of women in NASA and the portrayal of female astronauts in feature films.
"I look forward to new opportunities for scholarship with colleagues in Italy," she said. Lathers also spent time at the American Academy in Rome as part of a National Endowment for the Humanities program.
This is Lathers' second Fulbright award. She also won the Fulbright in 2008-2009, while at Case Western Reserve University. Her first Fulbright award provided her the opportunity to teach at the University of Dschang, in Cameroon.

"These prestigious faculty exchanges allow us to add genuine international connections as we prepare students for true world citizenship and global careers," said Dr. Alexander Siedschlag, dean of Worldwide's College of Arts & Sciences. "Our faculty return enriched by their experience of a different academic culture and country."
Established in 1946, the Fulbright Scholarships are awarded by the U.S. Department of State and the J. William Fulbright Foreign Scholarship Board. The program provides funds for U.S. citizens to study and conduct research and teach English abroad.
"The Fulbright Scholarships are the U.S. government's most highly competitive program for international educational exchange," said Dr. Aaron D. Clevenger, assistant provost and dean of International Programs. "It's an honor, and a tremendous accomplishment by our faculty members, for Embry-Riddle to have three Fulbright Scholars for the 2023-24 program."
Learn more about the Fulbright Scholars program online.
Posted In: Research