Two Alumni Earn National Business Aviation Association's Top 40 Under 40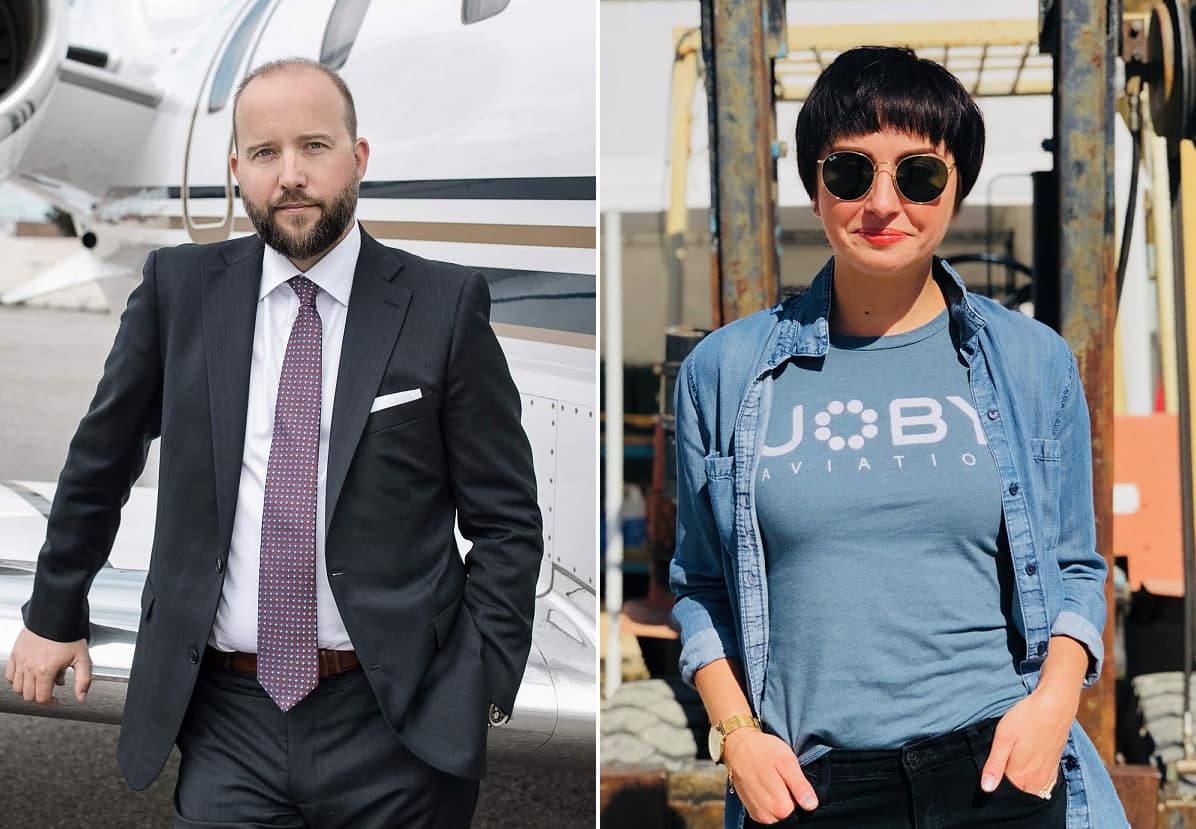 Alumni Kate Fraser and Stan Kuliavas have been named young aviation industry leaders.
Embry-Riddle alumni Kate Fraser ('18), head of safety for Joby Aviation, and Stan Kuliavas ('04), vice president of sales and business development for Levaero Aviation, were named to the National Business Aviation Association's (NBAA) 2019 Business Aviation Top 40 Under 40.
Both were recognized as young leaders shaping the future of the aviation industry at NBAA's Business Aviation Convention & Exhibition (BACE), held Oct. 22-24 in Las Vegas, Nevada.
Kate Fraser
Fraser can easily envision a day in the not-so-distant future when people travel to work in electric-powered air taxis, instead of being stuck in commuter traffic, breathing vehicle exhaust for hours.
"The stars have kind of aligned, so we have a regulatory environment that allows this new technology," said Fraser, who is the head of safety for Joby Aviation, a 400-employee, venture-backed, startup aerospace company that's developing a multi-passenger electric vertical takeoff and landing (eVTOL) aircraft.
A pilot with a master's degree in human factors, Fraser leads safety for the California company, which has about 400 employees.
"These new aircraft are safer, quieter and much more affordable," Fraser said. "We like to use the terms 'air taxi or aerial ridesharing.'"
Fraser worked for five years as director of safety and outreach at the General Aviation Manufacturers Association (GAMA), then for three years as an operations research analyst at the Federal Aviation Administration (FAA). She also spent a year as Uber's head of aviation policy, before moving to Joby.
While working at the FAA, Fraser earned her master's degree in Human Factors at Embry-Riddle.
My experience at Embry-Riddle was one that was full of incredibly driven people. Being in the Riddle environment for several years helped create bonds with classmates and professors that I'm happy to say are strong to this day.
"[Now] I better understand what motivates people and how we can design processes and aircraft to be as safe as possible," Fraser said. "Everything I learned throughout that program is essential to what I do today."
Stan Kuliavas
Aviation and basketball are Kuliavas' two passions in life and he embraced both at Embry-Riddle.
The Toronto, Canada, native became interested in aviation, after taking an introductory flight in college, but he didn't want to become a career pilot.
"The aviation business program was exactly what I was looking for," he said. "If you want to do anything aviation-related, there's no better school in the world than Embry-Riddle."
Injuries kept him from playing basketball competitively in college, but the head coach for the men's basketball team, Steve Ridder, invited him to serve as an assistant coach.
"My time as part of the Embry-Riddle basketball family taught me about hard work, helping others, paying attention to detail, and appreciating every day, because tomorrow is not a guarantee," he said.
With an interest in corporate aviation, he accepted a sales role with a leading fractional aircraft ownership company in Canada. In 2011, he joined Levaero Aviation as director of sales, and he is now the company's vice-president of sales and business development. In this role he leads business development and oversees aircraft sales and marketing globally. Based in Thunder Bay, Ontario, with offices in Toronto, Ontario, Levaero is an aircraft brokerage and the exclusive Pilatus Aircraft dealer in Canada.
He also dedicates time to his passion for basketball and encouraging future generations of aviation professionals. He sits on the board of directors of Bay Street Hoops, the largest charity basketball tournament in Canada, and mentors youth considering careers in aviation.
"I take pride in building relationships, helping people, and striving to continuously challenge myself," he said.
Posted In: Aviation | Institutional News