Two Eagles Selected for Support from Federal Energy Efficiency Program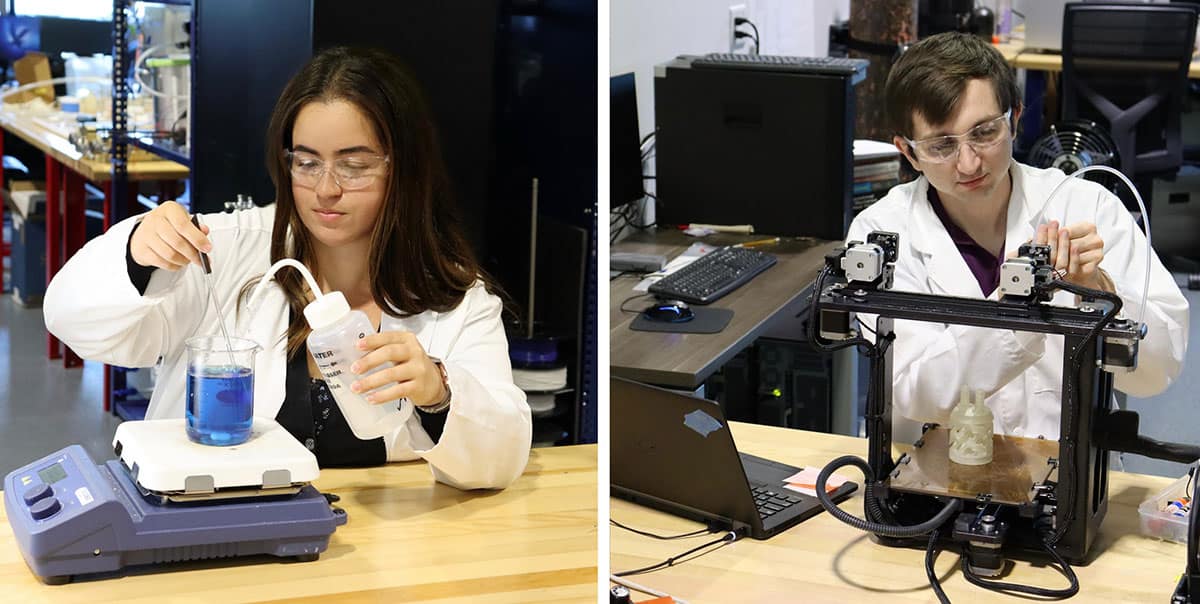 Two Embry-Riddle Aeronautical University graduate students have been selected by the U.S. Department of Energy to participate in the IBUILD Innovative Buildings Graduate Research Fellowship program, which is designed to support student researchers conducting work related to increasing energy efficiency.
The two were among only 12 students to be selected nationally, said Dr. Sandra Boetcher, professor of Mechanical Engineering and advisor to both chosen students.
Isabel Melendez, who is earning a master's degree in Mechanical Engineering and will begin a Ph.D. in the spring, will receive financial benefits including a $35,000 annual stipend, up to $25,000 annually in tuition reimbursement, a $16,000 health insurance allowance and up to $12,000 for travel, materials and supplies. The program also offers mentoring and internships at national laboratories, and networking with U.S. Department of Energy Building Technologies Office fellows and IBUILD fellows.
Third-year Mechanical Engineering Ph.D. student Casey Troxler won honorable mention in the competition, and although he won't receive financial support, he can take advantage of the professional development mentoring, networking and internships.
"I am so excited that both Isabel and Casey's work was recognized in this way by the Department of Energy," said Boetcher. "The IBUILD Fellowship program is highly competitive. Students from many other prestigious universities compete, and two from our university were selected to be among the top 12. The mentorship opportunities and collaborations with national laboratories are a highlight of the program."
Melendez, who decided to be an engineer under the guidance of her father, said she had already decided to pursue a doctoral degree but that the fellowship has given her "more peace of mind and more time to focus on research, which is an incredible luxury." She said that when she saw the word "congratulations" in the email from the section committee, she was in complete shock and disbelief.
"So many people apply to these things that you can't really get your hopes up," Melendez said. "It will be hard to top the emotion and excitement I felt that day."
Melendez's research involves materials that absorb and release energy when they change phase, generally back and forth from liquid to solid, such that they can provide useful heating or cooling. For example, used in building materials, such materials could lessen the amount of heating and cooling required to keep a building in a comfortable temperature range. What Melendez is studying is improving the performance and longevity of the phase-change materials by minimizing the leaking, degradation and contamination that typically occur as the material cycles back and forth between its liquid and solid states. Dr. Yanir Maidenberg, assistant professor in the Department of Physical Sciences, is a principal advisor on Melendez's research.
Troxler works with batteries that store thermal energy instead of electricity, focusing on the component known as the heat exchanger, which can access the stored energy. His research aims to improve heat exchanger efficiency so that thermal energy storage can become more cost-effective. Such advances in energy storage facilitate the implementation of renewable energy, Troxler said.
"One of my personal goals is helping fight climate change, and mechanical engineering is an important field in finding solutions to do that," said Troxler, who had an internship with the National Renewable Energy Laboratory this past summer.
Hoping to work as a research engineer at a national laboratory and eventually become a university professor, Troxler said he was extremely excited to have been selected for the IBUILD Fellowship.
"These networking connections and internship opportunities can make a huge difference in an academic career," he said.
"I'm delighted to celebrate Isabel and Casey and their selection by the IBUILD Fellowship program," Dr. James Gregory, dean of the College of Engineering, added. "This award is further evidence of the excellence of students who pursue graduate studies at Embry-Riddle. I'm also grateful for Dr. Sandra Boetcher's outstanding mentoring and support for our students."
Melendez said that after she earns her degree, she also wants to teach and conduct thermal research in a university setting.
"Doing research in the Thermal Science Lab under Dr. Boetcher and Dr. [Rafael] Rodriquez, [associate professor and associate chair in the Department of Mechanical Engineering] has shown me the importance of proper mentorship and the impact that these roles have on students as well as on the future of engineering. If I could choose to do anything in my career, it would be to do as they do."
Posted In: Engineering