Two Eagle Undergrads Score Cutting-Edge Internship Project Recreating Infamous Plane Crash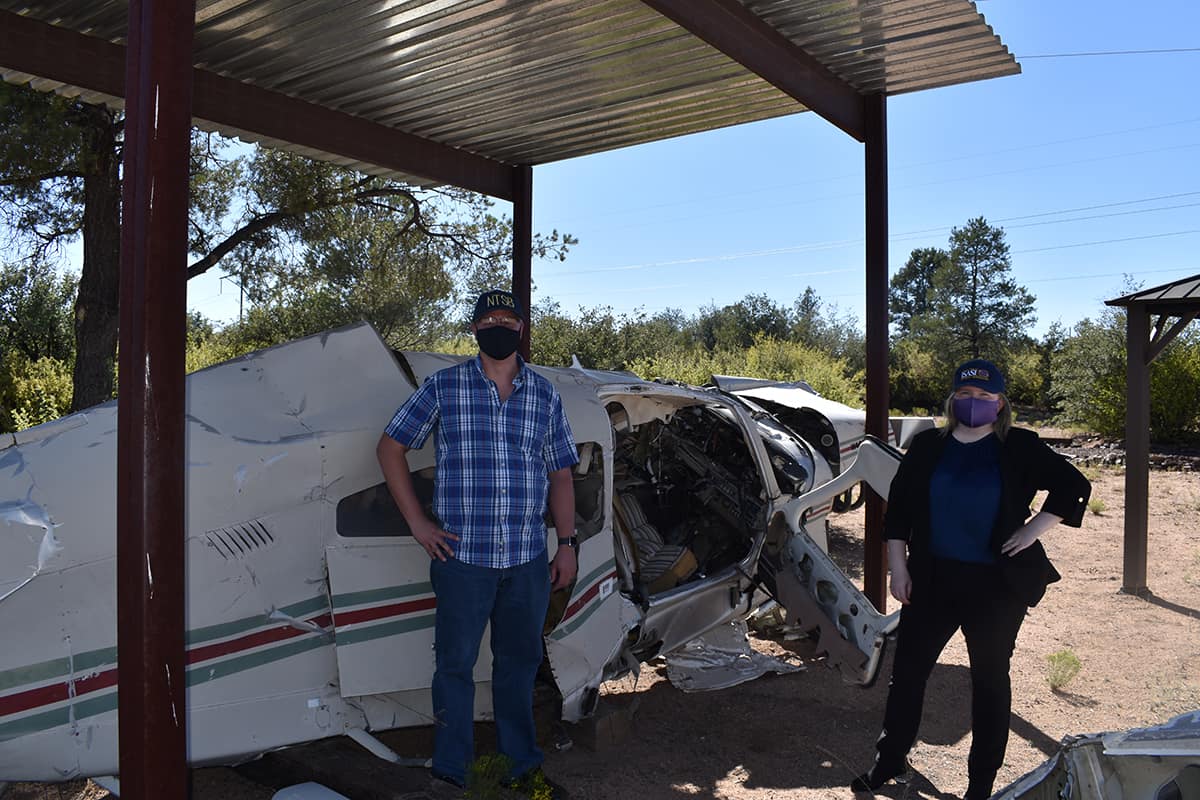 Two seniors on Embry-Riddle Aeronautical University's Prescott Campus are undertaking pioneering research to create an interactive 3D computer model of the wreckage of TWA Flight 800 for the National Transportation Safety Board (NTSB).
"I consider this an excellent opportunity for these students to be on the forefront of the industry," said Ed Coleman, director of the Robertson Safety Institute and chair and associate professor of the Department of Safety Science. "Having experience with this will give them a leg-up for sure and, depending on their career field, could actually be a big benefit to a future employer who might not be aware of the technology."
The NTSB initially intended to hire just one intern for the project, but Piper Forcier, a senior in Aeronautics, and Eli Murphy, a senior majoring in Unmanned Aircraft Systems, were both selected.
"Both of you had such impressive qualifications and outstanding enthusiasm to match," said NTSB Training Center Director Paula Sind-Prunier, in a message to the students.
The wreckage of TWA 800, which crashed into the Atlantic Ocean near Long Island, New York, in 1996 because of an explosion of fuel vapors in a fuel tank, is housed at the NTSB Training Center in Ashburn, Virginia. The objective of Forcier and Murphy's project is to use cutting-edge 3D scanning and drone-acquired photogrammetry to produce images that can be combined into a 3D computer model and fly-through, allowing students in accident investigation courses to view and possibly interact with a digital duplication of the crash.
"I think this project will help students like me in the future," said Forcier. "It will be nice to see how we can document and conduct aircraft crash investigation in the virtual realm."
Murphy said he had already been thinking about the benefits of using drones to create 3D computer images of accident scenes such as car wrecks when he heard about the NTSB internship.
"It piqued my interest even more," he said, adding that "with TWA 800 being such a significant part of history, I was super excited about taking part in this."
Another bonus: Embry-Riddle recently acquired the same laser scanner used by the NTSB, so coordination on the project will be relatively seamless, Coleman said.
For Murphy, the project will no doubt boost his future success in the workplace, he said.
"If the NTSB decides to continue pursuing this route more permanently, it could open a door in terms of being the first to have done it," Murphy said.
Otherwise, he is confident he will be able to apply his knowledge toward the increasing use of 3D documentation of a range of accident and crime scenes, and having experience with the NTSB is especially distinguishing.
"Having a big name on your resume is great," Murphy said.
Posted In: Applied Science | Aviation | Security Intelligence and Safety