Two Cybersecurity Leaders Honored at Embry-Riddle Expert Symposium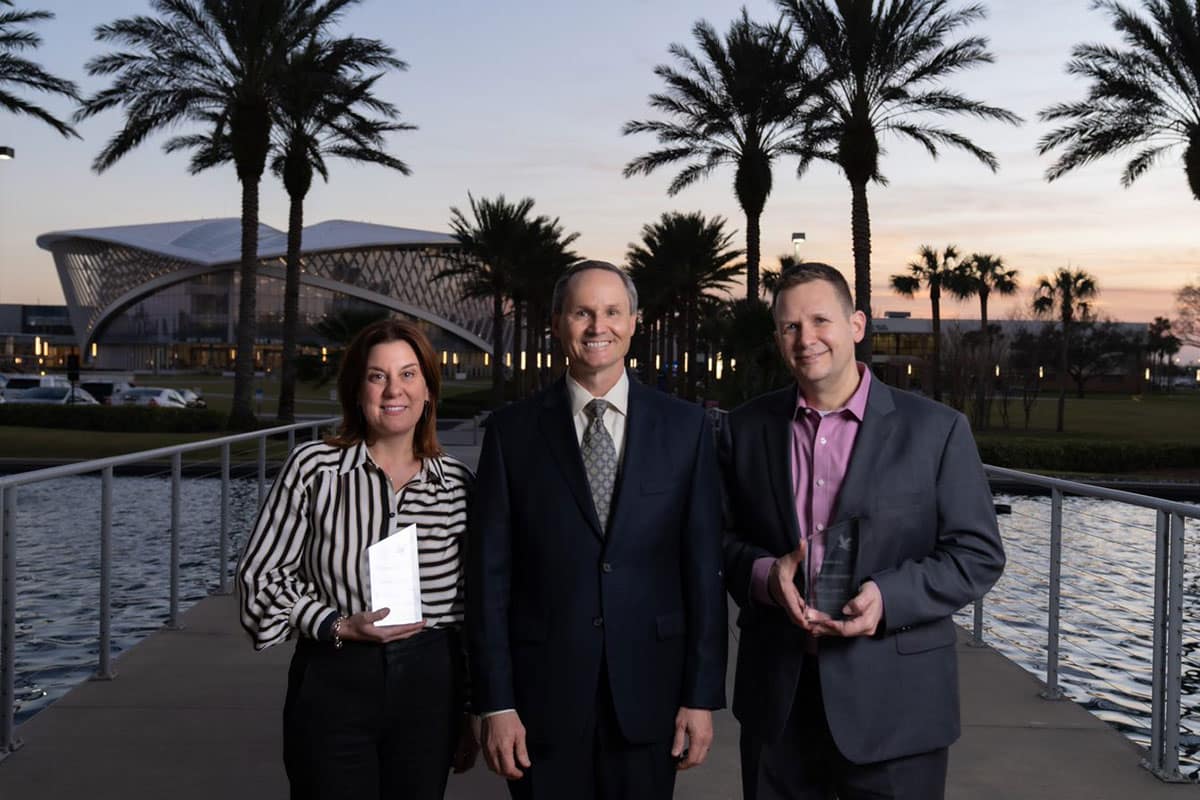 Deneen DeFiore and Patrick Morrissey have been named to each receive a first-of-its-kind ACE (Aerospace Cybersecurity Excellence) Award, recognizing their efforts to combat aviation cybersecurity threats. The awards were announced on Feb. 7 at Embry-Riddle Aeronautical University at an event hosting the top experts in cyber resilience.
Participants at "The President's Forum on Research and Innovation at Embry-Riddle: Symposium on Aviation and Aerospace Cyber Resilience" included experts from leading industry companies, the U.S. Department of Defense, the U.S. Department of Homeland Security, NASA and the FAA, among others.
Dan Diessner, director of Embry-Riddle's Center for Aerospace Resilience, thanked DeFiore at the symposium's award ceremony for the "dedication and leadership you bring to our community in maintaining the cybersecurity, cyber-safety and cyber-resilience of our global aviation ecosystem."
DeFiore is the vice president and chief information security officer for United Airlines. She is in charge of the cybersecurity and digital risk organization, tasked with making sure that United is prepared to prevent, detect and respond to cyber threats. She leads initiatives related to commercial aviation cyber safety risk and improving cyber resilience, and works with international partners to support cyber safety throughout the global aviation system. In 2022, she was named to the President's National Infrastructure Advisory Council, which advises the White House on how to reduce physical and cyber risks and improve the security and resilience of U.S. critical infrastructure sectors.
Morrissey is a senior technical fellow in the avionics division of Collins Aerospace. He has worked for nearly three decades at engineering and information technology organizations, supporting operational security and developing secure products for both the government and commercial sectors. He holds five patents for defensive security technologies and has been on multiple advisory councils, such as the Federal Aviation Administration (FAA) Rule Advisory Committee on Aircraft System Information Security Protection, helping in the development of cyber security regulations and standards. Working with industry cybersecurity committees, he helps to promote collaboration and the state-of-the-art, and to define the next-generation digital architecture for aviation.
"Patrick has provided key technical leadership support to all the primary global aviation cyber industry efforts over the past formative decade of aviation cybersecurity," Diessner said.
In a welcome letter, Embry-Riddle President P. Barry Butler, Ph.D., acknowledged those attending the symposium, including Florida Lieutenant Governor Jeanette Nuñez, chair of the Florida Cybersecurity Task Force, for sharing "experiences, ideas and best practices in a confidential setting."
"The goal of these discussions is to deepen our understanding of key challenges such as the detection of cyber-attack anomalies, the refinement of supply chain assurance mechanisms, and strategies for securing and verifying trusted information systems," Butler said. "Embry-Riddle and its Center for Aerospace Resilience remain committed to developing a skilled workforce of innovators and research-based solutions to a broad range of cyber threats."
Posted In: Aviation | Institutional News | Research | Security Intelligence and Safety