Trailblazing Women in Aviation Showcased at Embry-Riddle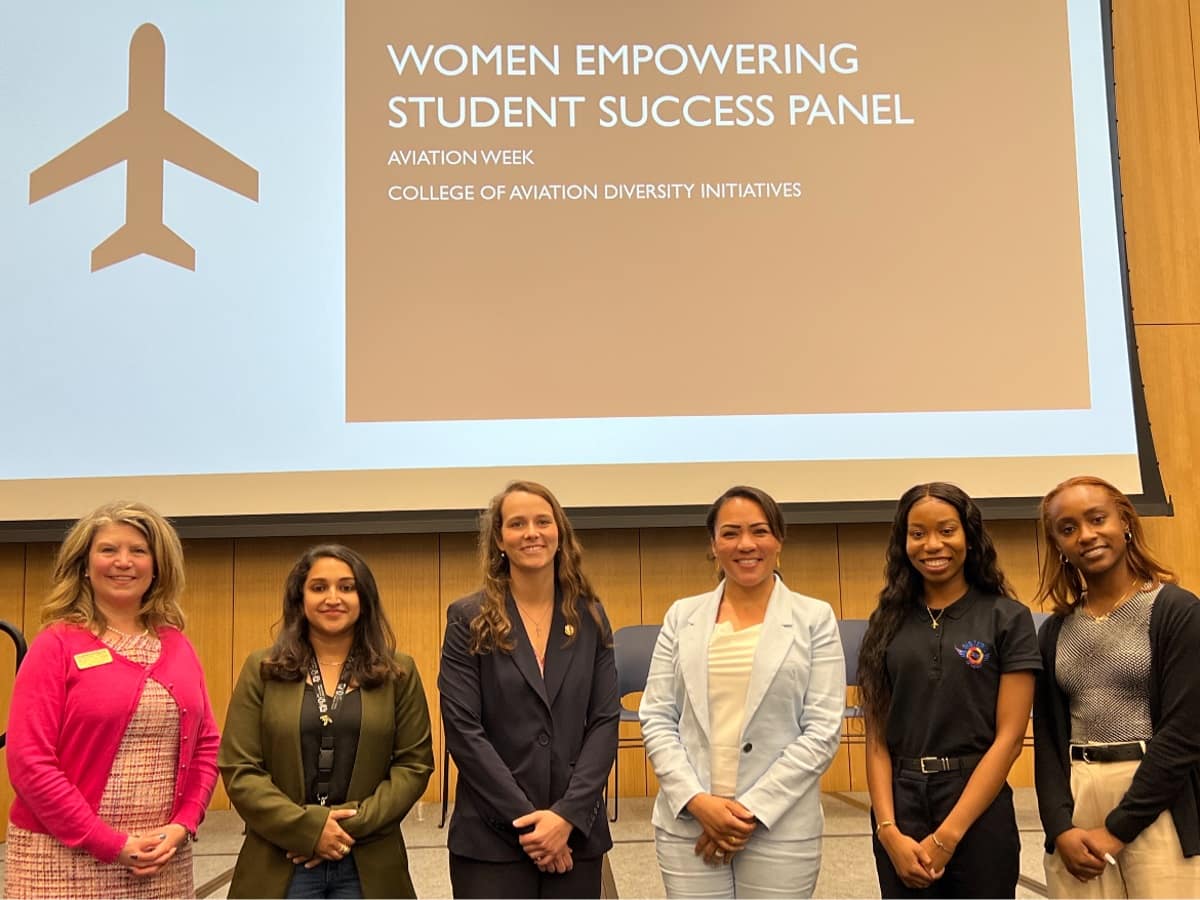 In an industry where only 2.5% of all aviation maintenance technicians in the United States are women and 4.6% are Airline Transport Pilots — with a tiny fraction of those pilots being women of color (0.02%) — Embry-Riddle Aeronautical University this week welcomed five trailblazing alumnae who are role models for women in aviation.
To help celebrate Aviation Week, a panel on "Women Empowering Student Success" showcased three outstanding pilots — Dawn Cook, Jayla Jackson and Makeda Dawson — along with aviation maintenance technician Lynze Price and unmanned aerial systems (UAS) instructor Myra Malik.
All of the speakers are graduates of Embry-Riddle, and all three pilots are women of color. The panel and a related Aviation Week mentoring breakfast were organized by alumna Michele Halleran, an Embry-Riddle professor of Aeronautical Science who is one of 36 female aviators featured in a "Women and Flight" Smithsonian exhibit and book.
Panelists shared their advice to help current Embry-Riddle students persist and succeed in their degree programs. Former student softball player Jackson ('20), now a first officer at Endeavor Air, urged today's students to "be patient with yourselves as you're going through training."
Patience pays off for flight students, speakers emphasized. As an example of persistence, Dawson ('21) shared her story of academic endurance: During one tough period at Embry-Riddle, Dawson didn't fly for 17 months as various challenges presented themselves, including financial struggles. Today, she is a commercially rated pilot and Certified Flight Instructor who has completed internships at both Procter & Gamble Global Flight Operations and Delta Air Lines Flight Operations.
Malik ('17), an Embry-Riddle UAS simulation and flight instructor for the Penguin C, encouraged students to remain flexible as they begin to pursue their careers after graduation. "There's no one path you could take," she said. "Be open to all opportunities." Initially, Malik explained, she dreamed of going into the Peace Corps so that she could help people and travel the world. Her mother's dream was for Malik to become a doctor. After interning with Textron Aviation, Malik ultimately deployed to Afghanistan and worked as a maintenance lead for the company, among other accomplishments.
"I went overseas for three months and paid off my student loans," Malik said, noting that there are many Department of Defense and contractor opportunities internationally for those with a pilot's license and/or maintenance skills.
The pioneering panelists also discussed strategies for overcoming workplace obstacles, such as having to wear oversized men's gloves and uniforms, and making do without approved maternity wear. Women in aviation are often called upon to raise awareness of such issues in an assertive yet diplomatic way, without alienating colleagues, speakers said. That can be tricky, they added, but it can be done.
Price ('17), now an aircraft technician and the Gulfstream 550 Crew Chief for Amway, encouraged women in aviation to speak up in a straightforward fashion about inequities. Malik suggested emphasizing the importance of safety. Cook ('02), who is today a first officer at Delta Air Lines, recommended leveraging facts and data in order to promote positive change in the industry. "You can do it professionally, with style and grace," said Cook, the co-founder and CEO of a nonprofit called FAST, for Female Aviators Sticking Together.
Cook, author of "The Aviatrix Mindset," became interested in aviation because her mother was a flight attendant. At her mom's urging, Cook said, she scrubbed the word "can't" from her vocabulary and set her sights on becoming a pilot. As a younger person, Cook asked pilots she met to show her around their planes, and she sought out mentors.
Cook urged students to begin setting their longer-term goals today. Noting that many in the audience would probably return to Embry-Riddle as role models in the future, Cook asked, "What do you want to be saying to students here in 10 years?"
Posted In: Aviation