The Blue Origin of Aerospace Engineer Matt Boban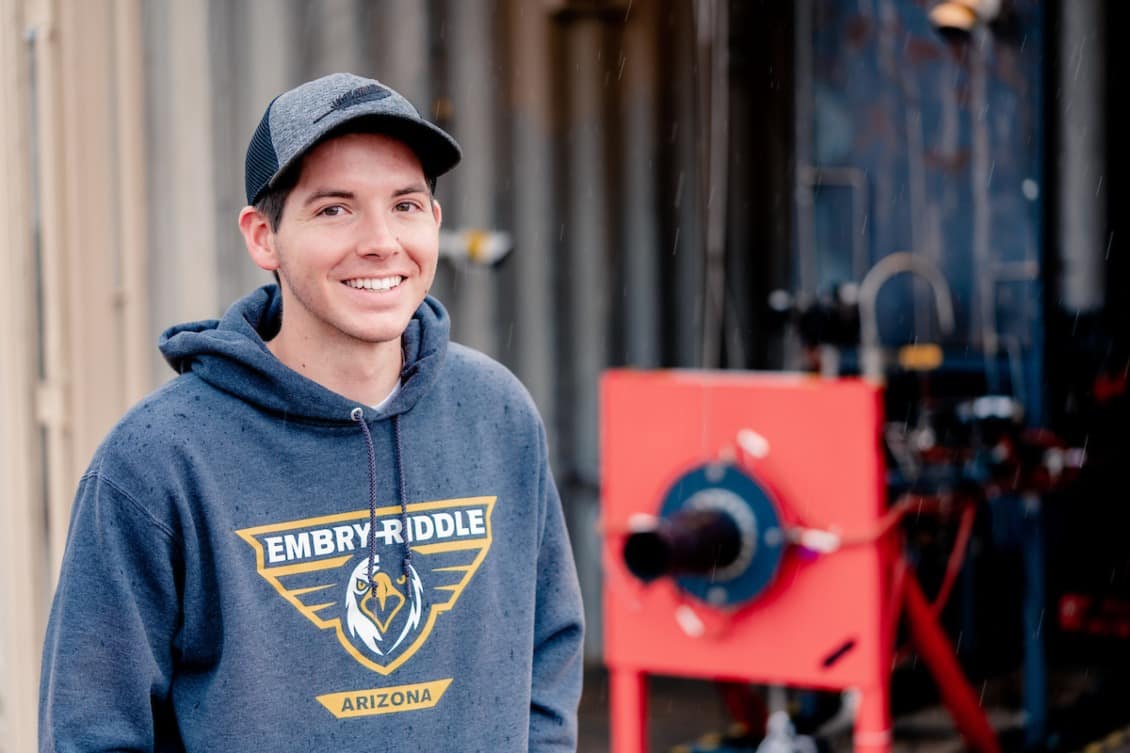 August 6, 2012 - an auspicious date in the history of space exploration that saw the touchdown of the Curiosity rover on the surface of Mars. The momentous feat of technology, innovation, and engineering was an inspiration to millions across the globe watching from Earth, 350 million miles away. For Matt Boban, it was also the ignition of a passion that would propel him toward a career in rocket engineering.
"I've always thought rockets were cool, but the first time I really considered a career working in aerospace was when I watched the Curiosity mars Rover land back in 2012," said Boban—a Senior Aerospace Engineering student at Embry-Riddle Aeronautical University. "I came to ERAU and saw what the rocket club was doing. I really fell in love. I think my first impression was something like, 'There's no way this is legal…'"
Boban's experience at Embry-Riddle has paved the way toward many opportunities in rocketry. As a former Vice President and President of the Rocket Development Lab (RDL) at Embry-Riddle's Prescott campus, Boban mentors students undertaking research and testing on combustion chambers for rocket engines. He has become the Test Conductor for the Lab's rocket engine, Janus, and is developing his senior design team project to build and launch a rocket with the use of Janus' engine.
Embry-Riddle has also provided exciting opportunities in preparation for a future in aerospace engineering. This past summer, Boban took part in an internship with Blue Origin, a private aerospace manufacturer and sub-orbital spaceflight services company at their launch pad location in Cape Canaveral Air Force Station, Fla.
"For my internship, I was working on the design of propellant-handling systems," said Boban. "My involvement in the RDL at Embry-Riddle was crucial to my understanding of how to design these kinds of systems. I was also able to bring back a lot of what I learned at my internship to help my capstone project."
Boban's work at Blue Origin not only put him in position to work directly with rockets in a professional environment, but also blossomed into a full-time job offering after graduation.
"An internship is really an extended interview, where the company will get to see how you learn, how you tackle problems in real-time, and how you communicate with co-workers," said Boban. "Working for Blue Origin is definitely a dream job for me. Not only is the company building really cool rockets, but I am surrounded by people who like to nerd-out about the same things I do. It is very rewarding to be able to work in an environment that challenges your technical knowledge and supports your personal growth as an engineer."
After graduating this Spring, Boban will join Blue Origin full time at the Launch Complex 36 at Cape Canaveral Air Force Station where he will be working on launch facility development.
"Students at ERAU have a lot of opportunities at an undergraduate level that many other schools only offer at a graduate level," said Boban. "The recent growth of the Rocket Testing Complex at the Prescott campus can provide students with an opportunity to take the concepts directly from the classroom to the real world. Our campus is very supportive of ambitious projects, giving students the opportunity to try, fail, and try again."
Posted In: Engineering | Space