The Battle of Mogadishu Still at Forefront of Retired Col. Danny McKnight's Mind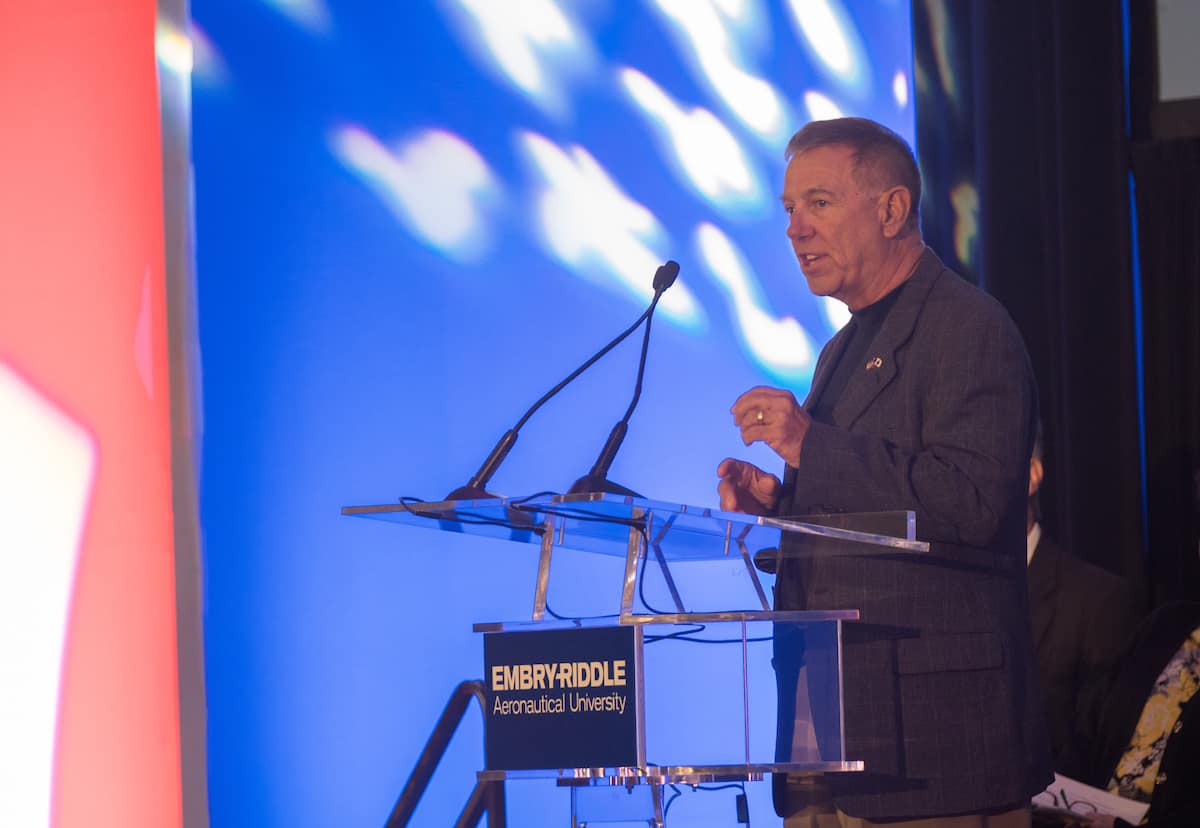 Twenty-five years have passed since the more than 15-hour Battle of Mogadishu, known as the deadliest firefight since the Vietnam War.
But for retired U.S. Army Ranger Col. Danny McKnight, whose heroic leadership was portrayed in the book and movie Black Hawk Down, the Oct. 3, 1993 battle and the six rangers he lost are always on his mind. He routinely visits their families and checks on soldiers who were also injured.
"There's nights that it's there and I'm not ashamed of that by any means because those were my kids," McKnight told moderator and SpeakER Series Director Marc Bernier Monday night at the Willie Miller Instructional Center, Lemerand Auditorium.
McKnight, who retired in January 2002 after 28 ½ years as a highly decorated U.S. Army Ranger, was commander of the 75th Ranger Regiment in Mogadishu, Somalia in 1993. The special forces team consisted mostly of members from the 75th Ranger Regiment and Delta Force. They were on a mission against a Somali militia that turned into the deadly Battle of Mogadishu with hundreds of Somali casualties and 18 U.S. soldiers killed.
McKnight, who always believes in leading from the front, was in the passenger seat of the lead vehicle in the convoy as he commanded 450 soldiers through Mogadishu. He was shot twice, in the neck and arm. Author of Streets of Mogadishu: Leadership at its Best, Political Correctness at its Worst!, McKnight said he's not sure what could have been done differently that day.
"They were everywhere, and we were in the streets and we had to do what we had to do," he said.
McKnight was keynote speaker earlier in the day at the 10th annual Veterans Appreciation Day hosted by Embry-Riddle President Dr. P. Barry Butler and Dr. Audrey Butler.
McKnight and Dr. Butler emphasized the importance of remembering and honoring veterans throughout the year, not just on Veterans Day in November.
"Veterans Day is 365 days a year for me. Every day there is a veteran in uniform, that will be standing up against the enemy, making it possible that we can be here enjoying a very special day," McKnight said.
Butler said the Veterans Appreciation Day ceremony reflects Embry-Riddle's deep respect for all men and women who help and have helped keep the U.S. safe.
"For their tireless service, veterans deserve our highest esteem," Butler told the veterans during the service at the ICI Center. "I extend that admiration to the families of those who serve, because they also make many sacrifices. Veterans, service members and their families will always enjoy a place of honor at Embry-Riddle. As students, faculty members, and staff, they enrich campus life through their skill, experience and commitment to service."
In addition to student veterans, about 13 percent of the students on the Daytona Beach Campus are in ROTC training to become Army, Air Force, Navy and Marine Corps officers. Early Monday morning, as a tie in to Veterans Appreciation Day, 612 Embry–Riddle cadets participated in a 2.5 mile run around Daytona International Speedway.
"We consider our commitment to educate the next generation of military leaders a great responsibility and privilege," Butler said.
At the ceremony, Butler also honored retired Army Col. Victoria Leignadier of Ormond Beach for her more than 30-year highly decorated career and for her volunteerism in helping other veterans. She is Executive Director of the nonprofit Remembering Vets. She is also an officer in a Disabled American Veterans chapter, the Invisible Wounds Memorial and the Veterans Council of Volusia County. In 2017, she was recognized as Patriot of the Year by the local chapter of the Military Officers Association of America.
Leignadier said she was honored to be recognized at the service.
"It's wonderful to be able to give back to the community," she said following the ceremony.
Her extensive military service record included commander of the 840th Transportation Battalion, which managed Department of Defense freight operations in Turkey, and commander of the 598th Transportation Terminal Group in the Netherlands directing the command's deployment and distribution missions in Operation Iraqi Freedom. She also served as the U.S. Army Chair at the National War College and was Chair of the Department of Military Strategy and Logistics before completing her service in 2010.