Teens Test Strength of Robots at Summer Academy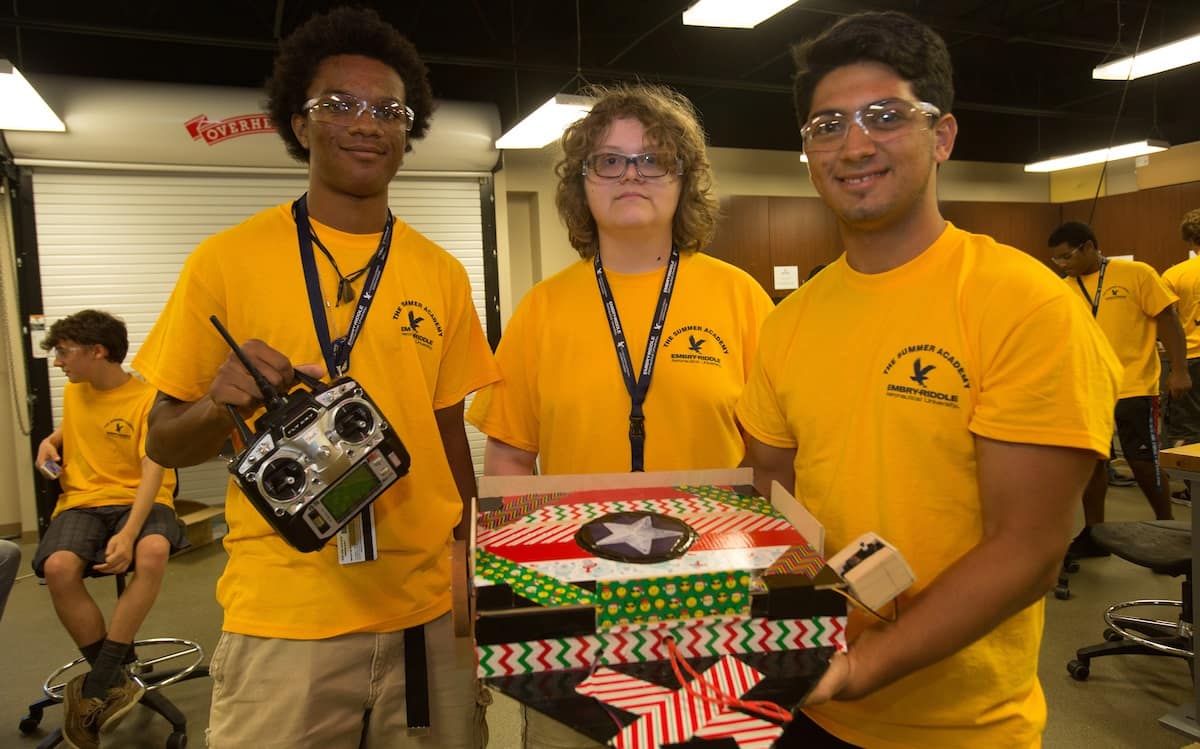 The test of strength came as two robots battled it out in a game of tug-of-war.
Using a carabiner and rope, two teams used remote controls to drive their robots in the opposite direction, until one robot was pulled over a line marked on the floor. 
This friendly competition was one of many exercises that future engineers participated in during Embry-Riddle's Robotics and Autonomous Systems Summer Academy last month.
The youth camp is one of several summer camps Embry-Riddle offers to teenagers and children over the summer. More than 500 youth attended day and overnight camps at Embry-Riddle's Daytona campus this year. Other camps focus on subjects such as aerospace career exploration, flight exploration and engineering.
During the robotics camp, students ages 15 to 17 spent a week constructing a robot from concept to creation. The campers built their robots using a set of electronic parts, motors, plywood and wheels. The robots are controlled by remotes but can also function autonomously using ultrasonic sensors to detect distance to objects, and cameras to detect objects based on color. Over the course of the week, the students learned to write software to make the robots react to these objects in their environment.
"While we give the students some basic tools and advice, the students are the ones that have to come up with the ideas and ultimately implement those ideas to solve the tasks through the week. This mirrors what they would do studying robotics here, as well as the field of engineering in general," said Eric Coyle, assistant professor of mechanical engineering at Embry-Riddle.
Campers from across the country and state traveled to Daytona Beach for the camp. Joseph Morano, 16, Rance Garrett, 17, and Henry Jordan, 16, were part of the winning team during the robot tug-of-war.
For a competitive advantage, the team weighed down its robot and cleaned dirt and dust off its tires.
"Cars that are built lighter accelerate faster, but cars that are heavy don't slip," said Morano. "By weighing down the robot, it had more grip and less wheel spin,"
Morano, who is from Hollywood, FL, said he hoped to pursue a career in engineering in the future. For him, the camp was an opportunity to learn new skills and make friends.
"I'm getting to work more with motors and programs," he said. "It's refreshing my knowledge and I'm learning new things I didn't already know."