Teen Eagle Aims to Break Record for Youngest Solo Flight Around the World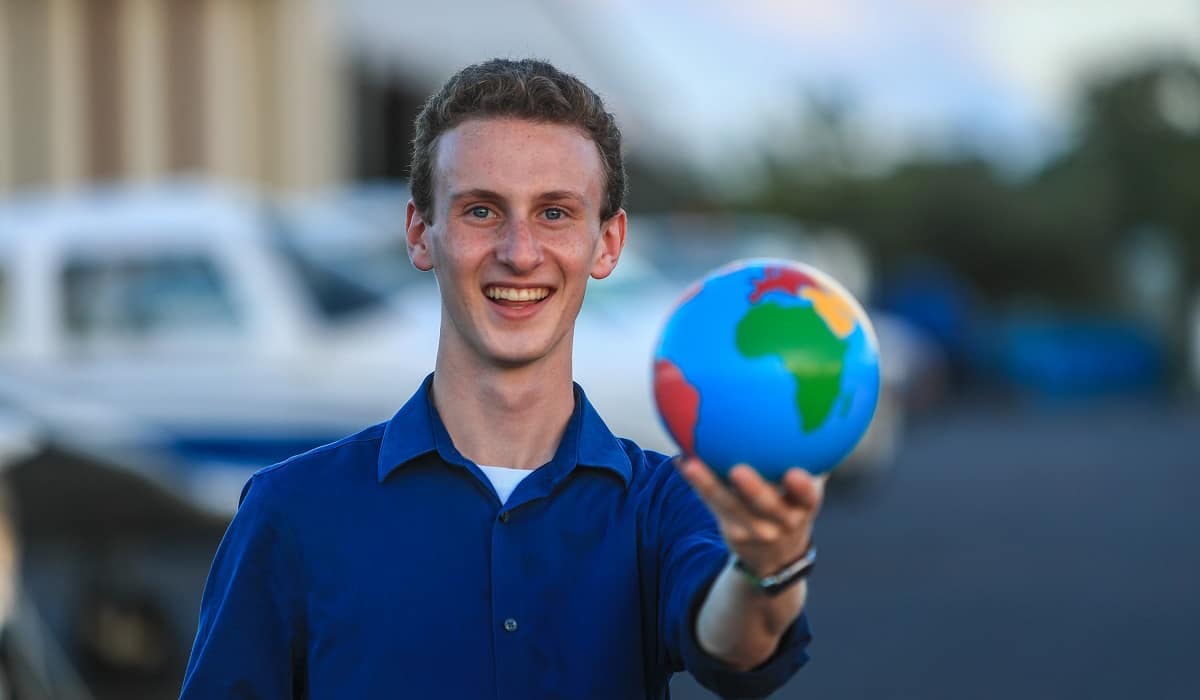 As 17-year-old Trevor Simoneau settles into his freshman year at Embry-Riddle Aeronautical University, he has a huge project in the works: embarking on a solo flight around the world.
If he leaves as currently scheduled in March 2021 for his 23,000-nautical-mile adventure, he could break the world record for the youngest person to circumnavigate the globe alone in a single-engine aircraft.
"I wanted this to be about a lot more than a world-record flight," the Orlando, Florida, native said, explaining that he will stop at elementary, middle and high schools throughout his trip to provide seminars and workshops to inspire interest in STEM and aviation. He will also share his experiences on social media. (Follow Simoneau's journey from the flight deck on YouTube. Note: Uploaded video were not created by, or filmed on, Embry-Riddle's campuses, where face coverings and physical distancing are now mandatory.)
At age 11, when Simoneau discovered he wanted to learn how to fly after attending educational programs at Kennedy Space Center, he founded his own aviation apparel company to pay for his training. The company, Chart It All, makes clothing items using fabric printed with aeronautical charts.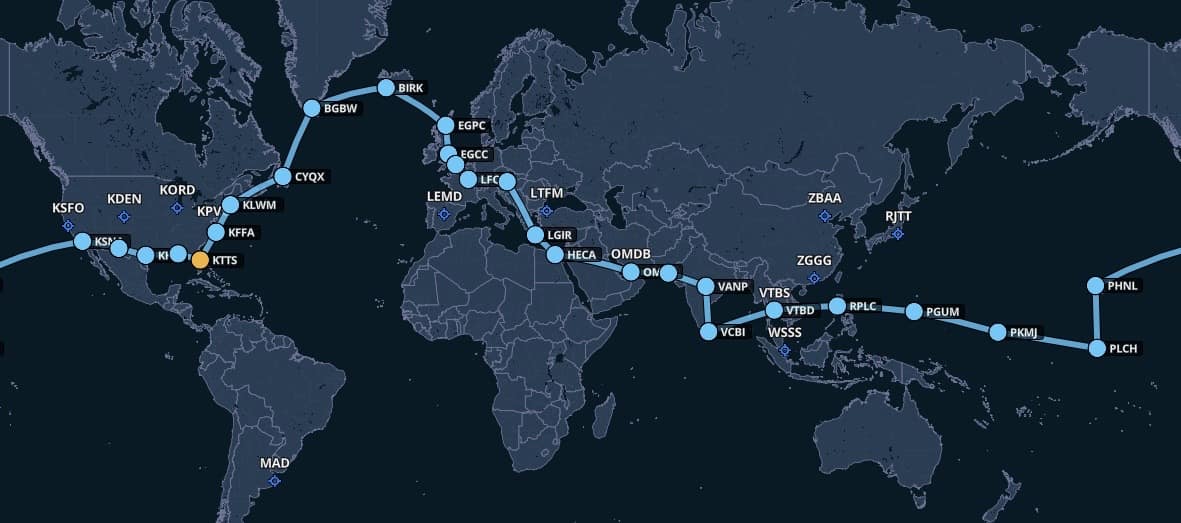 Trevor Simoneau's route around the world will span 23,000 nautical miles. (Photo: Trevor Simoneau)
Majoring in Aeronautics with a minor in aviation law, Simoneau explained that he wants to be a living example of a young person who had a dream to be in aviation but had no obvious entry. Neither of his parents fly. Nor is he widely traveled.
"I want to show students that you can get into aviation" many different ways, including through school programs and scholarships, Simoneau said. "With this trip, I take that idea global."
Simoneau became interested in Embry-Riddle not long after he founded his apparel company. At age 12, he took his first campus tour. "I did my research, and Embry-Riddle was the best of the best — not only for flight training, but for everything aviation-related," he said.
James Holliman, assistant professor of Aeronautical Science, said he has known Simoneau since just before that campus tour, when Simoneau had approached a pilot friend of Holliman's and asked him "highly technical questions for his age about the type of flight plan they were filing compared to the weather conditions." Later on, the pilot friend asked Holliman if he could take Simoneau and his parents around the Flight Department.
"We all became instant friends," Holliman said. "I started to get to know a young man who had only ever had eyes for aviation. He had not only a passion but a drive to learn and take in everything he could. Through the deep and unwavering support of his parents, he has done many notable and amazing things.
"I think [the around-the-world flight] is an amazing dream, and if there is any aviator who could do it at such a young age, it is definitely him," said Holliman. "Not only do I believe he will achieve it, but I believe he will do it with style. His trip will inspire many others regardless of age and also bring the magic of aviation to those who may have never been exposed to it."
Simoneau plans to fly a Cessna 210 on his trip, which will include stops in 27 cities and 18 countries. Having assembled a crack team of advisors, including pilots who have flown around the world themselves, flight instructors and mechanics, Simoneau is training for his oceanic crossing, preparing for foul weather, possible engine failure and emergency landing, as well as the long, solitary hours he will spend at the plane's controls.
"This trip represents one of the most complicated things you can do in a small airplane," he said. "You have to be on your game for 11 or 12 hours at a time. You're alone. You don't have anyone to talk to. It can seem scary. But it's also an incredible adventure."
Posted In: Aviation