Tackling Tornado Alley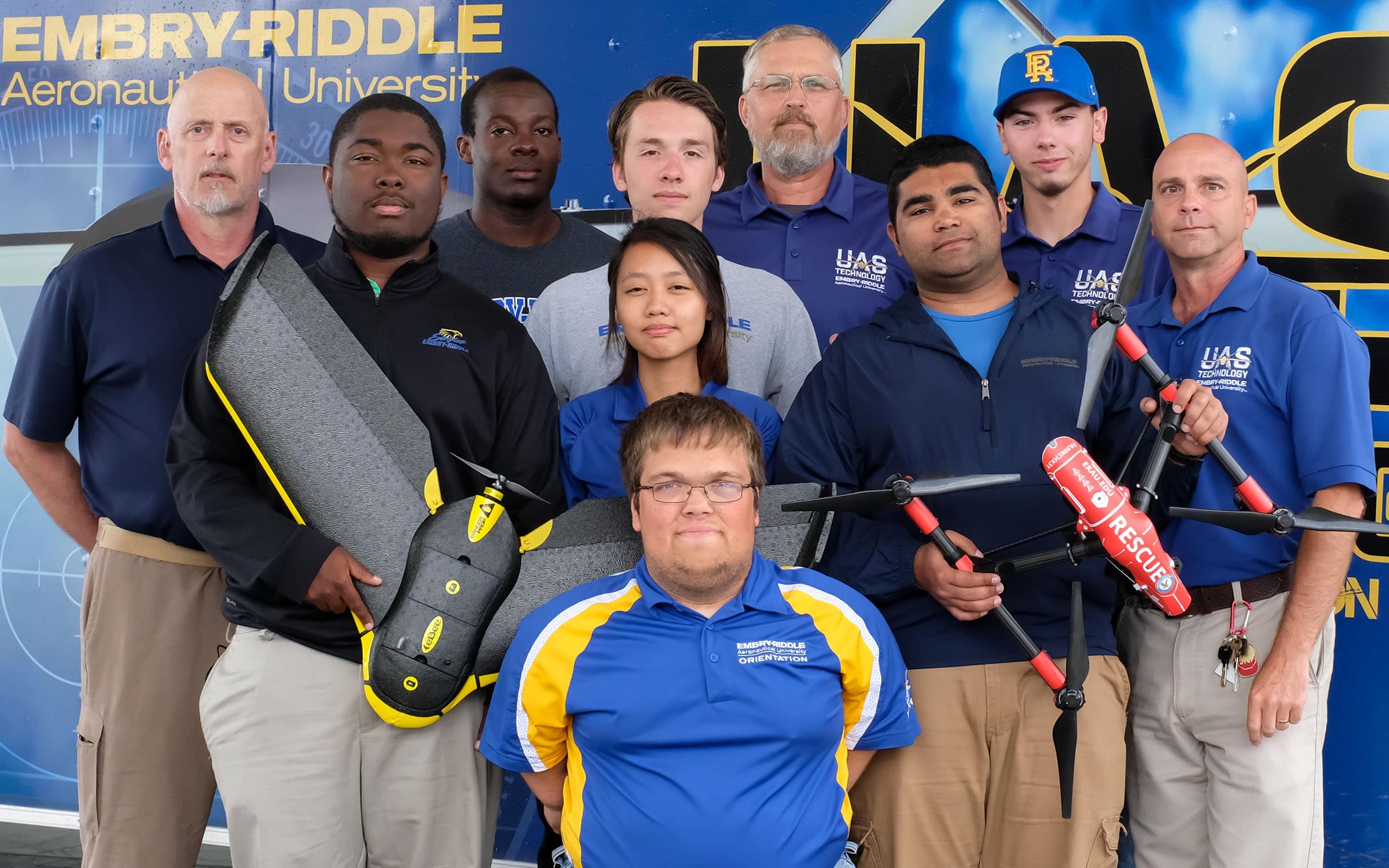 The first test of small drone-based augmented reality software suggests a new way to help emergency teams find roads, bridges and victims when disaster strikes.
On May 13, during the height of twister season across America's notorious Tornado Alley, faculty members Joe Cerreta, Dan Macchiarella and Scott Burgess headed to Oklahoma, along with seven students. The National Oceanic and Atmospheric Administration's colorful online tornado-prediction map was showing a dark bull's-eye over central and western Oklahoma.
The Embry-Riddle Aeronautical University team drove straight into the danger zone.
The group had just set up operations in Alva, Oklahoma, when an EF2 tornado struck 100 miles to the south, in Elk City. Spinning winds as fast as 135 miles per hour, the storm caused damage to at least 150 homes and killed one person, according to Keli Cain, a public information officer with the Oklahoma Department of Emergency Management. Soon after the storm had passed, the Embry-Riddle team, working from a mobile command trailer, provided high-resolution damage assessments based on imagery captured by small unmanned aerial systems (UAS).
They also conducted what is believed to be the nation's first test of an emerging UAS technology to benefit first responders at disaster scenes. The team's demonstration of the technology was livestreamed by the National Weather Service – another first.
The Embry-Riddle group provided proof of an important new concept.
Augmented Reality in Action
Augmented reality software, coupled with livestreaming video captured by small drones, can provide emergency management personnel with real-time aerial damage assessments, as well as critical assistance in navigating roads and bridges obliterated by fallen trees, flattened homes and floodwaters. The technology lets first responders communicate with UAS operators via smartphones, using either voice or text messages to quickly clarify coordinates or request close-ups of shadowy debris.
Combined with virtual "pins" indicating the Federal Emergency Management Agency's four damage-assessment categories (affected, minor, major and destroyed), the augmented reality imagery may prove instrumental for getting communities the help they need when disasters happen, says Cerreta, an associate professor in the College of Aviation at the university's Daytona Beach Campus in Florida.
"To my knowledge, this was the first use of augmented reality for small drones in post-disaster relief operations in the United States," Cerreta says. "A version of the technology was developed for unmanned aircraft systems used by the U.S. Army, but it has not previously been used with small drones to benefit civilian first responders in this country."
Cerreta's assessment was confirmed by Michael Abernathy, director of technology for Rapid Imaging Software Inc., maker of the SmartCam3D View augmented reality software.
"Although our augmented reality technology has been used by the military as well as NASA for decades, it is not in broad use for civilian applications," Abernathy says. "This technology adds valuable information to video that improves decision-making. We foresee that in the near future it will be a must-have for large and small emergency response organizations, and it will save countless lives."
Putnam Reiter, project manager at the Oklahoma Department of Emergency Management, who helped spearhead the partnership with Embry-Riddle, reports that the technology demonstration went well. Reiter's colleague Zach Stanford, a special projects officer, agreed. "The team positioned themselves in such a way that they could assist wherever they were needed," Stanford says. "They assisted with providing an initial overview of the damage. There were several areas blocked by downed trees and power lines. They were able to get clear images from the air."
The SmartCam3D View software blends geographic information, such as road locations, boundaries and icons, with live UAS-captured video from the disaster area, essentially laying a map over obliterated office parks and submerged bridges. "Sometimes it's difficult or dangerous for emergency crews to get into areas that were damaged – for instance, if there are wildfires or floodwaters," Cain notes. "Anything that technology can do to make it less difficult for first responders would be a good thing."
Learning Through Real-Life Experience
The Oklahoma project was part of a "study away" summer course – supervised by Cerreta; Macchiarella, a professor of aeronautical sciences at the university's Daytona Beach Campus; and Burgess, an associate professor of aeronautics with the Worldwide Campus – for students pursuing degrees in unmanned aircraft systems. (While they were in Oklahoma, meteorology students in another Embry-Riddle study away program, supervised by Assistant Professor of Applied Meteorology Shawn Milrad and Associate Professor of Meteorology Thomas Guinn, searched for tornadoes from Kansas to Texas.)
The goal of the UAS trip, says Rohit K. Gohil, a senior Embry-Riddle student studying unmanned aircraft systems science, was to "have aircraft in the sky within 15 minutes of finding a parking spot." Working quickly, the group deployed a variety of drones, including a tiny fixed-wing senseFly eBee, a quadcopter DJI Phantom 4 and two DJI Inspire I models equipped with a Zenmuse X3 12-megapixel camera or thermal night-vision Zenmuse XT FLIR camera.
The Elk City storm was bad, Gohil says, and he soon realized that strong organizational skills, along with clear, direct communication, were key. "The tornado was classified as an EF2, but it
was strong enough that it threw part of a school bus a quarter of a mile, and it flipped a Greyhound bus on its side," he says. "It generated grapefruit-sized hail."
The team trimmed its operational tear-down time to eight minutes, flat. They also learned to "scout and jump" locations by sending a small advance reconnaissance team to set the stage for the rest of the group. "This made it possible to be very responsive and transition from the initial touchdown location all the way to the end of the tornado's path," Burgess explains.
At the request of an emergency management official in Johnston County, Oklahoma, where two tornadoes touched down, students located a herd of lost cattle. Cerreta, Macchiarella and Burgess stood back and let the students work. "Within three minutes," Cerreta reports, "the students independently found the 30-animal herd stranded on a vanishing island in the middle of a flooded area. They applied UAS fundamentals to safely, effectively perform a beneficial use of UAS technology. It was a proud moment."
Also during their trip, the group provided homeowners with UAS-captured images to be sent to an insurance company. Macchiarella documented the car where a man in Elk City tragically lost his life during the tornado.
The Embry-Riddle team further worked with industry partners Textron Systems and Aeryon Labs Inc. to provide community-engagement demonstrations at locations such as the Northwest Technology Center. They teamed up with Oklahoma State University partners as well as Oklahoma-based Embry-Riddle Worldwide faculty members, who provided access to private airspace.
When they weren't surveying tornado damage, students practiced capturing UAS-based multispectral imagery to assess the health of agricultural crops. "The multispectral imagery gets processed into false color maps," Cerreta explains. "The maps show healthy vegetation as green, while yellows, oranges or reds indicate some type of issue that a farmer may want to address."
Maxwell Dunphy, a junior at Embry-Riddle, says helping people was his top priority during the study away program. He wasn't disappointed.
"I was able to help out a lot of people on this trip, and that's one thing I was really looking forward to," he says.
Editor's Note: This article was originally published in the Fall 2017 edition of ResearchER magazine (Vol. 1, No. 2). The ResearchER archives can be found on Scholarly Commons.