Superfoods Cultivated at Embry-Riddle Might Someday Feed Astronauts on Mars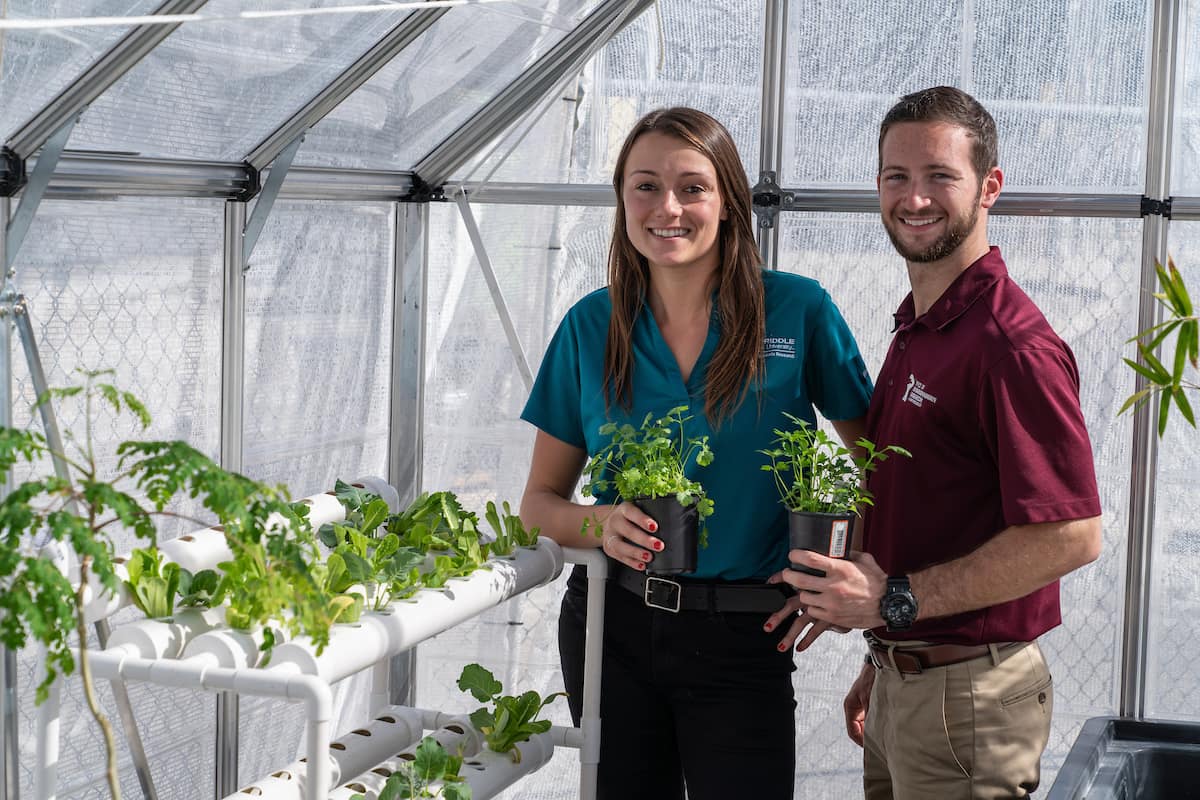 Hydroponic growing system could provide a balanced diet for space travelers
Student researchers at Embry-Riddle Aeronautical University are growing superfood crops in conditions approximating those of Mars in hopes of developing a self-sustaining hydroponic system to feed astronauts who will explore the distant planet.
Embry-Riddle recent graduate Deanna DeMattio and student Nick McGuire are conducting the research, called Project HOME: Hydroponic Operations for Mars Exploration. The pair initially focused their research on Moringa — a nutritious superfood now found in powders, granola bars and drinks — reducing the sunlight the plants received to Mars levels, or 60 percent of the sunlight that we receive here on Earth. Next, they added kale, chia, goji berries and sweet potatoes to their experiments.
"We're trying to grow superfoods, plants you may not have heard of, but that are valuable to take to space," said DeMattio.
"The point of our research is to show that not only will plants still grow, but they still produce sufficient yields under reduced light conditions," said McGuire. "The yield we achieved was still more than enough to provide a full diet according to the nutritional needs of the human body per day."
DeMattio's interest in agriculture began in high school. In her first week at Embry-Riddle, she contacted a faculty member who was experimenting with aquaponics, a form of agriculture in which fish eat plant roots and dropped plant matter and excrete fertilizer for the continued growth of the plants. She won a Spark research grant from the Embry-Riddle Office of Undergraduate Research that first year, as well as grant money during the summer of 2017. In 2018, the university funded the project with a grant from the Ignite Initiative. DeMattio was named Undergraduate Researcher of the Year on the Daytona Beach Campus in 2018.
After graduating with a degree in Aeronautical Science in summer 2019, DeMattio became a flight instructor at Embry-Riddle. She has also been hired by PSA Airlines as a first officer — pending her earning required flight hours — and should start working for PSA full time in February.
In summer 2019, DeMattio was invited to Germany to the World Congress of Undergraduate Research with McGuire, whose interests are very different but mesh well with Project HOME.
Preparing for Life on Mars
McGuire served as a Marine from 2012 to 2016. His commanding officer encouraged him to pursue his interest in going to Mars, so he focused on learning to fly jets, which is similar to flying spacecraft, McGuire said. After he graduates from Embry-Riddle in Engineering Physics, he hopes to go back to the military and become a test pilot and use that experience to go to NASA and become an astronaut.
Dr. Kevin Rigby, associate professor of Aeronautical Science in Embry-Riddle's College of Aviation and the faculty advisor for Project HOME, offered the highest praise for the two young researchers.
"The powerful thing about Deanna is her ability to work through any problem with determination and resolve as a scientist," said Rigby. "Nick is a born leader, excellent scientist, and strong program manager. The two together are an unstoppable force."
The two researchers grow their experimental crops with a hydroponic system, which involves no soil and uses only a small percentage of the water used in traditional agriculture. The system includes temperature, humidity, CO2 and sunlight sensors, so that it can be monitored remotely — even, as McGuire points out, by astronauts out on exploration missions, who would be alerted to any problems.
DeMattio and McGuire have even formed a club at Embry-Riddle to involve other students in continuing the research and to gain more public exposure.
After assessing the viability of their superfood crops in Mars-level light conditions, the researchers explained that further research will be needed to focus on Mars' atmospheric conditions, solar radiation, temperature variations and seasonal durations that could also affect the plants' growth.
Rigby said the research has provided a perfect hands-on, inquiry-based experience for DeMattio and McGuire.
"It has been an outstanding experience in the methodology of scientific research," said Rigby. "They have gained valuable experience in research design, fabrication, project management and problem solving."
Way down the road of their experimentation, said DeMattio, would be the incorporation of aquaponics, adding fish into the equation to provide fertilizer to the plants — and perhaps even to provide a protein source if the fish were edible.
"But to convince people we need fish on Mars before humans even get there is going to be a lot harder," DeMattio said.
Posted In: Applied Science | Research | Space