SUIT Lab Gives Students 'Gloves-On' Spaceflight Experience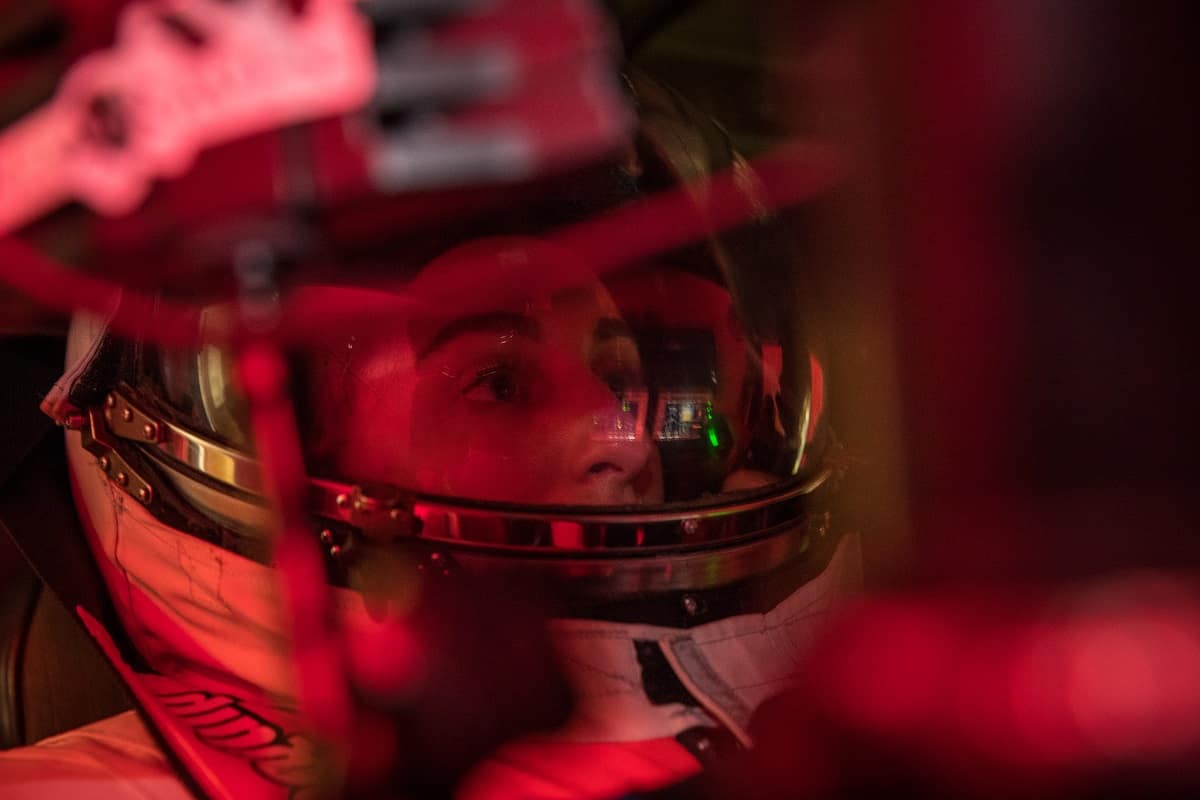 As companies develop space vehicles to send private individuals into outer space, a new lab at Embry-Riddle Aeronautical University's Daytona Beach Campus may become the industry's testbed for spacesuit design.
Inside a suborbital space flight simulator, Peyton Schwartz struggles as she slowly reaches for a camera to capture the highest clouds in the Earth's atmosphere.
The pressurized spacesuit that makes her feel more than twice her size helps her experience what it's like for astronauts as they maneuver during missions in space.
That first-hand perspective is exactly what the Spaceflight Operations & Human Factors major needed for research she's conducting for the new SUIT (Spacesuit Utilization of Innovative Technology) Laboratory at Embry-Riddle Aeronautical University's Daytona Beach Campus.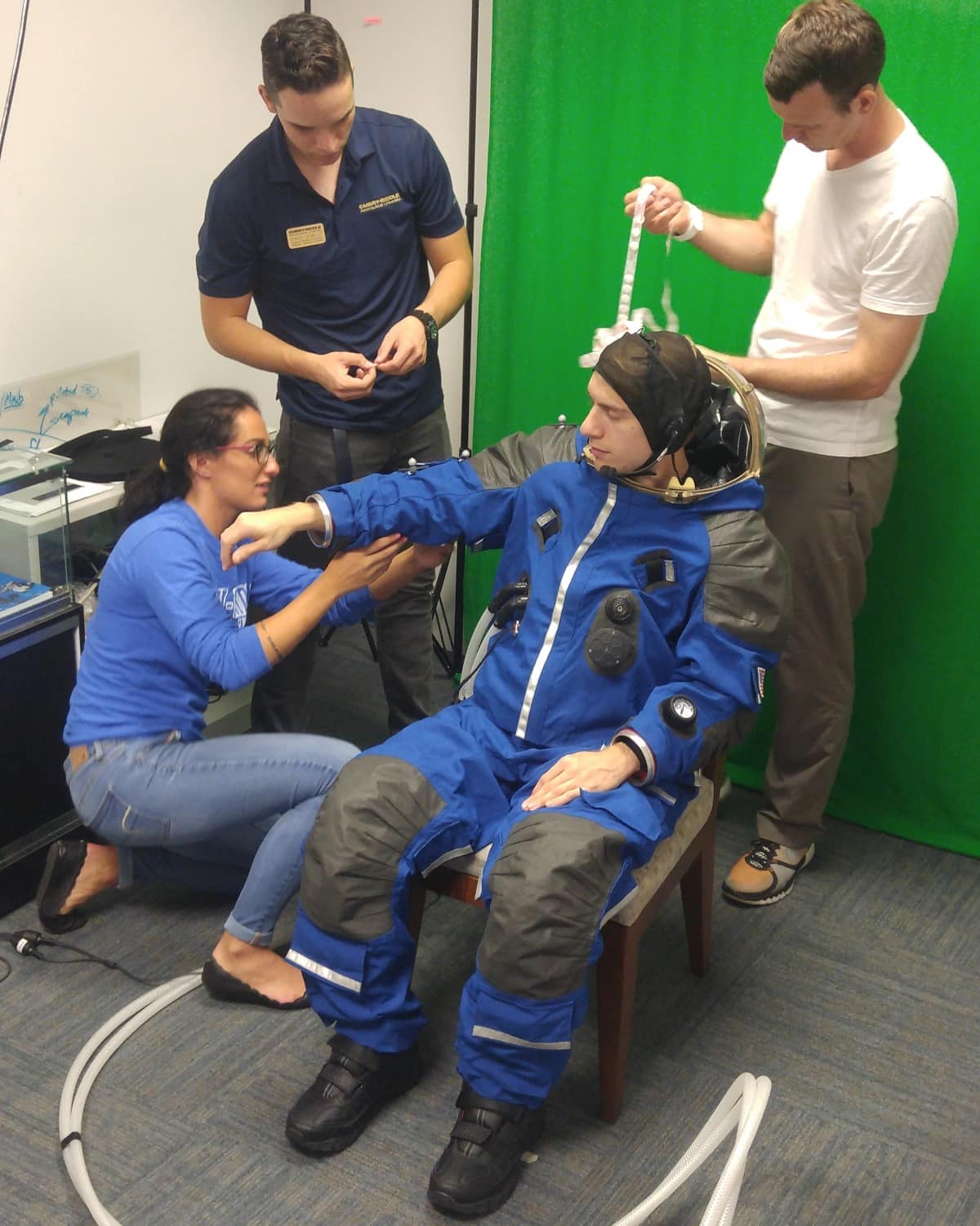 "I feel like I'm in a big cement box. It's really hard to move. I thought I'd have a lot more range of motion," said Schwartz, who was one of the October participants in Project PoSSUM, a spaceflight training program hosted at Embry-Riddle twice a year. She also experienced microgravity as part of the training during an aerobatic flight. "I can visualize more things now that I have that experience," she said.
Schwartz, a junior from Washington state, is one of seven students working in Embry-Riddle's new SUIT Lab, which became fully operational this past spring. Located in the College of Aviation building, the lab supports research on spacesuits and, soon, new space gloves.
Schwartz is gathering various range-of-motion benchmark data with and without a spacesuit that can be used by the industry and is looking at other studies conducted by NASA, among others. Mobility analysis includes upper-body motions such as flexion, extension, abduction and adduction of the arms in addition to intravehicular and extravehicular activities.
"We're seeing what's comfortable and not comfortable and what we can and can't do," Schwartz said. "As a human factors major, I'm looking at how muscles react to certain movements."
Dr. Ryan Kobrick, Assistant Professor of Spaceflight Operations and Principal Investigator of the SUIT Lab, said the Embry-Riddle lab is using 3D motion capture system software to better show range-of-motion angles with and without the suit as well as determining limitations and potential improvements.
With companies developing space vehicles to take crews and passengers to suborbital, orbital, deep space and planetary surface destinations, spacesuit technology will be needed to protect people from the harsh space environment. The lab research will provide future spacesuit manufacturers and spaceflight operators with a greater understanding of spacesuit mobility restrictions and how to improve designs.
"Three dimension is the next step for understanding how astronauts operate in their work environment," Kobrick said. "You get a full cloud of data versus a two-dimensional, one-plane view."
The SUIT Lab includes funding from Embry-Riddle's Faculty Innovative Research in Science and Technology (FIRST) Program and a NASA Florida Space Grant Consortium/Space Florida grant in the Florida Space Research Program for various testing, data collection and analysis.
The SUIT Lab is also creating a standardized checklist for crews to use during their activities inside or outside a vehicle. Results from motion-capture analysis will determine which activities are most critical for suit testing. The operational checklist can be used before, during and after any activity involving a spacesuit. It is intended to provide a crew with the ability to identify any problems or inconsistencies when operating with the suit. The students and Kobrick are currently conducting range-of-motion testing with Final Frontier Design, which is developing a new spacesuit and other garments for astronauts. Additional testing on a new suit was conducted at Embry-Riddle on Nov. 12.
Jeni Schuman, a sophomore majoring in Aerospace Physiology with a minor in Flight, is performing physiology work in the lab, including measuring oxygen saturation levels, heart rate, skin temperature and more to test the impact spacesuits have on people who wear them.
"Spacesuit companies want their products to be as efficient as possible and we'll help determine if they are," Schuman said.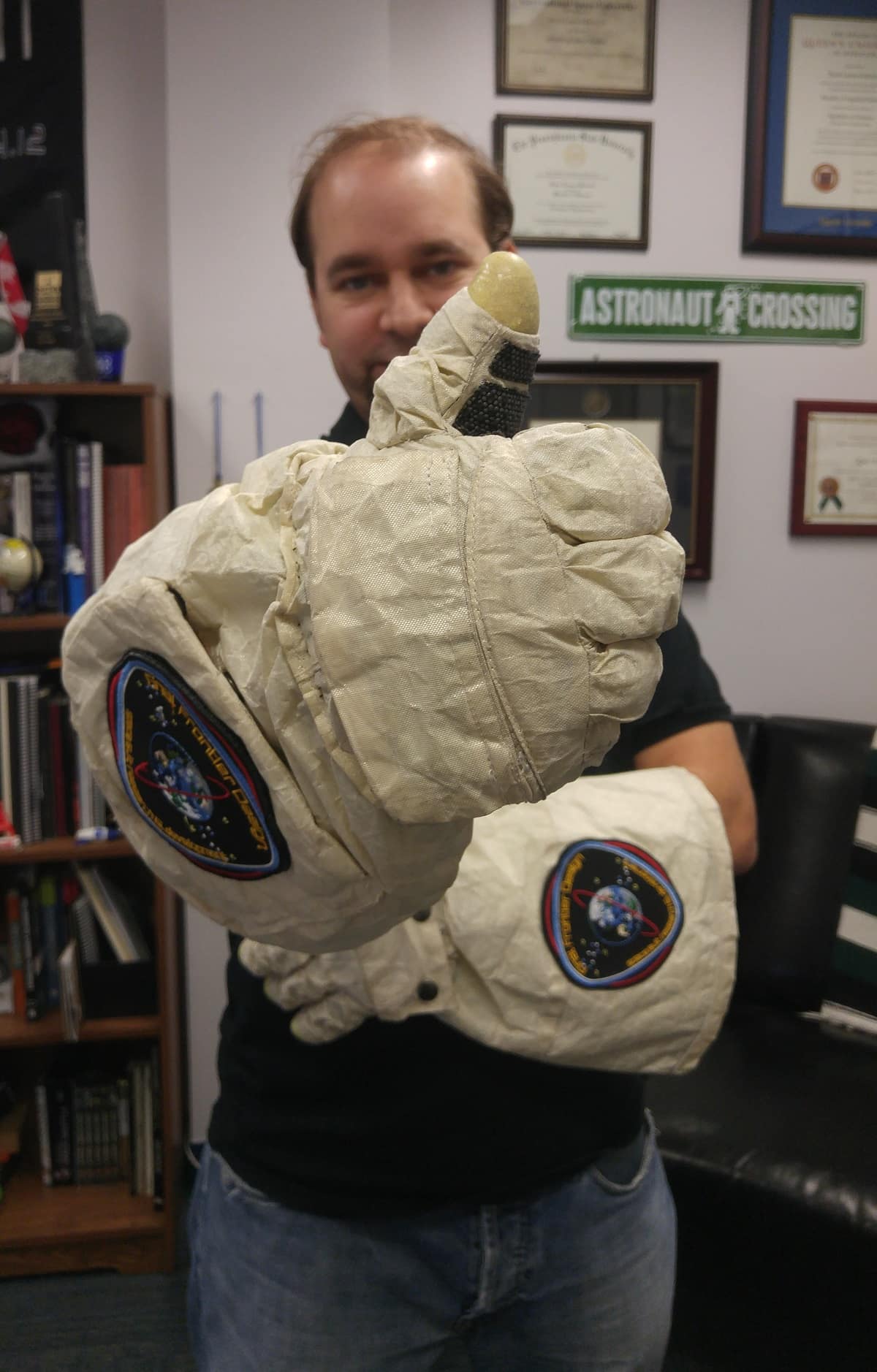 In addition, this past summer an alumnus captured mobility videos for the SUIT Lab to analyze at the HI-SEAS (Hawaii Space Exploration Analog and Simulation), wearing one of the HI-SEAS suits during an eight-month Mars simulation. That data will be combined with the results of Kobrick's experience this January at the Mars Desert Research Station (MDRS) in Utah, where he will be Mission Commander of the International Space University's alumni crew, MDRS Crew 188. Kobrick will conduct more spacesuit mobility testing, gather EVA metrics data and test a new outer-layer space glove by Final Frontier Design. He will be riding ATVs in a dusty environment and testing the glove's durability.
"I'm going to use these gloves to see how they wear and tear and last over two weeks of hard work in the field," Kobrick said.
Kobrick and a group of students also went to Greece last summer as part of a Spacesuits & Human Spaceflight Operations study-abroad program. During two demonstration dives they learned how to walk underwater in a method similar to astronauts training to walk in space. In addition, they spent two weeks living on a sailboat in a confined environment that could correlate to confinement on a spacecraft. A similar trip, Expedition Greece, is planned for 2018.
Eventually, Kobrick hopes the SUIT Lab will become a testbed for industry partners to receive feedback, data and recommendations for spacesuit design.
"We want to test everyone's spacesuits and contribute to technologies that improve spacesuits, and therefore increase human performance and exploration efficiency," Kobrick said.