Stuffed Wellness Bear, 'Uber for Pets' Earn Funding at Innovation Competition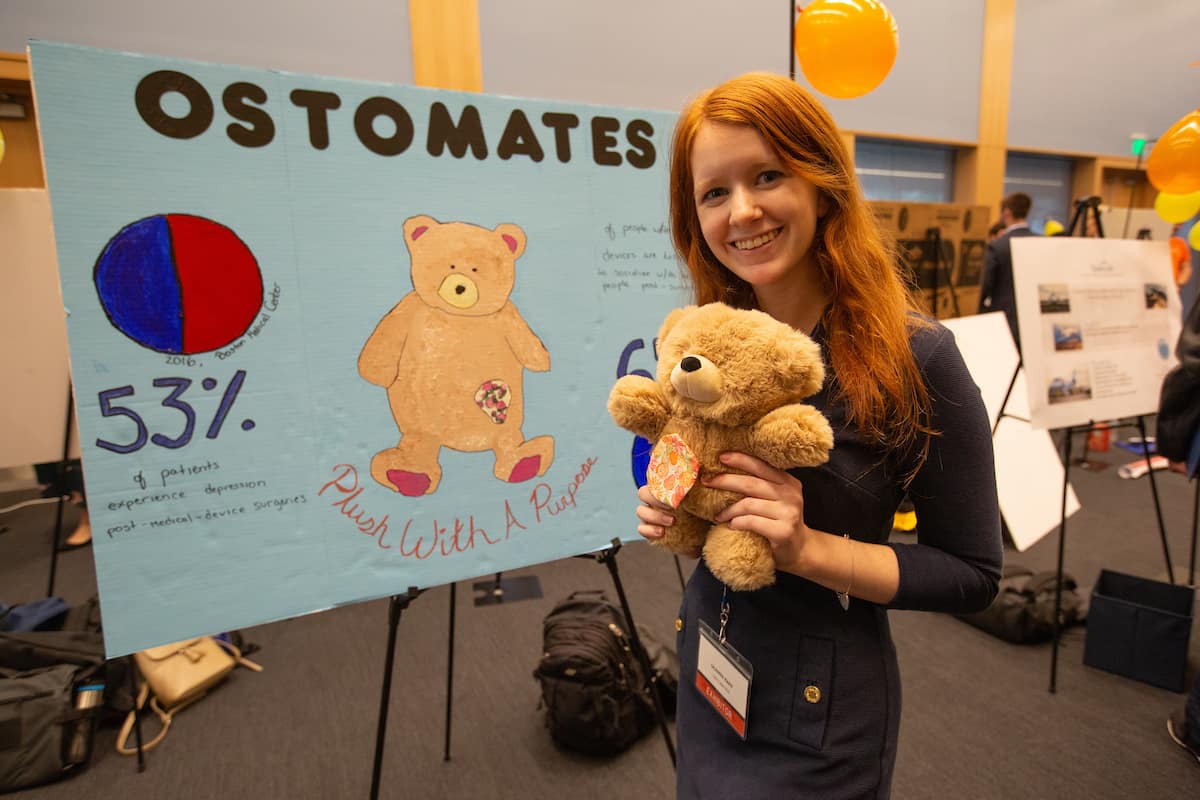 Winners of Embry-Riddle's annual entrepreneurship competition prove that necessity — and sometimes traumatic life experience — truly can be the mother of invention.
Deanna Rapp wasn't sure she'd live past her 21st birthday.
A junior in Logistics and Supply Chain Management, she was diagnosed with ulcerative colitis, an inflammatory bowel disease, when she was 9 years old. After a decade of increasingly painful abdominal issues, her health hit a low point when, in late 2018, she realized she had lost nearly 40 pounds, a third of her body weight. Her digestive system rejected food. Her hair fell out. She could hardly walk to class without a cane. Then, her immune system began attacking her colon.
"I had to get my entire colon removed," she said, in addition to an ostomy takedown, which connected her small intestine to an external bag. "No colon, no problem."
But that was then, seven months ago — to her, a distant memory. Rapp, a former cheerleader and self-proclaimed "princess at heart," said that her strategy for coping with stress and anxiety is to simply not stress or be anxious, and that means looking forward.
"People tend to want to control something when they don't have control in other areas," she said. "And I've always thought big."
That big, forward-thinking attitude served as the driving force behind the development of her new business, Ostomates, a manufacturer of teddy bears meant for colectomy patients, which co-won the Judge's Prize at Embry-Riddle Aeronautical University's annual competition for aspiring entrepreneurs, the TREP Expo, held Thursday, Nov. 21, on the Daytona Beach Campus.
Open to students, faculty, staff and alumni, the expo is a business competition that tests the commercial viability, innovativeness and overall "cool" factor of business startup ideas. Teams present concepts in a poster session and pitch them to a panel of investor-judges who award $1,500 in seed funding to two winning teams, in addition to $500 in funding to the first of three "People's Choice" winners.
A pet-friendly, on-demand rideshare company called Paxi, run by Embry-Riddle alumnus Dr. Greg Smith and partner Dwight Bermingham, won the second Judge's Prize.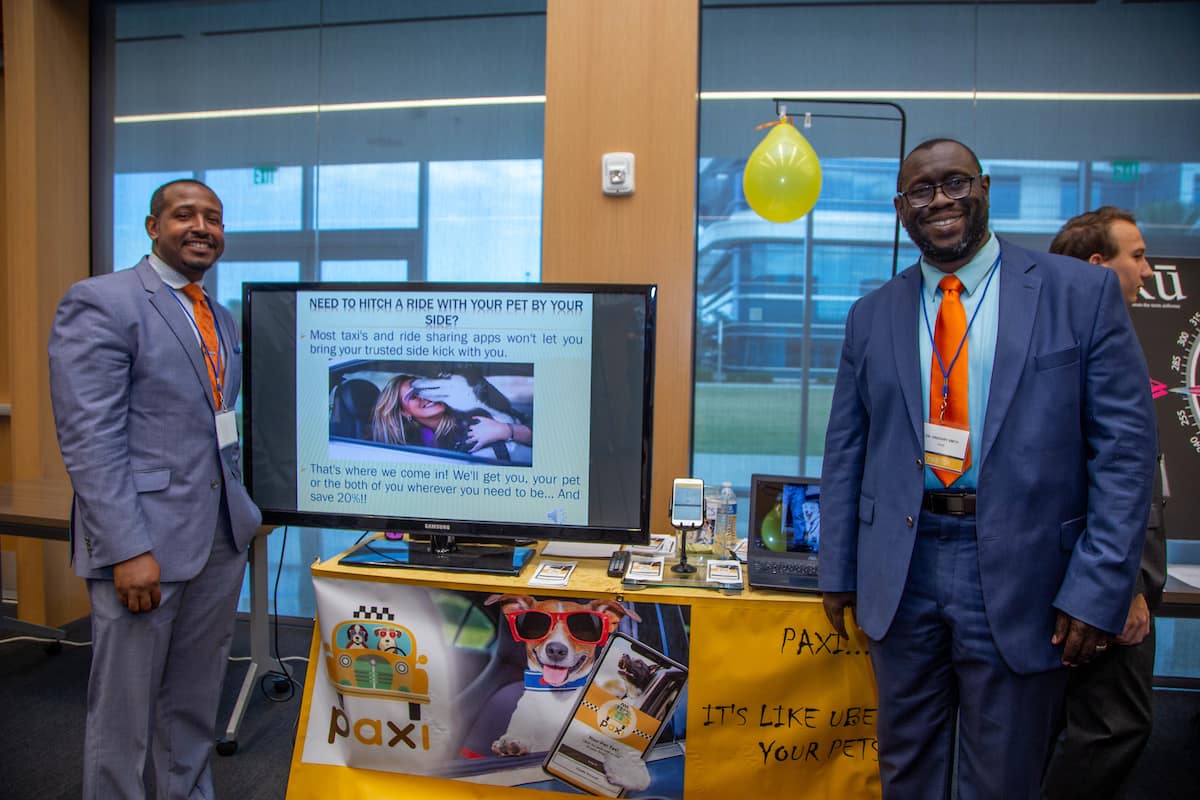 Alumnus Greg Smith (right) and partner Dwight Bermingham (left) accepted a check for $1,500 for winning one of two top prizes at the 2019 TREP Expo innovation competition. (Photo: Embry-Riddle/David Massey)
It's 'Ruff' Out There
How do you transport a llama?
Smith was trying to figure that out about two years ago when he purchased a few llamas to join the three goats, seven ducks, 13 chickens, few rabbits and more than 10,000 fish he had on his 20-acre farm — and he didn't like the answer. He would need to buy a trailer for thousands of dollars, he discovered, or pay movers $1,000, which was more than he spent on the llamas themselves.
That gave him the idea for Paxi, a business he and his partner casually refer to as "Uber for pets and people traveling with pets." Although their concept has grown beyond exotic animals to specialize in domestic-pet ridesharing (dogs are currently not welcome by Uber and Lyft), the scope of their company is much wider. Pet-walking and sitting services are also included, as is pet transport to vet/grooming appointments, with a built-in identification system that allows drivers and clients to identify each other virtually for added security. The company also offers materials transportation, even an airline branch the duo hope to begin developing next year, which would empower users to connect with local pilots through the app to reserve seats on private planes (for themselves, or their llamas).
"We're doing for rideshare what Facebook did for social media," Bermingham said.
That shared vision almost never had the chance to materialize, however, after Smith's eldest son, Keron, died in April, at 27 years old.
"You lose all hope sometimes," Smith said. "That loss is something you really have to fight to get over."
He credits Bermingham for helping in that fight, and for giving him the energy to believe in the potential of their shared dream again.
"Rideshare is projected to grow to $218 billion by 2025," said Smith, who graduated from Embry-Riddle in 2014 with a Master of Business Administration degree, one of several graduate degrees. "The current pet industry is $72 billion."
Uber and Lyft might dominate today, the two admit, but they see positives in that duopoly.
"They paved the way," Bermingham said. "We don't need the whole pie. We don't even need a full slice. We just need a crumb that fell off the table."
Turning Lemons into Return on Investment
For each winner of the 2019 TREP Expo, entrepreneurship has been a way of life — but growing up, not just any business venture made the cut.
"I was never the kid with a lemonade stand because I knew lemonade stands didn't make that much money," Rapp said.
Instead, she focused on wider-margin schemes, like putting the year's most popular gift on her Christmas list (it was Tickle Me Elmo one holiday, she remembers), and then reselling it, unopened, months later at a garage sale.
"That's 100 percent profit," she laughed.
Smith and Bermingham had the same drive. At 11, Bermingham started shoveling snow house to house, and at 16, he quit high school to run his cousin's cell phone company. To buy himself soccer cleats in middle school, Smith made and sold mocha treats. He cleaned his family's cars and shoes, ironed their clothes.
I lived 20 years without a (ileostomy) bag, and then I look down one day, and my intestine is hanging out. I felt like I was pretty much all alone. But to see someone else go through the same thing you are — even if it's just a teddy — can be really comforting.
If he wanted anything growing up, he hustled for it, and that work ethic stuck with him.
Today, goals for all three entrepreneurs has ballooned. Rapp said she hopes to grow her "plush with a purpose" line to reflect a variety of medical procedures: bears with pacemakers, ostomy bags, feeding tubes. She imagines selling them in hospital gift shops and to camps for children with feeding tubes and bags.
"I lived 20 years without a bag, and then I look down one day, and my intestine is hanging out," Rapp said. "I felt like I was pretty much all alone. But to see someone else go through the same thing you are — even if it's just a teddy — can be really comforting."
With service officially beginning in January, in 10 cities nationwide, Paxi is further along in its development. Within six months, its owners intend to expand to 50 cities and employ 40 full-time workers and 40,000 drivers, sitters and walkers.
"Going national immediately is very important for us," Smith said.
"We definitely want Paxi to be a household name," Bermingham added.
What's Your Big Idea?
The TREP expo is just one of many ways that Embry-Riddle fosters innovation and business development. Serving as the hub of these efforts, the Center for Entrepreneurship, led by Director Mike Bowers and located within the David B. O'Maley College of Business, helps entrepreneurs craft plausible solutions to real-world problems. Participants start by dropping by the UpStart Hangar to talk through their ideas with a consultant. The center's Test Flight Bootcamp, a four-session seminar to help participants develop value propositions, helps with the next step with sessions running seasonally (and new camp dates kicking off in January). And Launch Your Venture, an annual business-pitch competition, awards winners $18,000 in seed funding.
The three teams selected for People's Choice Awards at the TREP Expo were as follows:
Project Thetis, manufacturer of a device designed to clean marine environments of microplastics, owned by Emma Bucey, Matthew Liepke, Carissa Rowan, Jackson Schuler and Grace Robertson, earned first place.
Ostomates, run by Deanna Rapp, won second place.
And CBD Cannabidiol by Design, a manufacturer of the first smoke-free CBD nebulization device, owned by Brandon Moreau, Sheldon Pink, Luke Padget, Andrew Kolandijan and David Kidd, won third place.
Posted In: Business