Study Abroad Trips Spike at Embry-Riddle, Backed by New Programs, Leaders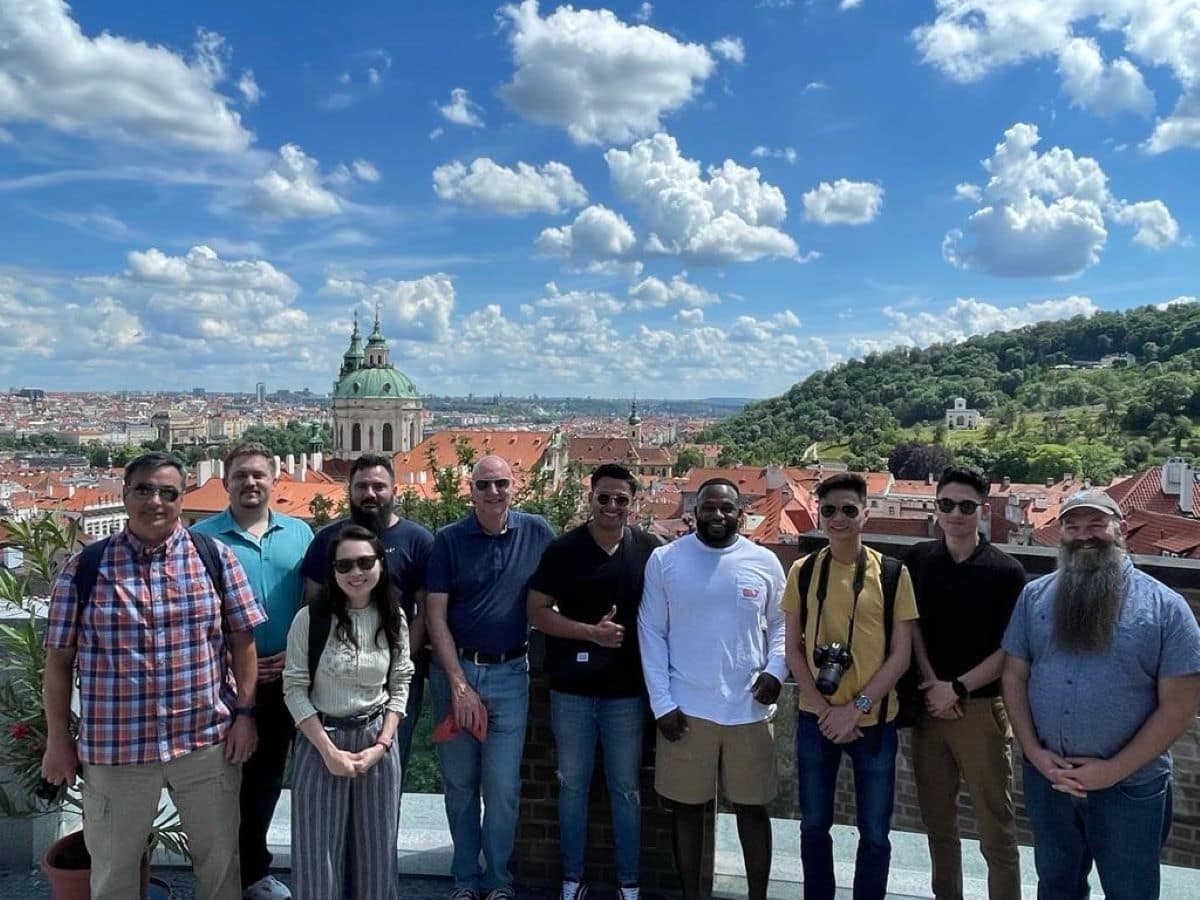 Three years after the Covid-19 pandemic stalled most global travel, Embry-Riddle Aeronautical University's Office of Global Engagement has rebounded with more professors than ever leading international study programs in 2023.
"In 2019, we had 20 professors who were going to lead programs," said Sue Macchiarella, director of the Office of Global Engagement. "In 2023, we have 33 professors leading programs."
Additionally, there are three new study abroad programs launching this year: one focused on uncrewed aircraft systems (UAS), to be hosted in Argentina; one focused on space, in Italy; and a third on business management, in Italy.
A recent report by the Institute of International Education echoed the trend seen locally at Embry-Riddle: 83% of institutions in the United States have reported an increase in study abroad numbers compared to last year.
At Embry-Riddle, faculty members who lead study abroad courses build the programs themselves, from coordinating lodging and meals to designing course curriculum and managing financials. It takes about nine to 11 months to organize a program, and the faculty member is responsible for recruiting the group of students who will attend the trip.
"It is a lot of time and a lot of responsibility, on top of their normal professor duties," Macchiarella said. "Some programs also host Embry-Riddle alumni events in the cities where they do study abroad."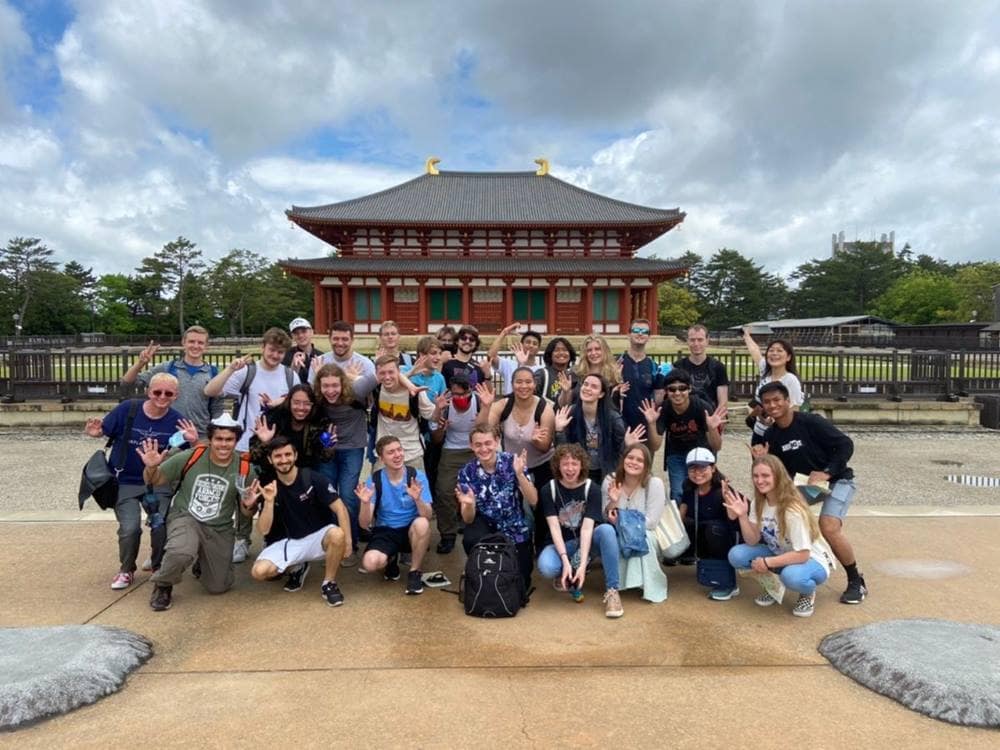 Several Prescott Campus faculty members led a summer study abroad program to Japan, where Embry-Riddle and Osaka Metropolitan University (OMU) have had a partnership since 2019. Pictured is a group of students who went on the 2022 trip. (Photo: Dr. Hisa Tsutsui)
First Worldwide Campus Study Abroad Program
One of the trips scheduled this year is an Operations Management program to be held in Prague, the Czech Republic and Berlin, Germany. Launched in 2022, this trip marked the first study abroad program ever hosted by Embry-Riddle's Worldwide Campus. It is now in its second year.
"It's a two-week program," said Dr. Bob Walton, the trip's faculty leader and an associate professor of Business, who has lived in Europe for the past 25 years. "Because a lot of Daytona Beach and Prescott campus programs are longer, multi-week programs, I wanted to build one specifically for Worldwide students."
Although students from Embry-Riddle's two residential campuses, in Florida and Arizona, will be attending, the program offers a unique opportunity for Worldwide students — many of whom take virtual classes — to interact with fellow students and professors in person. This year, Walton plans to have nine students on the trip, including four from the Asia Campus in Singapore, two from the Daytona Beach Campus and the remainder from the Worldwide Campus.
The program will feature trips to the Prague Airport, as well as to other production facilities, offering students an inside look at how operations are managed in international settings.
Walton said he is glad international travel is back, and he is excited for the program this summer.
"I used to live in Prague, and I worked in Berlin," he said. "It's great to work with students and have them experience the program."
Sharing Japanese Culture
Another program on the agenda — this one taking place in Japan — will be hosted by Prescott Campus faculty members Drs. Hisa Tsutsui, Tatsunari Watanabe, Keke Wang, Teresa Eaton and Ashley Rea, who represent the departments of Mathematics, Biology & Chemistry, and Humanities and Communication.
The trip leaders say the program helps students gain a global perspective and grow both academically and personally through immersion in a new culture; plus, it is a great way for the Japanese faculty to share their heritage.
The first study abroad program in Japan took place in 2018 and was led by Tsutsui and Dr. Michele Zanolin, professor of Physics. Since then, the program has grown into a research and educational partnership between Embry-Riddle and Osaka Metropolitan University (OMU). In 2020, and again earlier this year, OMU students, along with OMU Vice President Dr. Toshiyuki Matsui, visited the Prescott Campus and surrounding area.
Embry-Riddle's study abroad program to Japan, to be held July 2 to Aug. 5, will take place in Osaka, with visits to Kyoto, Tokyo, Hiroshima and many other locations across Japan. It will also offer opportunities for cultural exchange with OMU students and faculty. This is the fourth year for the summer study abroad program, with 25 students participating.
The program's faculty said that leading a study abroad program allows professors to develop their leadership and organizational skills, while students expand their perspectives. Faculty trip leaders will also share their research with the OMU community. For example, Dr. Jules Yimga, chair of the School of Business, will also join the program for a short period to give a lecture.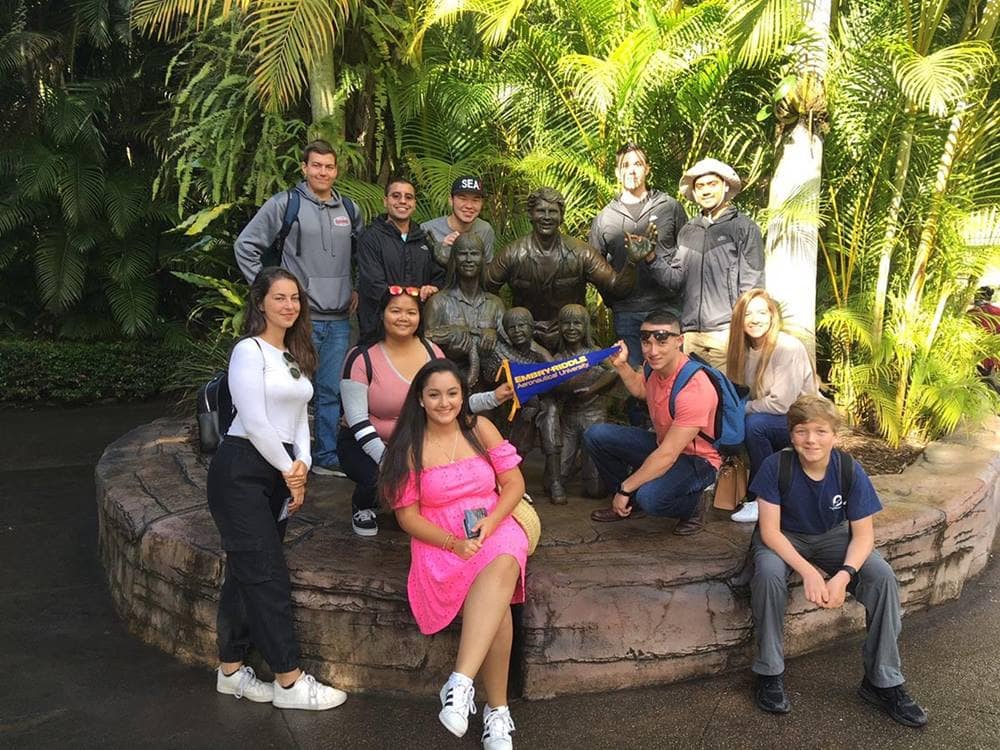 Started in 2018, Embry-Riddle's Australia Study Abroad program will resume this summer after being on hiatus since 2020 due to the Covid-19 pandemic. The trip partners with the University of the Sunshine Coast in Queensland. Pictured is a group of students who went on the 2019 trip. (Photo: Raymond Sanders)
Education Down Under
After years of living in Singapore and traveling for business around the Asia Pacific region, Raymond Sanders, an assistant professor of Business at Embry-Riddle's Daytona Beach Campus, was eager to start a summer study abroad program in Australia.
"Every year it's been offered, it's among the first programs to fill up," said Sanders, who worked for The Walt Disney Company and Marriott International earlier in his career. "It's a very popular program with students."
The trip, running July 6 to Aug. 2, partners with the University of the Sunshine Coast in Queensland. Participants visit attractions like the Great Barrier Reef, as well as Australian aviation companies.
"This year, we will be meeting with executives from Bonza Airways, a new low-cost Australian carrier," said Sanders. "Living in the same house, the students just naturally all study together. It is an environment very conducive to learning."
Although he loves leading the Australia program, he said it can be complicated to plan a month-long trip to a country halfway around the world.
"It is a commitment of hundreds of hours to create and run a successful program," said Sanders. "I'm responsible for 10 students who are literally thousands of miles away from home. I take that very seriously."
But Sanders said he has seen students benefit greatly from their study abroad experiences. Besides making great friendships and learning about different cultures, they gain other life skills.
"When you travel internationally, not everything is going to go how you want it to," Sanders said. "All those experiences help students become more flexible, self-sufficient and prepared for their careers."
Posted In: Institutional News