Students to Chase Noctilucent Clouds with Project PoSSUM's Airborne Research Campaign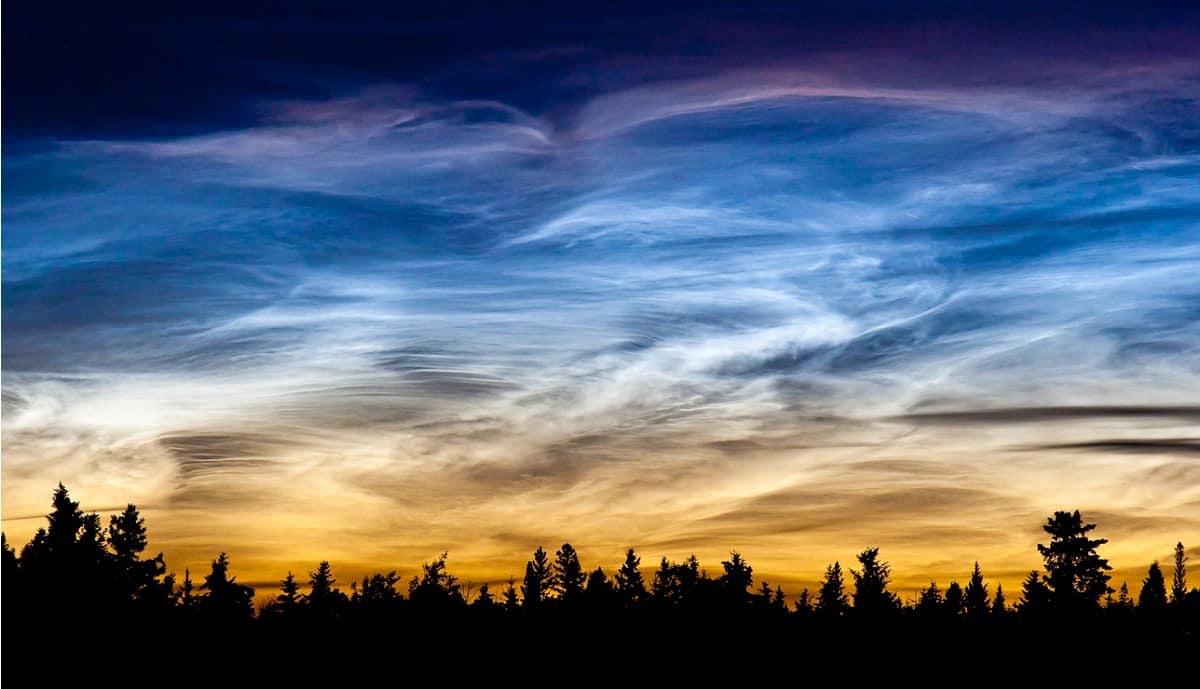 Four students from Embry-Riddle Aeronautical University, who are also Project PoSSUM scientist-astronaut candidates, will travel this month to the remote town of High Level in northern Alberta, Canada as part of a 12-person Project PoSSUM team that will study extremely high and elusive 'space clouds' called noctilucent clouds.
Their goal is to study the clouds that form 50 miles above the north and south poles in the Mesosphere in a high-altitude research aircraft that is specially equipped with scientific camera systems. Noctilucent clouds are believed to be sensitive indicators of man-made climate change and good proxies of low-density atmospheres such as that of Mars.
Project PoSSUM is a suborbital research, training and education program supported by NASA, based in Boulder, Colorado (PoSSUM is an acronym for Polar Suborbital Science in the Upper Mesosphere).
The only space-flight training program of its kind in the world, Project PoSSUM participants train at Embry-Riddle's Daytona Beach Campus with a curriculum that includes atmospheric science, remote sensing, celestial mechanics and navigation, and spaceflight physiology. There is mission simulation training for the would-be scientist-astronauts in a sub-orbital space flight simulator wearing a next-generation space suit, high-altitude and hypoxia awareness lessons, and aerospace physiology and microgravity training in analog flight conditions.
Flying at night over the remote wilderness of the Canadian subarctic, Embry-Riddle students Heidi Hammerstein, a PhD candidate, and undergraduate student Amy Ramos will be training to serve as Payload Specialists. They will operate specialized camera system designed for noctilucent cloud observations that have been constructed by the PoSSUM team in collaboration with Columbia University in New York, NY. This December, the cameras will then be used as part of a NASA-funded high-altitude balloon mission over Antarctica the PoSSUM team later hopes to operate them on-board suborbital spacecraft.
Karen Brun and Casey Stedman, both working on their Master's degrees at Embry-Riddle, are training to serve as Mission Specialists on the research flights. Their roles will be to carefully plan waypoints so that the aircraft is observing the same features as two ground stations, separated by 125 miles, and the Aeronomy of Ice in the Mesosphere (AIM) satellite, a NASA satellite that observes noctilucent clouds from space.
By carefully coordinating the flights with two ground stations, the team hopes to build tomography or three-dimensional images of the fine internal structures of the clouds from which turbulence and instabilities in the upper atmosphere may be better understood. By coordinating the flights with the overpasses of the AIM satellite, the team hopes to be able to look into how energy generated in the lower atmosphere disperses the upper atmosphere.
Much of what the PoSSUM astronaut-candidates have learned during their PoSSUM training programs at Embry-Riddle will be applied to this first field campaign. Flying at 23,000 feet in an unpressurized research aircraft is a challenging proposition and mission team members must be keenly aware of the effects of hypoxia. Flights will also require precise navigation, effective communications and crew resource management techniques, as well as an intimate knowledge of the cameras and their control systems.
"Flying at these altitudes in the remote Canadian wilderness at night requires careful mission planning and the crew must be well trained to function effectively in such an environment," explained PoSSUM Executive Director Dr. Jason Reimuller. "For many of the team members, this is as close to an actual space mission as you can get."
Daily updates on the campaign will be provided on the PoSSUM Facebook Page (www.facebook.com/projectpossum) from June 24 through July 7.
Embry-Riddle hosts the PoSSUM Scientist-Astronaut Qualification Program and the Advanced PoSSUM Academy for students two times per year; the next class will be held from October 6 -12. Individuals interested in getting involved with PoSSUM's astronautics research may apply for either class at www.projectpossum.org.
MEDIA CONTACTS
Dr. Jason Reimuller, Project PoSSUM Executive Director; (720) 352-3227; jason.reimuller@projectpossum.org
James Roddey, Director of Communications, Embry-Riddle Aeronautical University, Daytona Beach, Fla.; Office: (386) 226-6198; james.roddey@erau.edu