Students Join Project PoSSUM to Test Prototype Spacesuits in Zero-G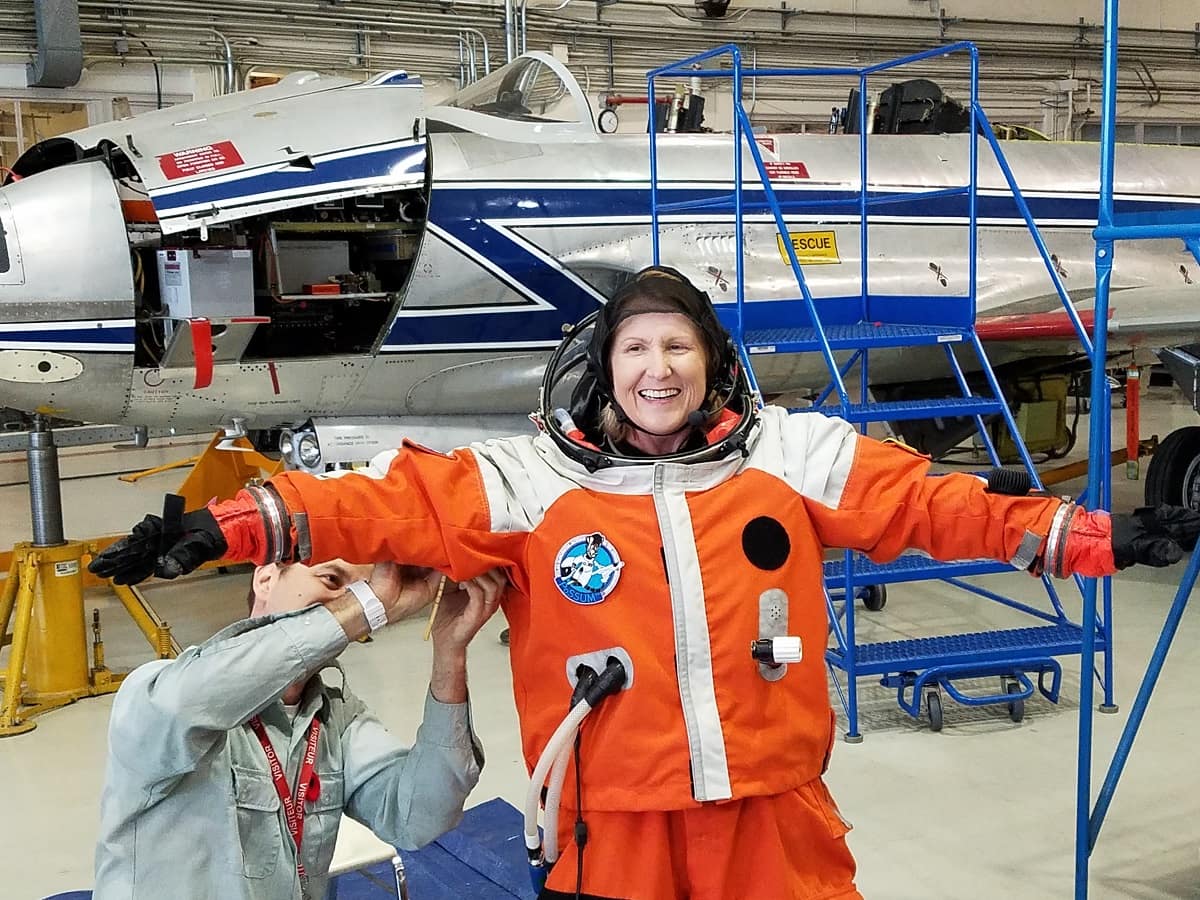 Scientist-astronaut candidates go weightless to evaluate spacesuit technologies that will be used to study upper atmosphere noctilucent clouds on commercial suborbital spaceflights
Two Embry-Riddle Aeronautical University students joined the Project PoSSUM suborbital research program team to evaluate a prototype commercial spacesuit in microgravity as part of the PoSSUM Bioastronautics Program. The tests were designed to evaluate a prototype seat along with the spacesuit/seat interface through a series of three microgravity flights conducted at the National Research Council in Ottawa, Ontario.
Project PoSSUM (Polar Suborbital Science in the Upper Mesosphere) is the exclusive citizen-science microgravity research partner of spacesuit maker Final Frontier Design of Brooklyn, New York. A specially modified Falcon-20 Zero-G aircraft to was used to simulate the interior cabin and cockpit environments of commercial space vehicles in order to test the prototype spacesuit.
Project PoSSUM is the only suborbital research and education program that teaches people from all walks of life to be scientist-astronauts. PoSSUM candidates are trained at Embry-Riddle's Daytona Beach Campus to fly PoSSUM suborbital noctilucent cloud tomography missions on commercial suborbital spacecraft. Graduates receive an Embry-Riddle certificate with continuing education credits in Suborbital Mission Operations.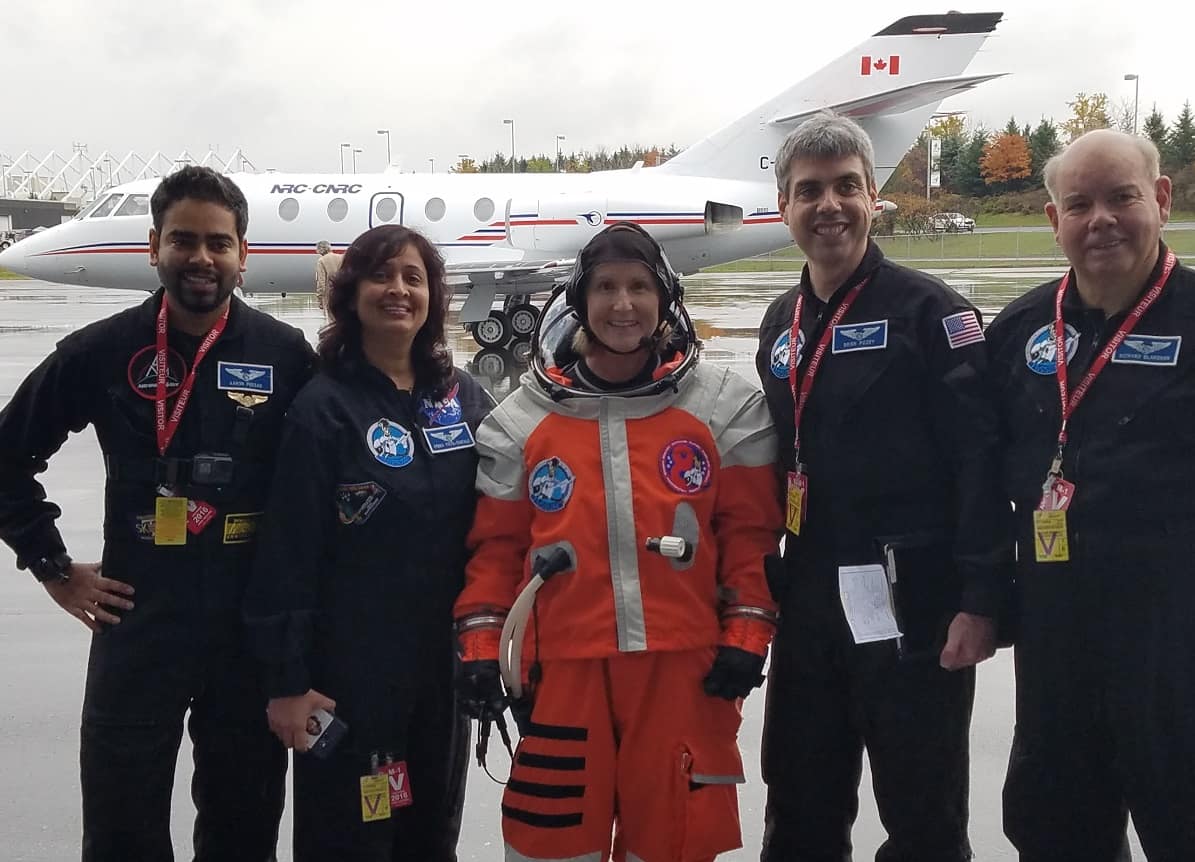 Embry-Riddle Ph.D candidate Heidi Hammerstein and Daytona Beach Campus student Amy Ramos were among a team of 12 Project PoSSUM graduates that participated in the testing and research on the Final Frontier Design (FFD) Intra Vehicular Activity (IVA) spacesuit.
A special spacecraft seat was constructed and integrated into the Falcon-20 aircraft by the PoSSUM Technologies Program. The seat and suit-seat interface were tested in a series of microgravity flights with ongoing phase two testing that monitored in-flight suit pressurization, communications and biometric monitoring systems.
Hammerstein served as the suited test subject for Flight Test Team Two. "Our team was able to supply in-flight experimental data and qualitative feedback to both spacesuit and seat designers.  It was an honor to work with such a talented group of pilots, engineers and scientists," she said. "Working with PoSSUM team members and FFD's spacesuit in microgravity trials, coupled with my Ph.D in Aviation studies is a big step in becoming a valuable contributor in the development of a commercial space industry."
Last January, NASA's Flight Opportunities Program selected the FFD proposal, "Testing of a Novel IVA Space Suit," and the PoSSUM team tests have served as an unpressurized 'dry-run' of the NASA-supported tests.

"The purpose of these FFD-PoSSUM tests is to increase our technology readiness level through human testing in a high fidelity, relevant environment," said Ted Southern, President of FFD. "The results will be used to validate pressurized suit performance under live, unpredictable conditions and further our milestone goal of obtaining flight safety approval from the FAA."

PoSSUM, an acronym for Polar Suborbital Science in the Upper Mesosphere, is a 501(c)(3) non-profit research and education organization that conducts upper-atmospheric and space technology research and communicates the science through various educational outreach programs. The next PoSSUM citizen-science programs will be held at Embry-Riddle's Daytona Beach Campus April 7-12, 2017. Interested individuals should apply online at www.projectpossum.org.
MEDIA CONTACTS
James Roddey, Director of Communications, Embry-Riddle Aeronautical University, Daytona Beach, Fla.; (386) 226-6198; james.roddey@erau.edu
Dr. Jason Reimuller, Project PoSSUM Executive Director; (720) 352-3227; jason.reimuller@projectpossum.org
---
ABOUT PROJECT POSSUM
Project PoSSUM is a 501(c)(3) non-profit research and education organization using citizen-science astronautics to enable novel measurements of our mesosphere, the most sensitive region of global climate, while inspiring and educating the public on the critical roles this region plays in the overall understanding of our global climate through immersive educational programs. Project PoSSUM is administered by a team of scientists and much of the training takes place at Embry-Riddle Aeronautical University in Daytona Beach, Fla. To learn more about Project PoSSUM, visit www.projectpossum.org.