Students Get Once-in-a-Lifetime Experience Aboard SOFIA, NASA's Flying Infrared Observatory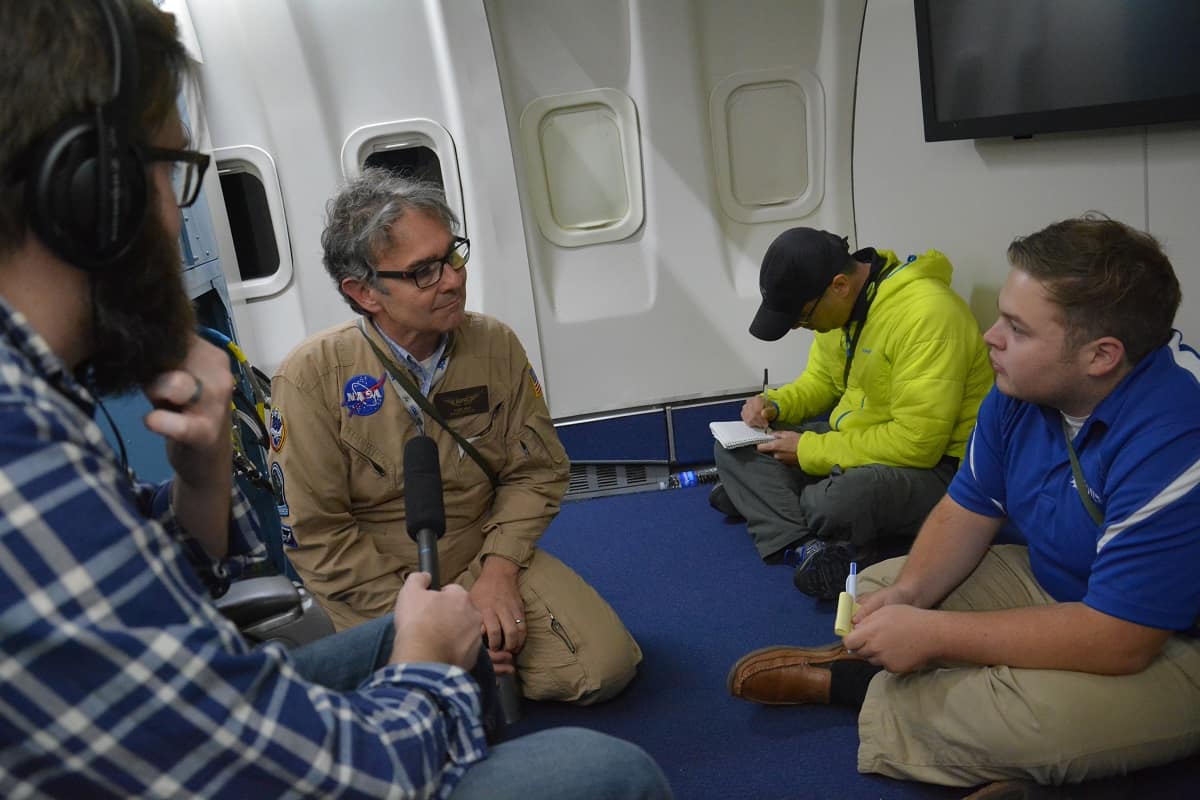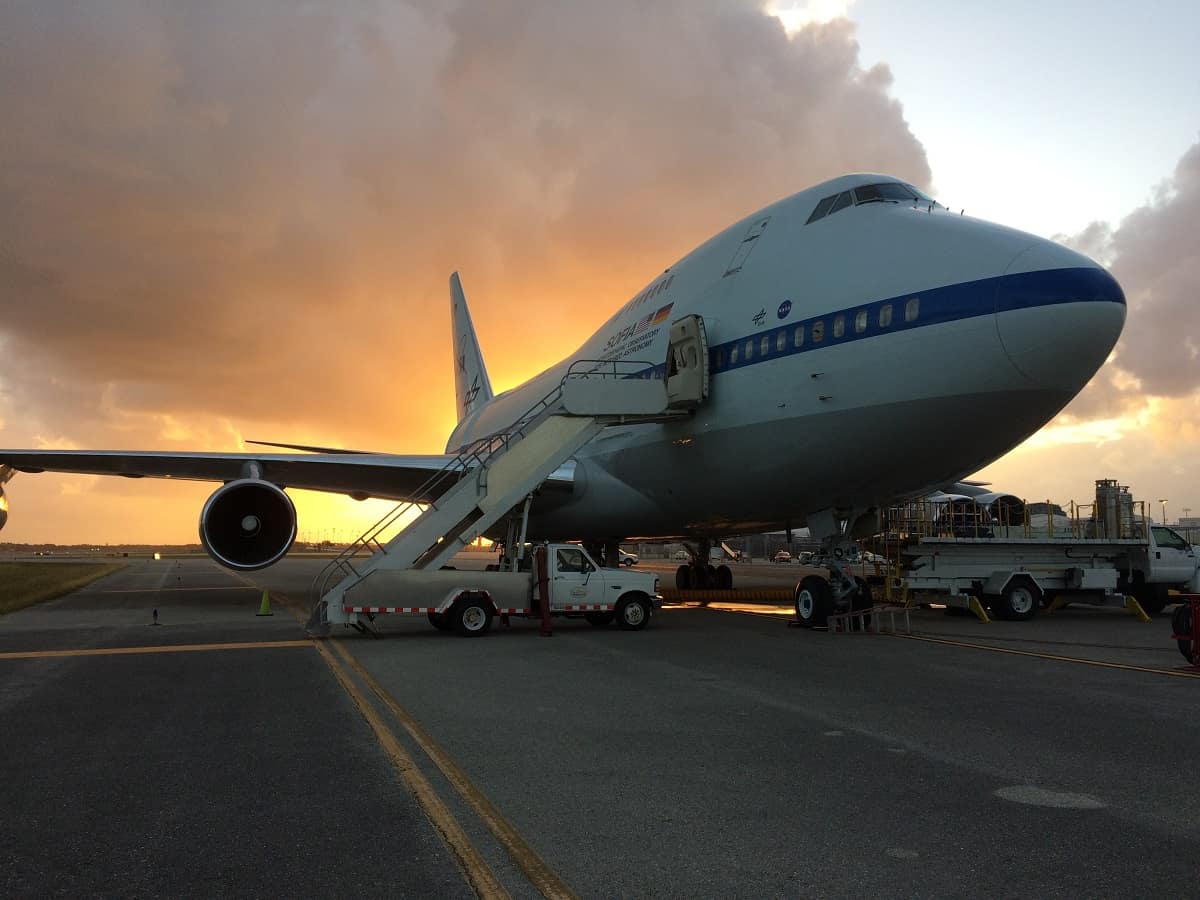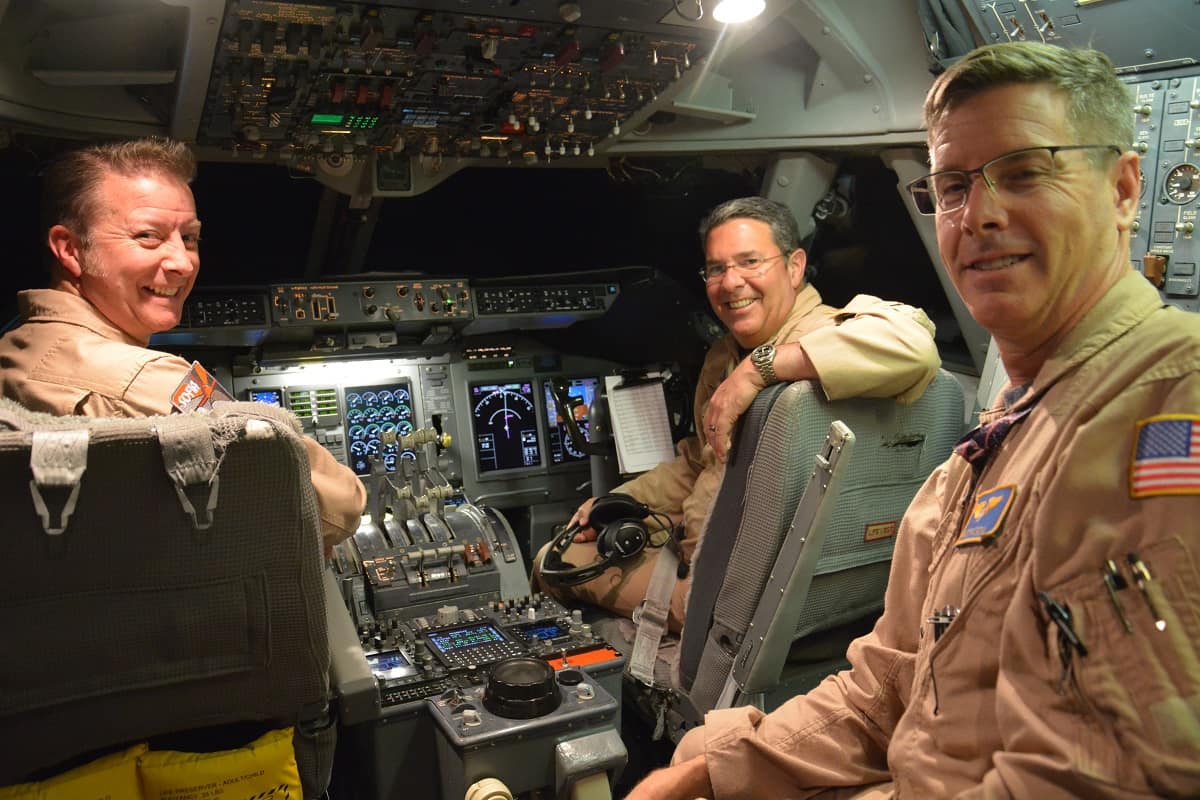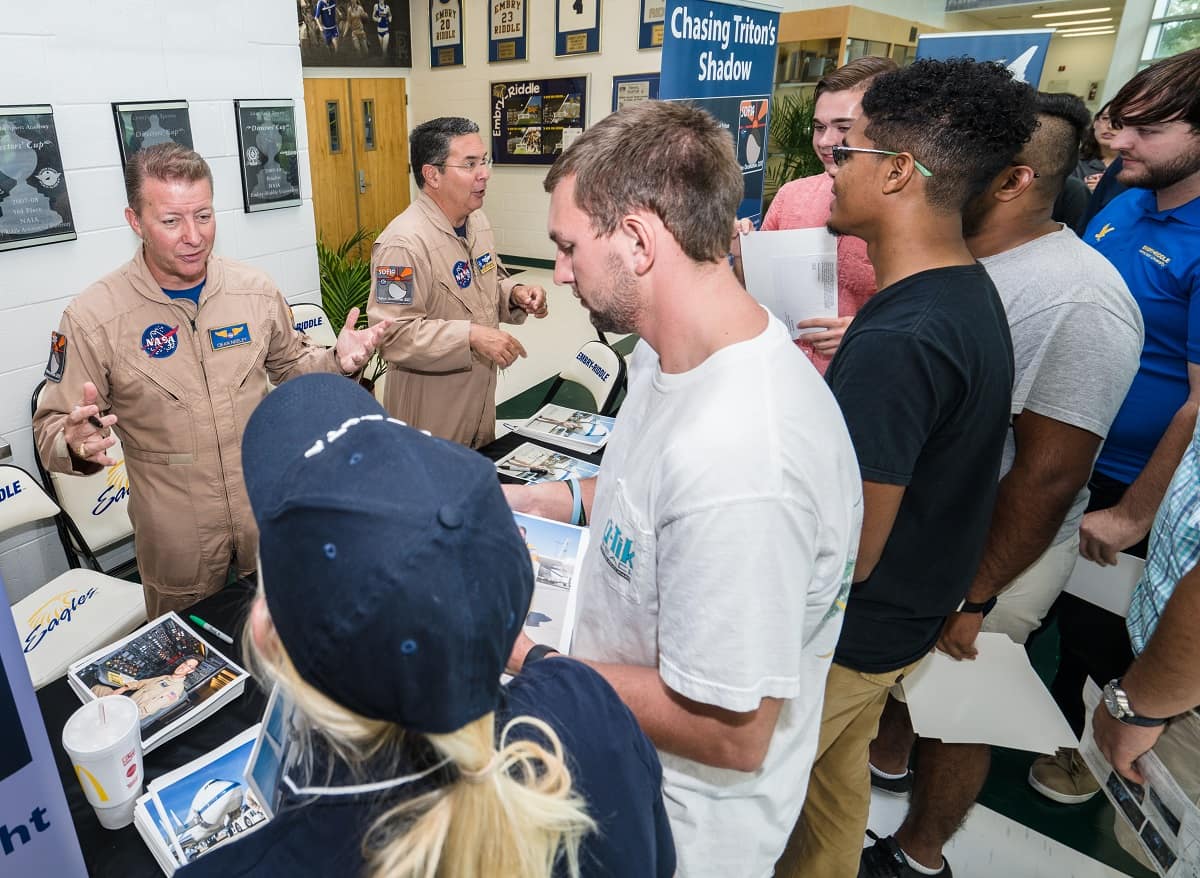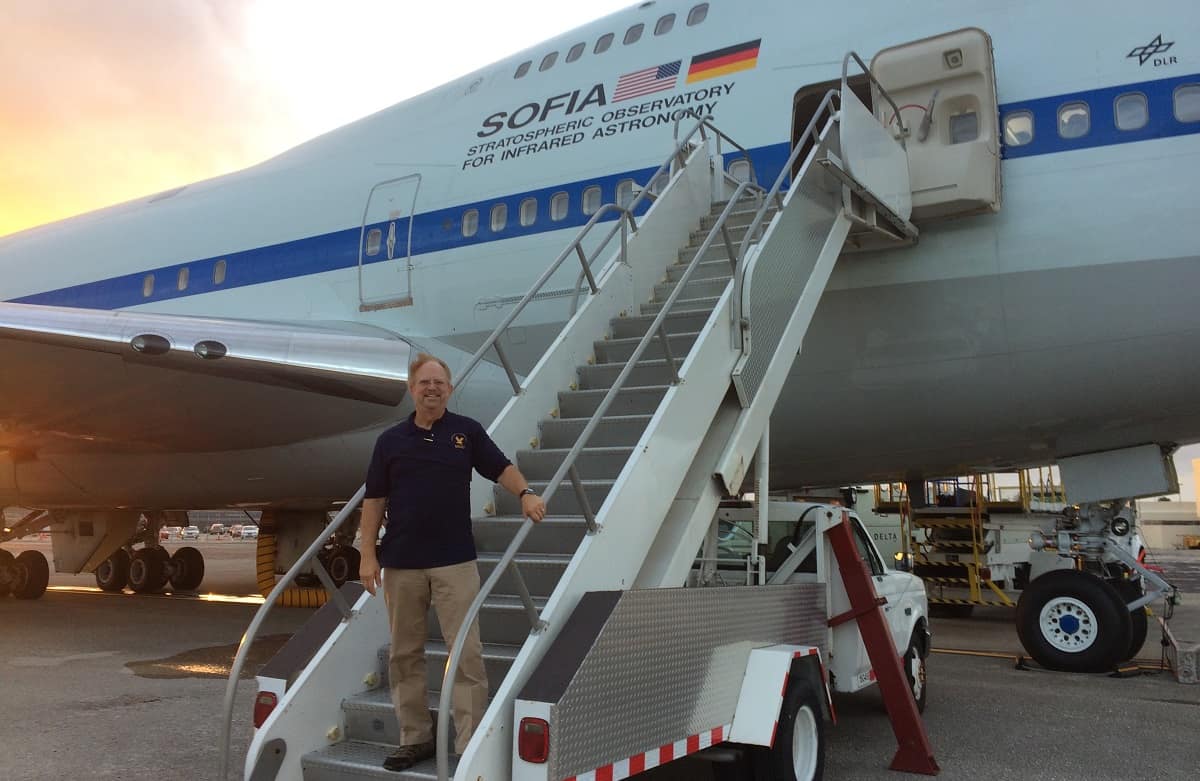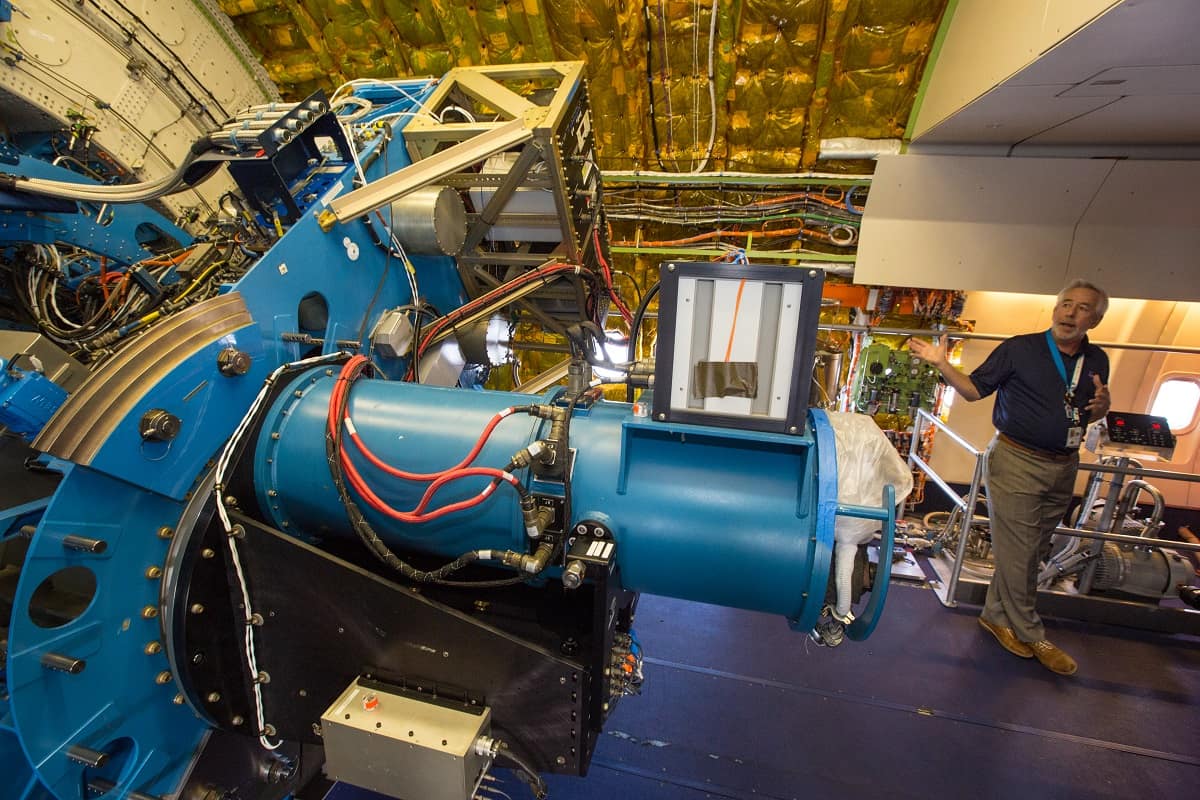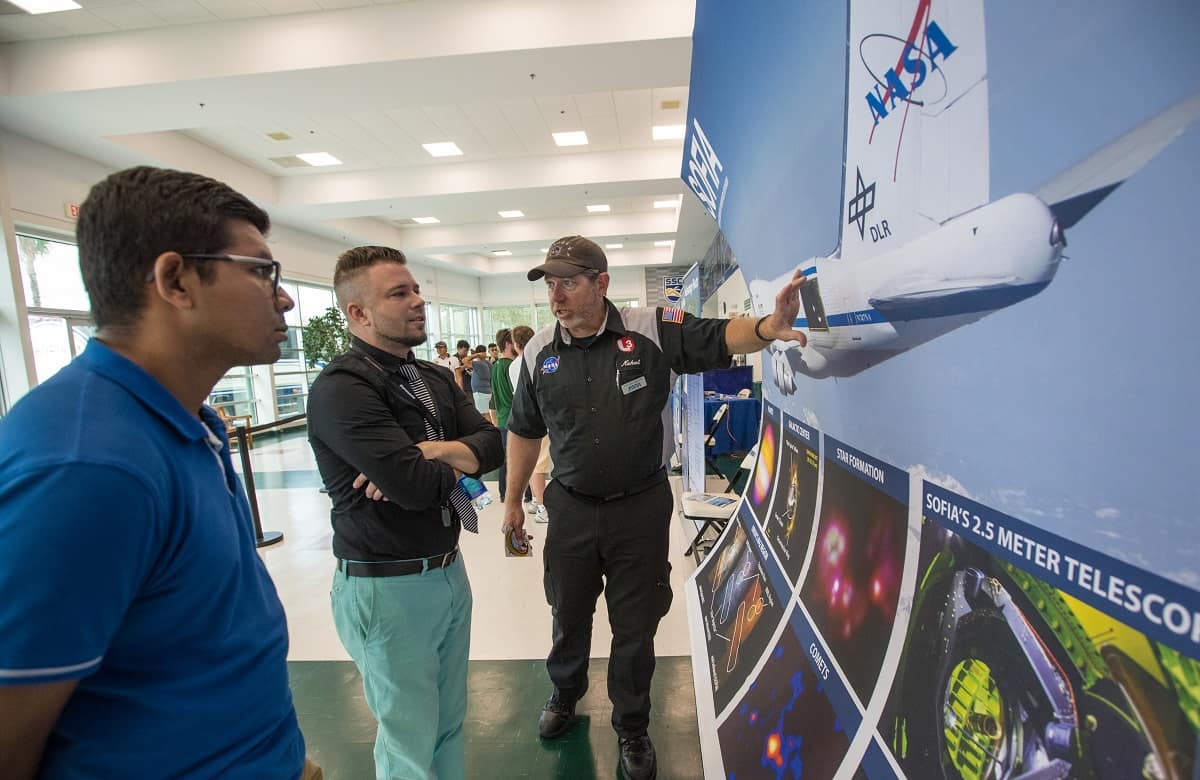 The world's largest flying observatory wowed students, faculty and staff at the university's Daytona Beach Campus during a week-long stay and its first-ever mission from the U.S. East Coast.
Embry-Riddle Aeronautical University senior Collin Anderson strapped himself in behind the pilots and flight engineer in the cockpit of NASA's massive 747 Stratospheric Observatory for Infrared Astronomy (SOFIA) and prepared for an experience of a life time.
The Aerospace Engineering major and news editor of The Avion, Embry-Riddle's student newspaper, was part of a small group of reporters who joined the SOFIA flight crew, astronomers and technicians as they took part in a 10-hour mission across the Atlantic Ocean and back. The 21-year-old was lucky enough to be in the cockpit on the second floor during takeoff of the modified Boeing 747SP with a 17-ton telescope on board.
Dr. Terry Oswalt, photographer and professor of Engineering Physics and chair of the Department of Physical Sciences at the university's Daytona Beach Campus, shared the experience by sitting in the cockpit jump seat on part of the way back to Florida. He coordinated the SOFIA-related events on campus, which involved about 50 Embry-Riddle student hosts, as well as ground-based observations to support SOFIA's science mission.
The NASA flight was one of the missions scheduled during its week-long stay at Daytona Beach International Airport. Scientists were on board conducting various experiments and a test run prior to Thursday's historic mission. SOFIA, with its 100-inch diameter telescope, observed Triton, the largest moon of Neptune, as it passed in front of a bright star, blocking its light in an eclipse-like event called an occultation.
This was the first time SOFIA, a joint project of NASA and the German Aerospace Center (DLR), has deployed from the U.S. for a scientific mission over the Atlantic Ocean.
For Anderson, being part of a scientific mission and flying at the altitude of 43,000 feet was "an amazing experience."
"It definitely was one of the best experiences I ever had at Embry-Riddle," said Anderson. "Every so often we would also see a bright orb fly by on the monitors and that was a satellite."
"It was a lot like observing the night sky on a mountain top with a big terrestrial telescope except you hear the aircraft noises and there are more people involved. It's like being in the control center for a rocket launch," Oswalt added.
Two nights later, when SOFIA was flying eight miles up at 560 miles per hour over the Atlantic observing the occultation, the Embry-Riddle astronomy team was ready to support the mission with the university's 1-meter telescope as part of a group of 26 observing sites around the Northern Hemisphere that were zeroed in on Triton.
Unfortunately, the cloudy, rainy weather in Daytona Beach did not cooperate. Luckily, Embry-Riddle also operates a telescope in the Canary Islands, off the western coast of Africa, and observers at that site had a clear view of the occultation. Embry-Riddle will share the data it obtained with NASA's SOFIA scientists and collaborators from MIT, Williams College, the Lowell Observatory and the Instituto de Astrofisica de Canarias.
When the 747SP was on the ground, about 2,000 Embry-Riddle students, staff and faculty toured NASA's airborne observatory and had the opportunity to talk with the SOFIA team, which included campus presentations by scientists and pilots.
One of SOFIA's pilots, Dean Neeley, is an Embry-Riddle Worldwide Campus graduate, who received a master of Aeronautical Science degree. He never expected to be flying for NASA, but got a call in 2012 when he was a U.S. Air Force colonel, about an opportunity to fly a high-altitude aircraft for the space agency.
After signing autographs for Embry-Riddle students, Neeley said, "Seeing their faces light up is by far the best part of the job."
Neeley also spoke to a large crowd of students during a public talk along with fellow SOFIA pilot, Emmanuel E. "Manny" Antimisiaris, and Matt Pitsch, SOFIA flight engineer. They each encouraged students to never give up on their dreams and to take advantage of opportunities that come their way.
"Don't ever take no for an answer," Neeley said. "Keep knocking on that door."
Embry-Riddle sophomore Rita Parazs, 20, of Clearwater, Fla., and other students were on the terrace of the university's Aviation Maintenance Science building watching SOFIA take off from Daytona Beach International Airport for its missions.
Through an app on her phone, Parazs was able to hear the pilots talking to the air traffic controllers.
"It was incredible," said Parazs, who hopes to become a commercial pilot or air traffic controller. "To finally go inside the plane was the best part."
Joshua Lindo, 20, a junior Business Administration major from Jackson, N.J., who also has a private pilot certificate, lined up during SOFIA's stay to get photos and autographs of the pilots.
"Their jobs are awesome. They fly these ridiculous paths and observe stars while flying at really high altitudes - not many people get to do that," Lindo said.
Maggie Gallant, 24, of Daytona Beach, who is working on her master's degree in Electrical and Computer Engineering, coordinated the student volunteers who helped with the visit.
"SOFIA is one of the greatest crossovers between engineering and space science," Gallant said. "Standing in the mission control center, you really get a feel for the unbelievable spatial and weight constraints of building a world-class telescope on an aircraft."
Freshman Hemil Tavarez, who is from Manhattan and majoring in Aerospace Engineering, said seeing SOFIA in person was more than he expected.
"Coming from New York, I'm used to seeing big jetliners, but never the NASA 747," the 18-year-old said. "Seeing all the instruments and computers they use and how the telescope is sealed off to prevent losing cabin pressure is amazing."
SOFIA's crew includes several alumni in addition to Neeley, including Mike Woodworth, a 2010 Embry-Riddle Worldwide graduate, who is a SOFIA aircraft mechanic; Jeff Wilson, a 1997 Worldwide graduate and navigator for SOFIA; and Andrea Davis Muir, a 2012 Worldwide graduate and current student who is an avionics specialist.
SOFIA's visit to Daytona Beach was supported by NASA and the Florida Space Grant Consortium as well as Embry-Riddle's College of Arts & Sciences, College of Aviation and the Center for Space & Atmospheric Research.