Students Complete Spacesuit Testing in Spacecraft Egress and Sea Survival Scenarios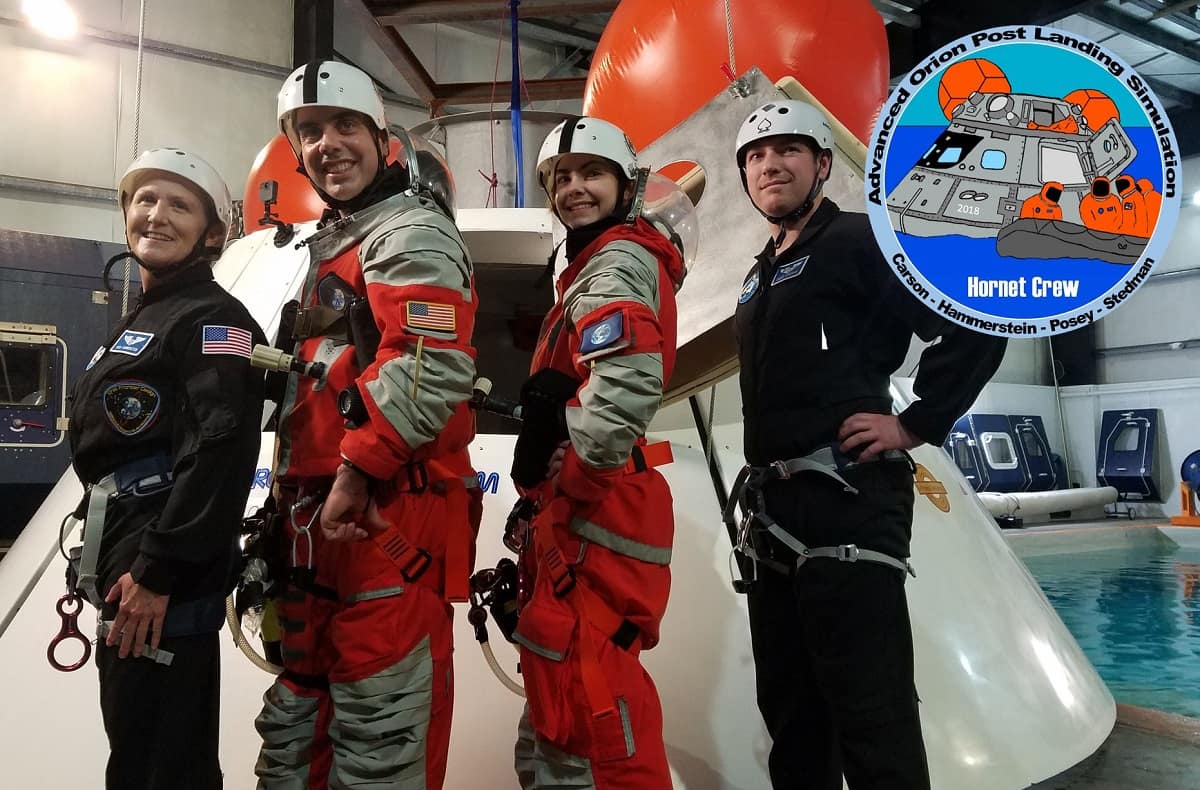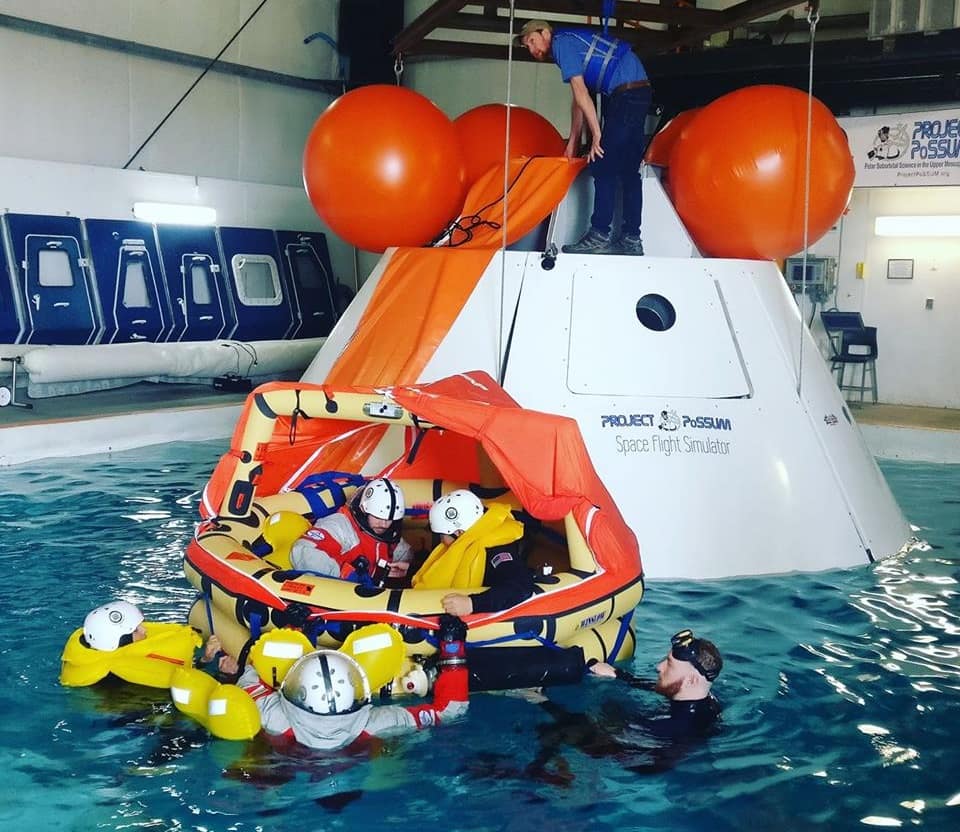 In mid-April, two Embry-Riddle Aeronautical University students, who are also Project PoSSUM graduates, served as test subjects for the first post-landing tests of a commercial spacesuit at Survival Systems USA in Groton, Conn.
Embry-Riddle students Heidi Hammerstein and Amy Ramos recently completed a comprehensive training program in preparation for these tests, including instruction in post-landing systems engineering, spacecraft egress, and rescue and recovery architecture.
The two Embry-Riddle students also received training in emergency aircraft egress (dunker) training and sea survival training, analog skills that provided relevant skills and practical intuition to support their work testing space suits. They also studied nominal and contingency landing scenarios, post-landing planning, rescue and recovery architecture design, egress systems and operational procedures, deconditioning and post-landing survivability, generalized egress skills, and emergency egress bottle use.
Hammerstein and Ramos were part of the team of 12 Project PoSSUM graduates that participated in the test program, which was designed to qualify a third generation intra-vehicular activity (3G IV) spacesuit, developed by Final Frontier Design of Brooklyn, N.Y., for post-landing operations, an essential step towards certifying the spacesuit for flight.
The tests were designed and administered by former NASA astronaut trainers and project engineers, who made sure the PoSSUM test subjects received the same education and training experience as NASA astronauts receive.
To support the tests, PoSSUM engineers and technicians developed a full-scale fiberglass and aluminum mockup of the Orion spacecraft to enable operational research on suited post-landing operations for either side hatch egress or a top hatch egress procedures in either Stable I (rightside-up) or Stable II (upside down) configurations in water.
The Orion mockup will also enable extravehicular activity (EVA) tests in the future and may be further configured as a full simulator to provide general education to students interested in orbital navigation and re-entry operations.
Embry-Riddle Assistant Professor Erik Seedhouse, Ph.D., led a study of human performance in the space suits during the post-landing tests while monitoring key biometric data from each PoSSUM student as they performed the various egress and sea survival procedures.
"This represented cutting-edge research not only from the perspective of developing a new spacesuit but also by testing the suit based around a spacecraft that will finally transport astronauts beyond Earth orbit," said Seedhouse. "From all angles, this was a unique and pioneering test event that showcased the promise and potential of Project PoSSUM, not only as the established industry leader in commercial astronaut training but also as a catalyst for developing exciting research opportunities."
The post-landing tests helped to mature various spacesuit technologies including a life preserver unit, neck dams, parachute harnesses, egress systems and an emergency breathing apparatus. The tests also qualify the technology and training procedures necessary for PoSSUM graduates to use the suit for flights in excess of 50,000 ft. in high-altitude aircraft, a goal the team hopes to accomplish later this year.
Additionally, the PoSSUM team hopes that the research will complement the post-landing research currently being conducted by NASA by involving a wide variety of test subjects through both capsule and parachute egress procedures.
"The spacecraft egress and post-landing spacesuit testing was a prime example of citizen-science at its best, and when you see synergy like this, where everyone came together to brave the physically demanding task of taking prototype spacesuits through the rigors of water landing qualification. You know you're part of something special," said PoSSUM graduate Keith Crooker.
PoSSUM, an acronym for Polar Suborbital Science in the Upper Mesosphere, is a 501(c)(3) non-profit research and education organization that conducts upper-atmospheric and space technology research and communicates the science through various educational outreach programs. The next PoSSUM citizen-science programs will be held at Embry-Riddle Aeronautical University in Daytona Beach, Fla. from Sept. 29 to Oct. 6, 2018. Interested individuals should apply online at www.projectpossum.org.
MEDIA CONTACTS
Dr. Jason Reimuller, Project PoSSUM Executive Director; (720) 352-3227.
James Roddey, Director of Communications, Embry-Riddle Aeronautical University, Daytona Beach, Fla.; (386) 226-6198; james.roddey@erau.edu
---
ABOUT PROJECT POSSUM
Project PoSSUM is a 501(c)(3) non-profit research and education organization using citizen-science astronautics to enable novel measurements of our mesosphere, the most sensitive region of global climate, while inspiring and educating the public on the critical roles this region plays in the overall understanding of our global climate through immersive educational programs. Project PoSSUM is administered by a team of scientists and much of the training takes place at Embry-Riddle Aeronautical University in Daytona Beach, Fla. To learn more about Project PoSSUM, visit www.projectpossum.org.