Students and Faculty Provide Weather Tracking for World War II-Era Planes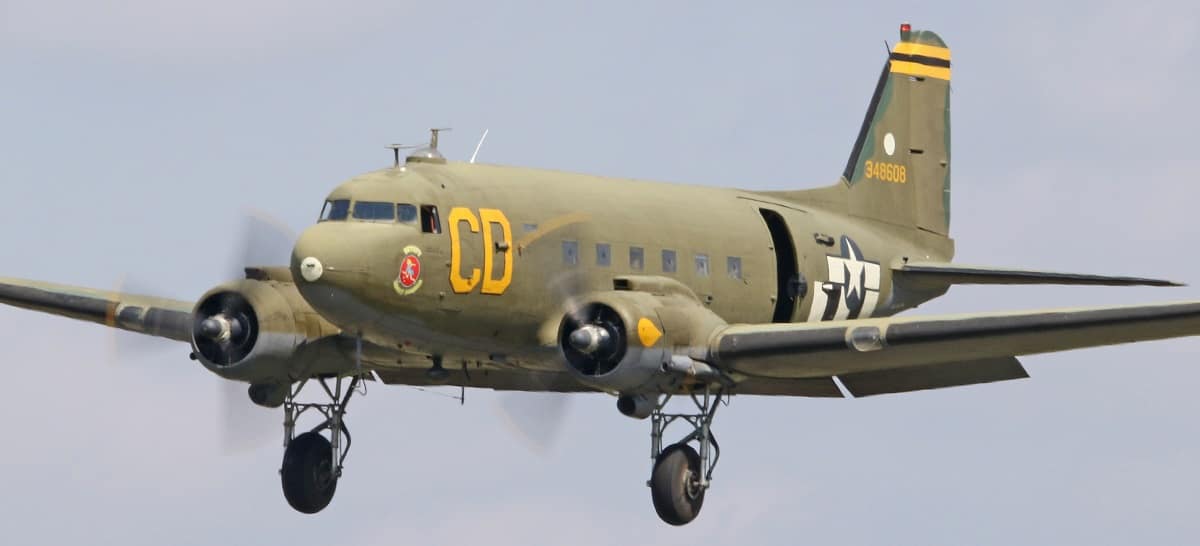 Students and faculty of Embry-Riddle Aeronautical University will provide crucial weather support to 10 vintage World War II C-47s and DC-3s as they cross the Atlantic to the 75th anniversary reenactment of the Normandy invasion.
During the largest seaborne invasion in history – also called D-Day – more than 160,000 Allied troops landed along a heavily fortified French coastline to fight the Nazi regime on June 6, 1944.
"This historical mission will allow me to include my students in understanding transoceanic weather support in a real-world scenario," said Debbie Schaum, associate chair and associate professor of meteorology in Embry-Riddle's Applied Aviation Sciences department.
Schaum is being joined in the effort by Associate Professor Dr. Shawn Milrad as well as Assistant Professors Dr. Daniel Halperin and Spectrum News 13's Rob Eicher, all fellow meteorology faculty.
Unlike modern commercial airplanes, the vintage planes are more restricted by inclement weather. They have no heat and, even more importantly, no de-icing equipment, so the pilots need to be informed of areas of potential icing, Schaum said. Precipitation is also a serious concern because the aircraft leak.
On May 13, as the Embry-Riddle weather support team put out its preliminary assessments, the weather posed challenges for the planes, which were scheduled to depart from Oxford, Conn. on May 19.
"There are many problems with the East Coast this week," said Schaum. "We actually have a Nor'easter off the coast of New England bringing in lots of moisture, with low ceilings and even a mix of rain and snow possible for parts of Maine and Canada."
After leaving Connecticut, the planes were scheduled to land for refueling in Newfoundland, Greenland, Iceland, and Scotland, at airports selected because they would have been refueling points for these aircraft during World War II. The planes will then join an international C-47 fleet in England, before flying to France to participate in the D-Day commemorative event June 2-9, which is planned to involve a June 6 drop of 250 parachutists outfitted in World War II-style Allied uniforms into historical drop zones.
By press time, the May 19 departure had gone off as scheduled, but five planes were waiting to leave Newfoundland because of the bad weather, Schaum said, adding that the planes' progress and live videos are available on the D-Day Squadron Facebook page. Schaum also provided a link to a sample weather update.
"We have to delay to ensure a safe flight," said Garrett Fleishman, an Embry-Riddle undergraduate. Fleishman is responsible for helping to connect the university to the mission to fly the planes from the United States to Europe. A pilot majoring in Unmanned Aircraft Systems, Fleishman approached Schaum in January after she told a class he was in about Embry-Riddle's providing weather support for the annual Air Race Classic events. She immediately agreed to help out with the transatlantic flight and recruited Milrad, Halperin and Eicher.
"She's been all for it," said Fleishman. "We've both been extremely excited and motivated to get the aircraft across safely."
`A Huge Adventure'
Fleishman has been involved with vintage war planes, sometimes known as "warbirds," for years. He started working for Tradewind Aviation while in high school. After Tradewind President Eric Zipkin bought a DC-3, he discovered it had been flown in the D-Day invasion in 1944 and began taking the airplane to air shows and educational events. From there, he and other aviation history enthusiasts formed the Tunison Foundation, specifically for the purpose of providing dynamic historical education using vintage aircraft. About 18 months ago, the foundation started organizing the plan for the C-47s and DC-3s to fly to the D-Day commemoration from the United States.
For the pilots who will cross the Atlantic in the vintage planes, "It's going to be a huge adventure," regardless of their level of experience, said Fleishman.
In addition to weighing weather concerns, the flight crews will deal with maintenance issues that arise with aircraft that — although meticulously cared for — were built in the 1930s and 1940s.
"We do expect things to break along the way," said Fleishman, adding that each airplane has on board its own replacement parts and tools, and at least one certified mechanic.
Although Fleishman will not make the transatlantic flight to the commemoration in a vintage plane, he will travel there and help fly while in Europe as well as on the journey back to the United States. Fleishman has a second-in-command type rating to fly the planes and is working toward a pilot-in-command type rating.
During the flight to Europe, Schaum's students will do basic forecasting for the planes' route each day. Their information will be compared to the official briefings that Schaum and her colleagues will be providing. By watching the weather the entire time the planes are in the air each day, Schaum said, the students will be able to participate in updating the weather conditions and forecast. This will allow the team to fine-tune the afternoon briefing to the crews.
Schaum and her colleagues are donating the time they put into providing weather support for the vintage planes. "This is such a historical celebration that when I asked my colleagues to participate, they readily agreed," she said.
Posted In: Applied Science | Aviation