Student Research on Drone Swarm Mapping Selected to Compete at NASA Challenge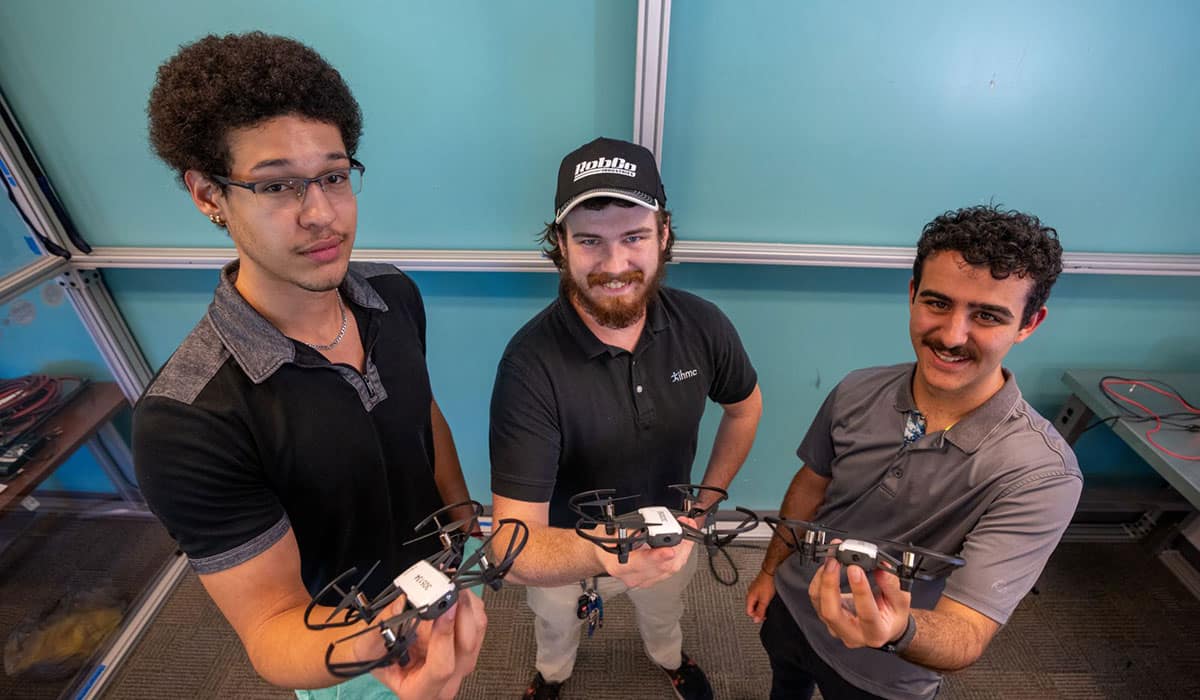 A team of Embry‑Riddle Aeronautical University students is conducting research using swarm microdrones that could change the way 3D mapping is done, especially in complex, hard-to-reach locations.
"The main application is to map out GPS-denied locations and make a 3D map in a more efficient way," said Daniel Golan, the project's co-principal investigator and a junior pursuing a bachelor's degree in Mechanical Engineering.
The project — titled SUAVE (Swarm Unmanned Aerial Vehicles using Emergence) — was recently chosen for the NASA Aeronautics Research Institute's 2023 University Student Research Challenge (USRC). Selection to the challenge comes with a NASA grant of up to $80,000.
GPS-denied areas, where a satellite signal may be blocked or unreliable, can range from inside of buildings to underground mines and sewer systems, outdoor areas with canyons or heavy tree cover, or storage ports/facilities. These locations could benefit from a better way to provide precise mapping and inspections.
"The swarm would spread out and get everything significantly quicker with a lot more data," said Golan, a Galveston, Texas, native. "You are able to get a more accurate map in significantly less time."
The NASA challenge provides students with opportunities to propose new ideas relevant to NASA Aeronautics' flight research goals.
"We're thrilled to be receiving and awarding more proposals than ever," said Steven Holz, assistant manager of NASA's University Innovation project, which manages USRC. "The students continue to come up with novel and impactful research proposals that we believe will lead them to leaving their mark on the aeronautics industry and beyond."
The NASA USRC also has an entrepreneurship component, which involves students raising additional funds for the project through crowdfunding, which develops students' entrepreneurship and communication skills. Embry-Riddle's Office of Undergraduate Research also awarded the project an Ignite grant and Spark grant, said Golan.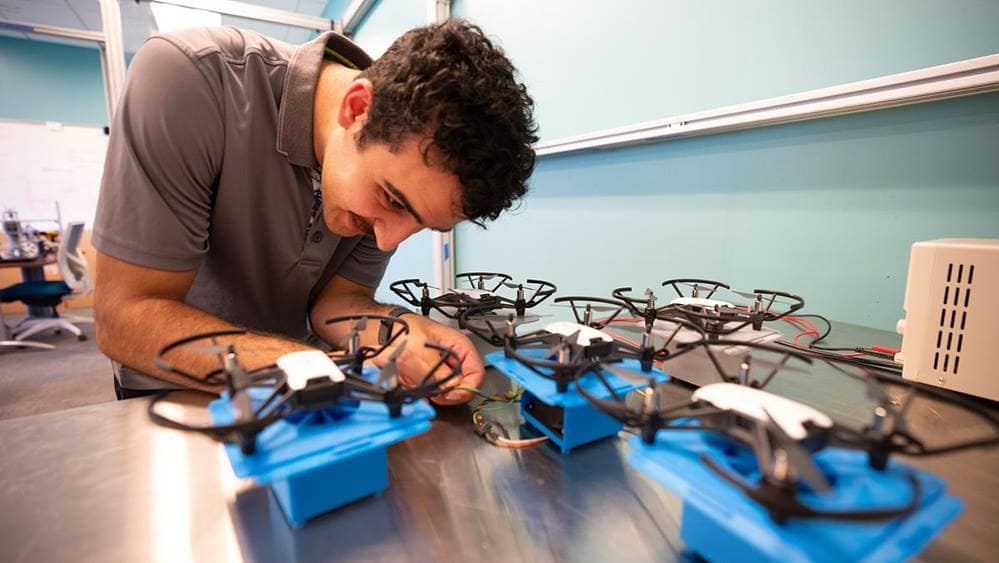 Daniel Golan works on a microdrone research project in Embry-Riddle's Engineering Physics Propulsion Lab. Golan is the co-principal investigator on the project, chosen to compete in NASA's 2023 University Student Research Challenge (USRC). (Photo: Embry-Riddle/David Massey)
The students will design and test a prototype for their project in Embry‑Riddle's Engineering Physics Propulsion Lab (EPPL) and then submit their results to NASA in July 2024.
"I advise them on control system design and AI algorithms, but it's their choice how to implement it," said Dr. Sergey V. Drakunov, EPPL's director and a professor of Engineering Physics, who also serves as the team's faculty mentor. "It's important to give the students that intellectual freedom, it stimulates their creativity and, as a result, they have great ideas."
Bryan Gonzalez, a senior Mechanical Engineering student and co-principal investigator on the project, is working on the software and control systems of the swarm. He interned this summer at Florida Institute for Human & Machine Cognition (IHMC), a not-for-profit research institute of the Florida University System located in Pensacola, Florida.
"I have had an interest in controls since I came to the Engineering Physics Propulsion Lab and have worked on controls for exoskeletons and robotic arms here," said Gonzalez, who is from Hollywood, Florida. "The swarm is a step outside of my comfort zone, but one that I see great potential in creating a unique nonlinear control system for."
The team also includes students Stanlie Cerda-Cruz, Kyle Fox, Ethan Thomas, Adam Duke, Ryan Ebrahimi, Ryan Taylor and Nicholas Sontra.
For Golan, who is in Air Force ROTC and completed his U.S. Space Force training this summer, the USRC project has developed important skills in and out of the lab.
"Leadership is huge because I'm going to the military," he said. "It's also been a really good way to take some of the components I've learned in class and apply them."
Golan also spent the summer interning on campus through for The Boeing Company's Engineering Development Program with the university.
"I did work supporting Boeing's MQ 25 aerial refueling drone," he said. "That was a lot of fun, and I learned a lot."
With interests in robotics and space, Golan can envision his research even making an impact beyond Earth someday.
"The swarm algorithm also has the potential for probe mapping of asteroids in space," he said.
Posted In: Engineering | Research | Uncrewed Systems