Student-Led Weekly News Broadcast Earns National Award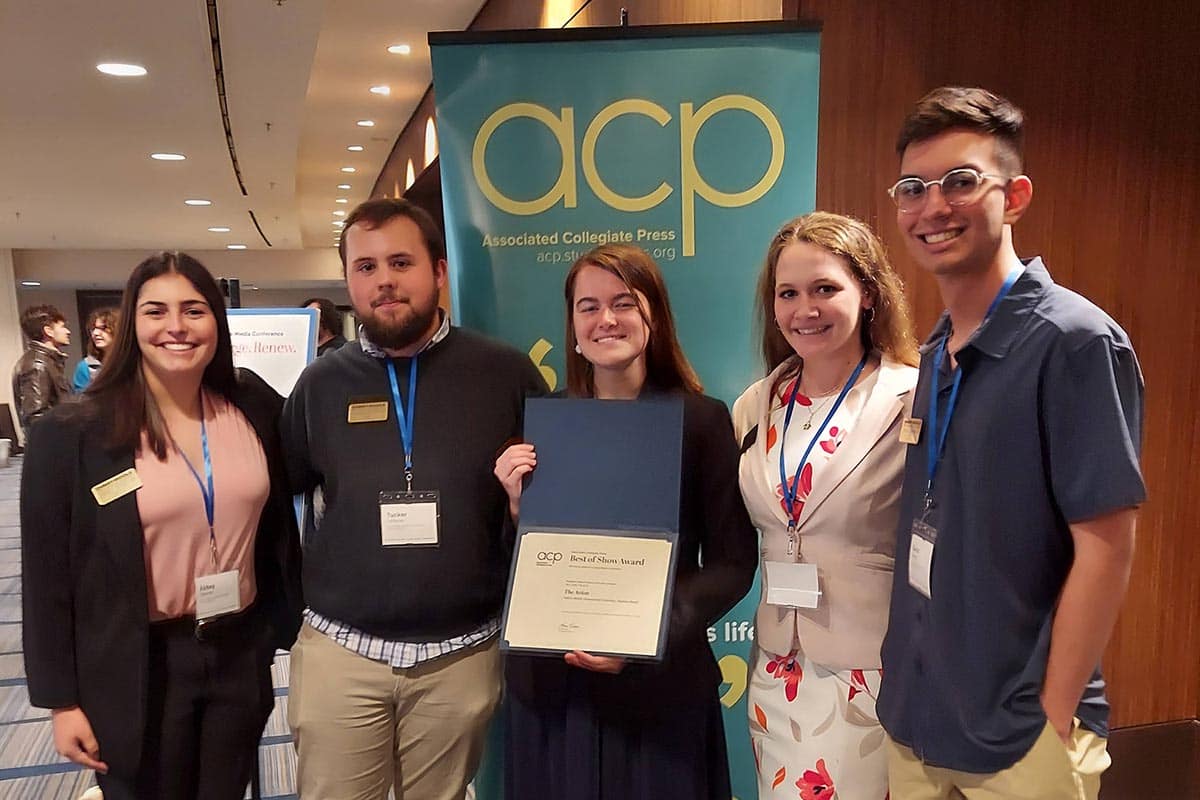 Embry-Riddle Aeronautical University's student-led news and media organization, The Avion, recently earned a national award from the Associated Collegiate Press for its new weekly broadcast program.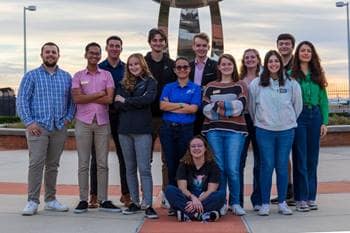 The Avion's broadcast team recorded its first episode on Jan. 23, earlier this year. (Photo: Sean McClure/The Avion)
"This is monumental for us, especially since most of us are not majoring in journalism or communication," said Dylan Kowlessar, current editor-in-chief of The Avion. "The broadcast project is also almost brand new, so this award means a lot to the team working behind the scenes to make this a reality each week."
The Avion's first broadcast was rolled out in January 2023. Several Avion staff members accepted a second-place award for best Broadcast News Program, for a four-year collegiate program, on March 11 at the ACP Conference.
"I think The Avion was chosen because, simply put, we produce a clean product that is student-led and student-focused," added Kowlessar, who is a junior Aeronautical Science student.
The Avion is the student-led media division of Embry-Riddle's Daytona Beach Campus' Student Government Association. Dating back to 1969, it covers local and industry news in a biweekly magazine, on social media platforms and, most recently, in its weekly video broadcast.
Danielle Van Pelt, who serves as project lead and news editor at The Avion, said she pushed to launch the broadcast because she wanted a way for students to get information about the university and the local area in a fun and engaging way.
A Communication major on the Broadcast Meteorology track, Van Pelt had taken classes in the university's green-screen newsroom and knew the space could be reserved for the Avion's broadcast program.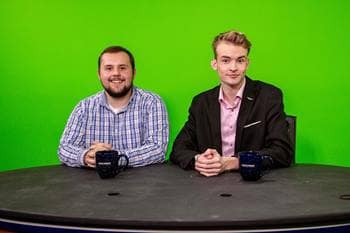 Anchors Tucker Lehtonen and Andrew Harker broadcast from a green-screen studio on Embry-Riddle's Daytona Beach Campus. (Photo: Abbey Spencer/The Avion)
"I was ecstatic when I found out that we won second place for the Best of Show Award for the best Broadcast News Program out of all four-year campuses," said Van Pelt. "I could not believe that our broadcast news program was recognized as top tier, not even within our first year but first semester."
She said it's been exciting to see how the new program has also benefitted the Avion's staff by enhancing their communication skills, as they learn how to talk on camera and write news scripts.
For Andrew Harker, Avion co-anchor and business manager, as well as an Aviation Business Administration student, the goals of the broadcast are simple: "providing quality work, showcasing what is happening around campus and helping get students involved," he said.
Avion faculty advisor Dr. Matthew R. Sharp, an associate professor of Communication, said he is proud of the students' accomplishments. "The Avion is competing with universities that have major journalism programs and extremely well-funded student publication offices. In contrast, most of the students involved with The Avion's weekly broadcasts are not Communication majors and are volunteering their time and talents to produce this content for the university community," he said.
"To place second at a national competition in the first semester of a new endeavor like this is unheard of," said Sharp. "I can't wait to see what they do next."
The Avion also took ninth place for Overall Excellence for a Feature Magazine at the event, which was held in San Francisco, California, and attended by more than 750 collegiate journalists and their advisers.
Posted In: Institutional News