Student Leads First Pressurized, Zero-G Commercial Spacesuit Test with Project PoSSUM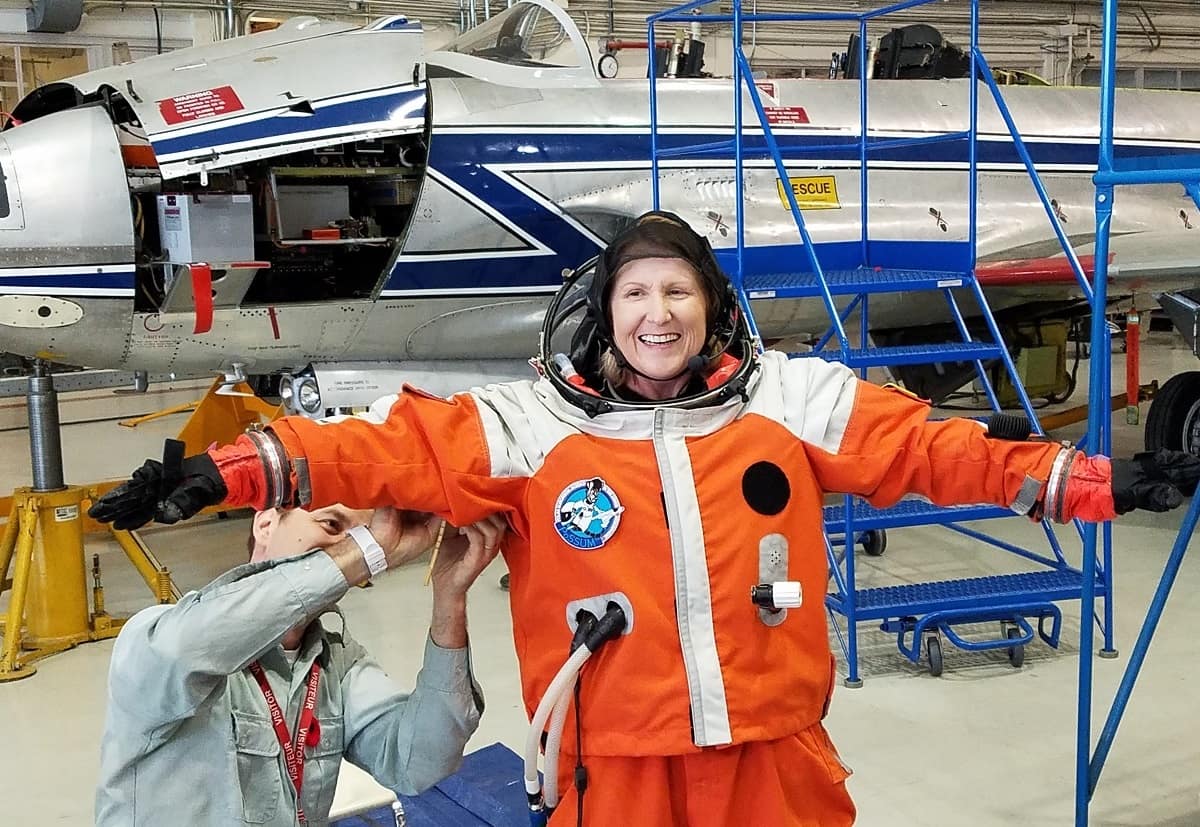 Embry-Riddle Aeronautical University doctoral student Heidi Hammerstein was among a team of 12 Project PoSSUM graduates that participated in the first pressurized test of a commercial spacesuit in microgravity, led by PoSSUM in partnership with the
National Research Council (NRC) of Canada
located in Ottawa, Ontario.
Hammerstein, who is working toward her Ph.D. in Aviation with an Intradisciplinary specialization, is also part of the Project PoSSUM team as a Scientist-Astronaut candidate and certified spacesuit technician. In addition, she is a qualified flight test director and led the second of the three microgravity research flights that simulated weightlessness. The tests were conducted earlier this month, October 2–5.
PoSSUM, an acronym for 'Polar Suborbital Science in the Upper Mesosphere', is a 501(c)(3) non-profit research and education organization that conducts upper-atmospheric and space technology research and communicates the science through various educational outreach programs.
The tests were part of the PoSSUM Bioastronautics Program, where PoSSUM graduates evaluate a prototype commercial spacesuit designed by Final Frontier Design (FFD) of Brooklyn, NY. These tests follow two successful unpressurized spacesuit campaigns that were successfully completed in October 2015 and November 2016.
These initial unpressurized spacesuit tests evaluated the wearer's range of motion, fine motor skills and seat egress and ingress. The PoSSUM team also evaluated a special spacecraft seat that was designed and constructed by the PoSSUM team and integrated to an in-flight suit pressurization system, communications system, a biometric monitoring system and a simulated cockpit where test subjects 'fly' the simulated PoSSUM suborbital profile that they learned at their PoSSUM training at Embry-Riddle's Daytona Beach Campus.
The Dassault Falcon 20 aircraft operated by the NRC was chosen for these tests because of its exceptional quality of microgravity that best approximates the space environment, as well as a cabin interior that best replicates several space vehicles being produced.
"The NRC has truly become part of our PoSSUM team. The three microgravity flights went off without incident, and we gathered the first visor-down microgravity data for Final Frontier Design', said Hammerstein, "We also made large strides in testing efficiency during this campaign. The technical and professional improvements our team has made in microgravity testing over the years are clear, and really showed their colors in these tests."
The next step for the PoSSUM team will be to reproduce the test in Florida on a Boeing 727 reduced gravity aircraft as part of an experiment selected by NASA's Flight Opportunities Program. A team of experienced PoSSUM graduates will support these flights as well. Then next April, the same suits will undergo egress and sea survival testing, a critical step before they may be approved for suborbital and high-altitude applications. If all goes well, the PoSSUM team hopes to conduct the first high-altitude flight later in 2018 using the suits to push past the Armstrong limit, an altitude (above 60,000 ft.) beyond which humans absolutely cannot survive in an unpressurized environment.
"The purpose of these tests is to increase our technology readiness level (TRL) through human testing in a high fidelity, relevant environment. The results will be used to validate pressurized suit performance under live, unpredictable conditions and further our milestone goal of obtaining flight safety approval from the FAA," says Ted Southern, President of FFD.
The only space-flight training program of its kind in the world, Project PoSSUM participants train at Embry-Riddle's Daytona Beach Campus in the College of Aviation with a curriculum that includes atmospheric science, remote sensing, celestial mechanics and navigation, and spaceflight physiology. There is mission simulation training for the would-be scientist-astronauts in a sub-orbital space flight simulator wearing the next-generation Final Frontier Design space suit, high-altitude and hypoxia awareness lessons, and aerospace physiology and microgravity training in analog flight conditions.
Embry-Riddle hosts the PoSSUM Scientist-Astronaut Qualification Program and the Advanced PoSSUM Academy for students two times per year; the next class will be held from April 7 – 12, 2018. Individuals interested in getting involved with PoSSUM's astronautics research may apply for either class at www.projectpossum.org.
MEDIA CONTACTS
Dr. Jason Reimuller, Project PoSSUM Executive Director; (720) 352-3227; jason.reimuller@projectpossum.org
James Roddey, Director of Communications, Embry-Riddle Aeronautical University, Daytona Beach, Fla.; Office: (386) 226-6198; james.roddey@erau.edu
---
ABOUT PROJECT POSSUM
Project PoSSUM is a 501(c)(3) non-profit research and education organization using citizen-science astronautics to enable novel measurements of our mesosphere, the most sensitive region of global climate, while inspiring and educating the public on the critical roles this region plays in the overall understanding of our global climate through immersive educational programs. Project PoSSUM is administered by a team of scientists and much of the training takes place at Embry-Riddle Aeronautical University in Daytona Beach, Fla. To learn more about Project PoSSUM, visit
www.projectpossum.org
or follow us on Facebook at
facebook.com/project possum
.