Student Business Club Takes State Competition for 13 Straight Years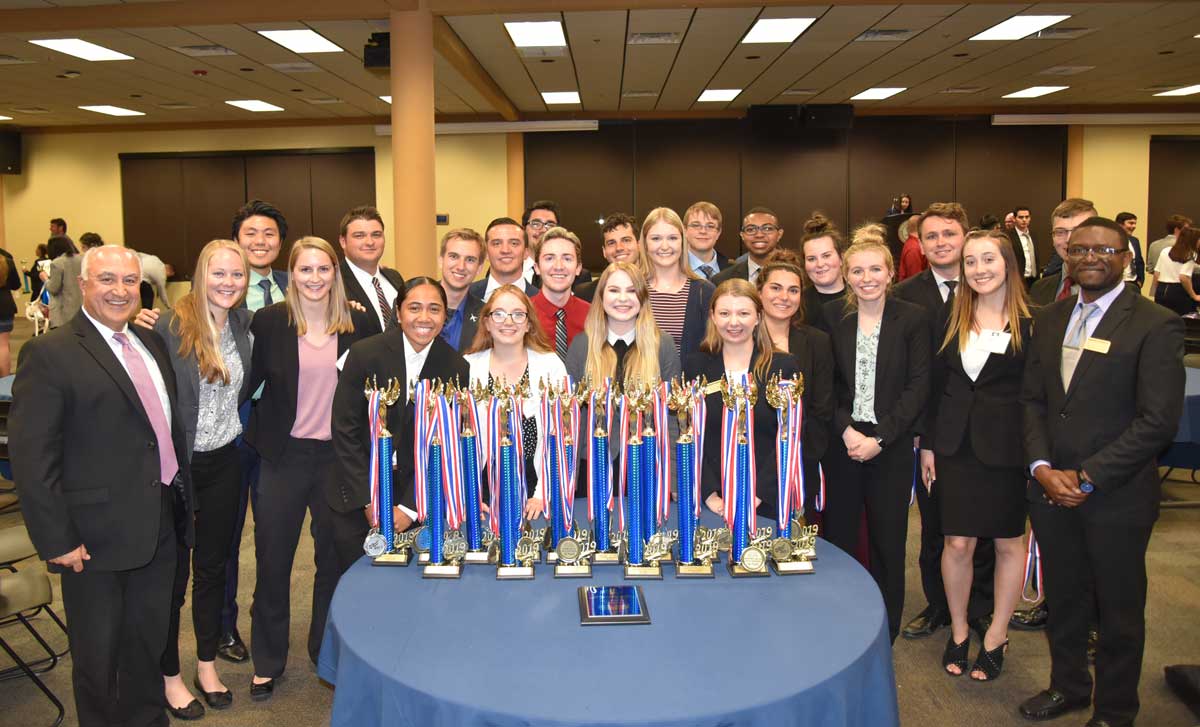 For the 13th consecutive year, Embry-Riddle Aeronautical University's Phi Beta Lambda (PBL) Business Club dominated the PBL Arizona Leadership Competition, held April 12-13 at the Embry-Riddle Prescott campus.
At the 2019 PBL State Leadership Conference, 30 Embry-Riddle students competed in 50 individual and team events, including: Business Law, Business Ethics, Economics, Finance, Forensic Accounting, Management, Marketing, Project Management, Retail Management, and a Social Media Challenge. The Embry-Riddle team racked up the largest number of first-places finishes (30) and the largest number of total awards (46 first, second and third place awards).
In addition to Embry-Riddle, competing in this year's event were more than 100 students from Arizona State University, Central Arizona College, DeVry University, Eastern Arizona College, Northern Arizona University, Phoenix College, and Virtual Chapter.
Now in its 49th year, the annual event is sponsored by the Future Business Leaders of America – Phi Beta Lambda, the largest student business organization in the world. Its primary goal is to help students develop business and leadership skills for a competitive edge in their future careers. Members come to test their knowledge and skills through a variety of competitive events, share successes and learn new ideas about shaping their careers through workshops and exhibits.
"I'm very proud that our students who performed exceptionally well against formidable competitors from well-established programs at other state colleges and universities," said PBL faculty advisor Dr. Javad Gorjidooz. "This victory clearly indicates the quality of the students, the Business faculty at Embry-Riddle, and the strong support of our administration."
Also receiving recognition at this year's completion was Gorjidooz for his 20 years of service to PBL.
"We were very excited to host another successful Arizona PBL competition and witness the special recognition to Dr. Gorjidooz for his outstanding leadership and dedication to PBL and all of the students," said Dr. Thomas Drape, Director of Embry-Riddle's School of Business.
As winners of the state competition, the Embry-Riddle team is now eligible to compete at the 2019 PBL National Leadership Conference to be held June 24-27 in San Antonio, Tex.
For more information, visit Embry-Riddle Prescott's School of Business.
For more information on Future Business Leaders of America, visit the Phi Beta Lambda website.
Posted In: Business