Spirit Airlines CEO to Students: Three Steps to Success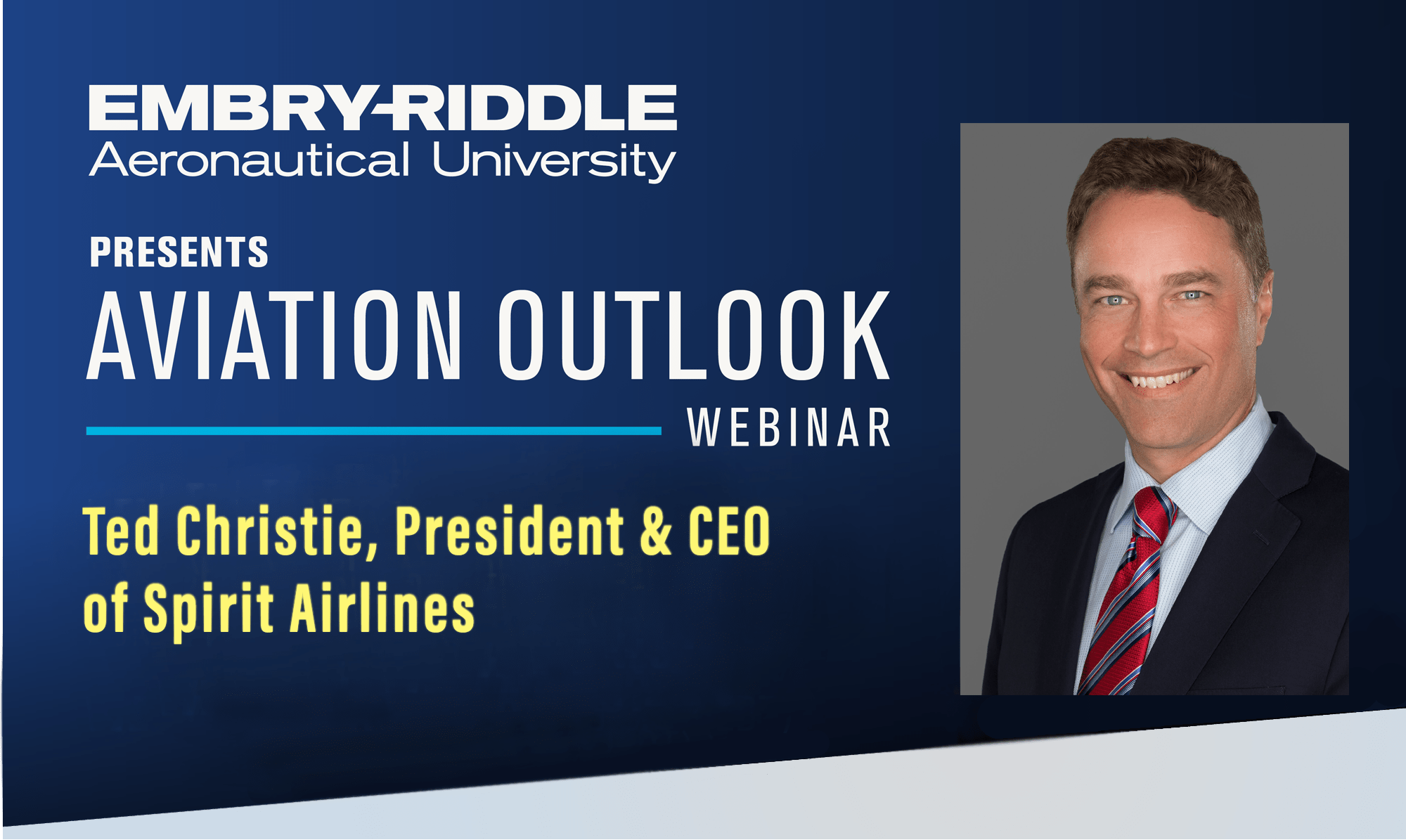 Learn the business, find a mentor and, anytime there's work to do, volunteer. Such was the advice given to Embry-Riddle students aspiring to work in the aviation industry by Ted Christie, president and CEO at Spirit Airlines, in the final Aviation Outlook webinar event of 2020.
"You should be reading up on your industry, studying your own business and learning from other types of businesses," Christie said. "If there's a project, be really engaged and ready to work. I find in my company that people who do that tend to accelerate their movement through the company. And finding that right person to attach yourself to, that you believe in, that you think you can learn from is also important in advancing your career and continuing your education."
Christie, who graduated from the University of Arizona, has held CFO positions at Pinnacle Airline Corporation and Frontier Airlines. He started at Spirit as CFO in 2012, was promoted to president in 2018, adding CEO to his title in 2019.
Spirit has pioneered ultra-low-cost air travel in the United States. During Christie's tenure, the airline has received numerous accolades for value, passenger satisfaction and reliability. Through its charitable foundation, Spirit supports Embry-Riddle scholarships for women and other underrepresented groups in aviation.
During the speaking event, Christie acknowledged the damage the pandemic has wrought on the airline industry, explaining that in the end of March, his airline's 700 departures a day dropped to about 50 a day.
"There's no shortage of crazy in this business, and I think we've doubled up on it of late," he said.
However, business is improving, he added. By late summer, Spirit's flights per day had peaked to 550. Leisure travelers, who represent a key demographic for Spirit, Christie noted, are "the first to return and tend to be more resilient during economic downturns or even crisis-of-confidence-type environments."
"The airline business is still in a net-loss position, including us, but our recent numbers have shown that our ability to climb our way out of it will probably happen sooner and faster than any other airline in the space because of our cost structure and the attraction we hold to the leisure guest," Christie said.
In order to make flying on Spirit as safe as possible during the Covid-19 pandemic, the airline is spraying plane interiors with an antimicrobial layer that lasts 30 days, although Christie said it is applied more frequently. High-touch surface such as seat belts, door handles and tray tables are also wiped down with disinfectant after each flight, and facial coverings are required on all flights.
Christie said customers need visual assurances that the planes are as clean and safe as possible, adding "we're in a crisis of confidence, not unlike the way the country felt after 9/11."
Spirit drives company efficiency by operating a single fleet type: Airbus. Doing so simplifies operations, Christie said, because pilots encounter similar if not identical cockpits in every plane, equipment is uniform and all the airline's maintenance technicians are able to work on aircraft interchangeably.
The airline's on-time performance and flight completion factor, representing the percentage of flights that occur without cancellation, were improved when airline management started spending money upfront to avoid delays and cancellations, Christie said.
"We realized we were spending money to fix problems — to reroute passengers, crews and spare parts — rather than spending it to avoid them," Christie said. "So we started an overall health exercise that has led us now to be consistently one of the most reliable airlines in the Lower 48."
Throughout his presentation, Christie made one thing clear: A passion for the complexity of the airline industry has guided him to success.
"It's a very analytical business because it's a high-volume business," Christie said. "There are so many operations every day — takeoffs and landings, guest interactions, bag interactions, crew movements, all of those things.
"For numbers nerds like myself, it's a fascinating business because its small movements can have outsized impacts."
Watch the full webinar featuring Ted Christie, as well as access all past
Aviation Outlook
events, in the
series archive
.
Posted In: Aviation