Speedway Project Promises Insights Into Heart Disease, Space Travel, More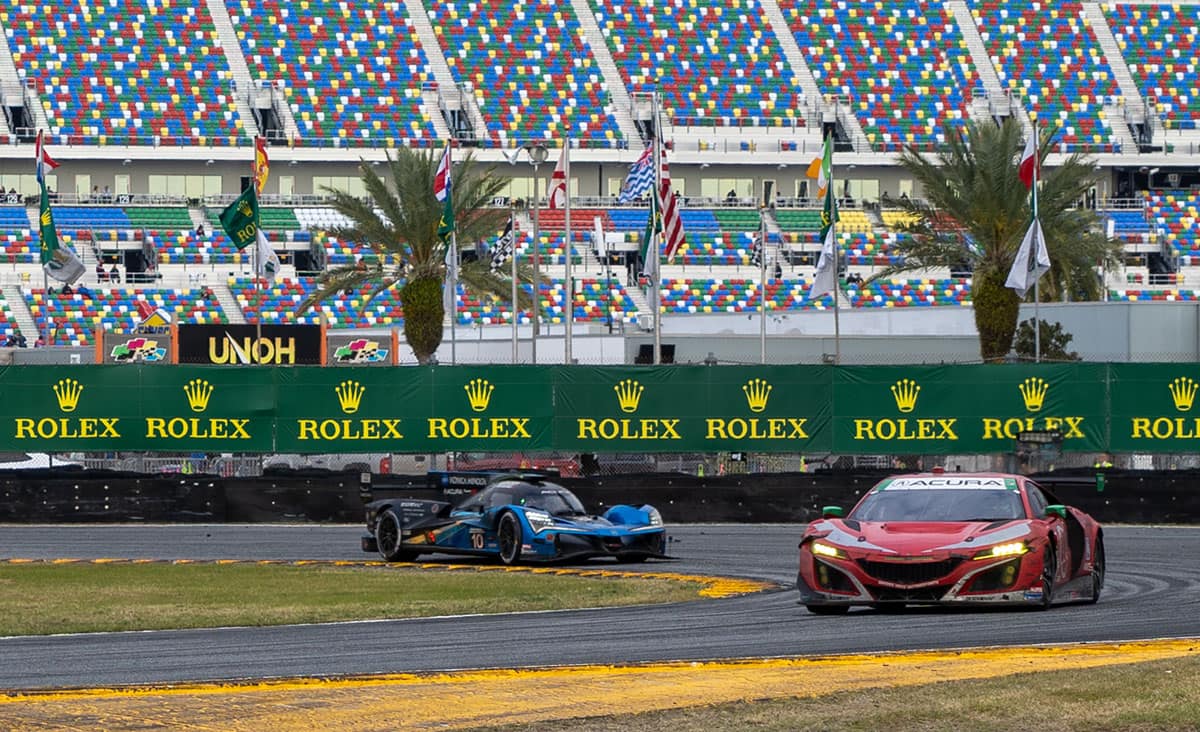 Cardiovascular diseases are the leading cause of death globally, killing an estimated 17.9 million people each year. To combat this trend, researchers at Embry-Riddle Aeronautical University recently took to the Daytona International Speedway to monitor the cardiovascular functions of drivers at the Rolex 24.
The study of professional drivers could also help make air and space travel safer.
"We're studying human performance and how the body responds to the stressors associated with racing," said Dr. Scott Ferguson, assistant professor of Aerospace Physiology. "Since high-level athletes perform well in high-stress environments, studying them gives us insight into how their bodies deal with the effects of stress so that we can then translate our findings to help the sick and general population."
Essentially, Ferguson and his team are studying stress — its effects on the body and how those effects can be effectively managed — and the implications of their work are far-reaching.
"Even the daily stress of many occupations is linked to cardiovascular disease," Ferguson said. "Not everyone is throwing three to five G's and going 200 mph at the Speedway, but we're always trying to translate lessons learned back to the general population."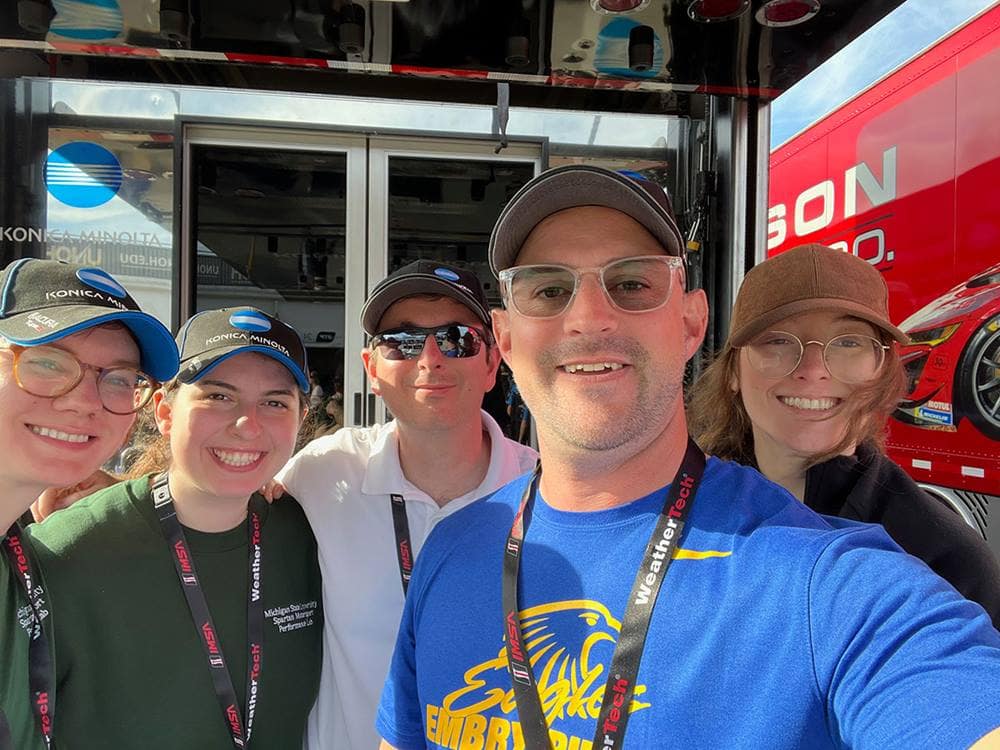 The project team consists of researchers from Embry-Riddle and Michigan State University. They are listed from left to right: Faith Houck, a Ph.D. student at Michigan State University; Sara Xhaja, an undergraduate at Michigan State; Dr. David Ferguson, associate professor at Michigan State; Dr. Scott Ferguson, Embry-Riddle assistant professor of Aerospace Physiology; and Aviv ("V") Lemke, an Aerospace Physiology undergrad at Embry-Riddle. (Photo: Scott Ferguson)
From Racing to Space Travel
Insights from this study could contribute to everyday stress mitigation, in addition to our knowledge of how extreme forms of stress, generally associated with more demanding jobs, such as flying airplanes, traveling to space or performing surgery, could impact physical and cognitive functions.
The big question, Ferguson noted, is how stress impacts human physiology and performance, and how to prevent the harmful effects of too much pressure.
"The racetrack is the perfect laboratory to study G-forces," Ferguson said. "Drivers experience a ton of physical strain, from the G-loads to extreme heat (up to 140 degrees), dehydration and sleep deprivation during a 24-hour race. It's similar to what astronauts experience during launch, re-entry and various parts of a flight."
Prolonged periods of strain take a toll, primarily on cognitive and decision-making abilities. The more the senses dull, the higher the level of risk becomes.
"Psychologically, whether it's a driver, pilot or astronaut, they've got to get it right or there are big consequences," Ferguson said. "The human factors are critical. None of it matters if the human can't do that job."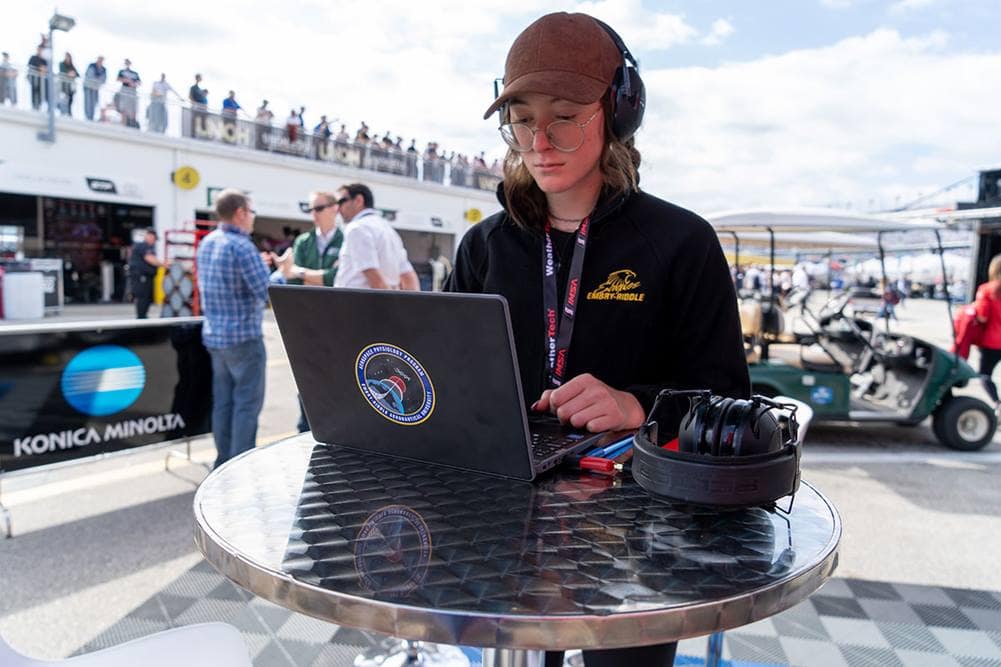 Aviv ("V") Lemke is working as a research assistant on the Embry-Riddle project, which is led by Dr. Scott Ferguson, assistant professor of Aerospace Physiology. (Photo: Scott Ferguson)
Next Up: Studies of Flight Students
Here's how the study worked: Prior to the start of the Rolex 24, Ferguson and his research assistant, Aviv ("V") Lemke, who's the student lead of the Integrative Aerospace and Exercise Physiology Laboratory at the Daytona Beach Campus, strapped near-infrared medical devices to the forearms of some of the driving and pit crew members of the Wayne Taylor Racing team (No. 10 Acura). These devices monitored vital statistics like blood pressure, heart rate and muscle oxygen levels, and the team collected data before, during and after the race.
In the next phase of the project, Ferguson, who holds a private pilot's license, plans to study Flight students. After baseline levels are recorded, he plans to incorporate pre-conditioning exercise regiments to assess how "training" the body to cope with strain through increased stamina could impact a person's cardiovascular control.
"If we can understand the body's vascular reaction to stress, we can then try to find interventions that can help," said Lemke. "Not only could this be beneficial to the drivers that we are doing this study on but also pilots, patients with cardiovascular disease and the general public."
For Lemke, who isn't one to settle on the status quo, this research became doubly important.During her undergraduate program in Aerospace Physiology at Embry-Riddle, she also took classes on the side to become an EMT. (Oh, she's on an accelerated Human Factors master's degree track, as well, and plans to pursue a Ph.D.)
"As an EMT, I've seen how cardiovascular disease can affect someone and their family," she said, adding that conducting emergency medical work has given her a special feeling of fulfillment. "That feeling of physically helping someone became something I have been chasing throughout school, and what we are doing now could potentially help a lot of people. So, I guess you could say I am in my dream job right now."
Ferguson and his team are currently analyzing data from the race and hope to expand the research to include Eagle flight students later this year. The Rolex 24 at Daytona, which features custom racecars — from manufacturers such as Acura, Porsche, Ferrari, Lamborghini and more — instead of stockcars, is run by The International Motor Sports Association, a division of NASCAR.
Posted In: Applied Science | Human Factors | Research | Space