Space, Soccer, Word-Processing Startups Stand Out at Annual Business Competition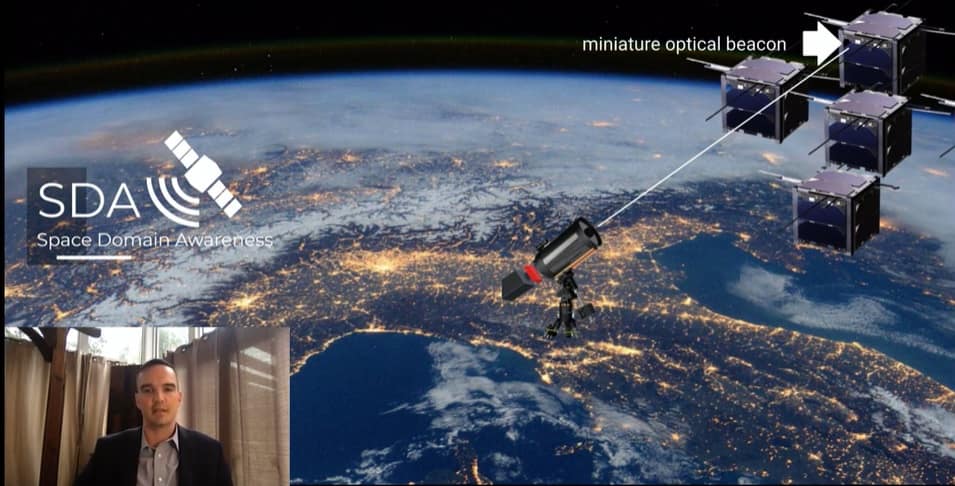 Six startups recently earned seed funding at the 2020 TREP Expo, held virtually for the very first time this year across all three Embry-Riddle Aeronautical University campuses.
The 22 participating teams, made up of students, faculty, staff and alumni from Embry-Riddle's Daytona Beach, Prescott and Worldwide campuses, were split into two judging categories: the Yellow Flight and Orange Flight. First-place winners took home $1,500, 2nd-place earned $750, 3rd-place won $500, and another $1,000 in funding was awarded to the People's Choice Award winner, which was selected by more than 600 viewers watching the presentations on YouTube.
The TREP Expo is a business competition that puts the commercial viability, innovativeness and overall "cool" factor of business ideas to the test. Teams presented their concepts in video presentations that were critiqued by two judging panels of investor/entrepreneurs over several days in mid-November, and then participated in a question-and-answer panel webinar. The awards were announced at the conclusion of the panel discussion.
"TREP Expo has always been open to students, faculty, staff and alumni of Embry-Riddle," said Dr. Mike Bowers, director of the Center for Entrepreneurship, in the David B. O'Maley College of Business. "But with the event being held virtually this year, we saw an increase in participation."
The apparent restrictions imposed by the Covid-19 actually created an opportunity for greater inclusion across the university, he added. The event hosted more alumni exhibitors, as well as those from the Worldwide Campus, than ever before. Another first: Students from the Prescott Campus were also able to participate.
"It's great to see the center expand its reach of service and benefit Embry-Riddle entrepreneurs — regardless of where they are in the world," Bowers said.
Watch a recording of the 2020 TREP Expo virtual event in full online.
2020 TREP Expo Winners
NOMI (No More Injuries) won first place in the Yellow Flight. Run by COO and Bio-Mechanical Engineering alumna Sophie Brundin ('20); CFO Izah Deang, currently pursuing her master's in management; and Chief Technology Officer Quinn Guzman, a first-year Mechanical Engineering master's student, the company plans to produce ankle braces for soccer players to protect against the sport's primary injury: sprains. Unlike other braces on the market, this one is customizable, flexible and thin enough to fit inside of any soccer cleat — and the company's founders are working with four Eagle student-athletes to test and optimize its design. Sprains are also the primary injury in basketball and several other sports, Brundin explained, which gives her company the benefit of a built-in global market.
Space Domain Awareness, Inc. (SDA) won first place in the Orange Flight judging category. A firm offering satellite-tracking technology, SDA is co-founded by John Lee, assistant professor of Naval Science and Marine Officer Instructor in the Naval ROTC program, and Ethan Saxon, national security and government consultant. Leo Ghelarducci serves as the company's senior product engineer and is an Electrical Engineering and Computer Science Ph.D. candidate. Victoria Rutenbeck, Software Engineering master's student, serves as senior software engineer.

"Humans will launch more objects into space in the next decade than we've launched in the entire history of space exploration combined," said Lee, who also earned a Master of Science in Human Factors degree this month.

Current satellite-tracking hardware, however, is approximately the size of an iPhone, which is too large to fit on small satellites. SDA plans to reduce that size down to that of a postage stamp. The company plans to launch its first prototype into space in late 2021 for testing.
Frost won the People's Choice Award and a 2nd-place finish in the Orange Flight, becoming the first company to win the people's award and a judge prize in TREP Expo history.

Founded by Prescott Campus student Mansidak Singh, Frost offers a "mood-inducing text editor," or word processing software that clears the user's screen of toolbars and style options, allowing them to focus solely on their writing. Additionally, the software plays ambient background music while the user works, the tones of which — ranging from "calm" to "rage" — is chosen by the user depending on mood.

Watch Frost's product presentation.
Other winners from the event include Aero Tail, which won 2nd place in the Yellow Flight, and Go Clean Cup and Think You Can Cook, each winning 3rd place in their respective flights.
Posted In: Business