Simulated Space Mission Inspires New Thinking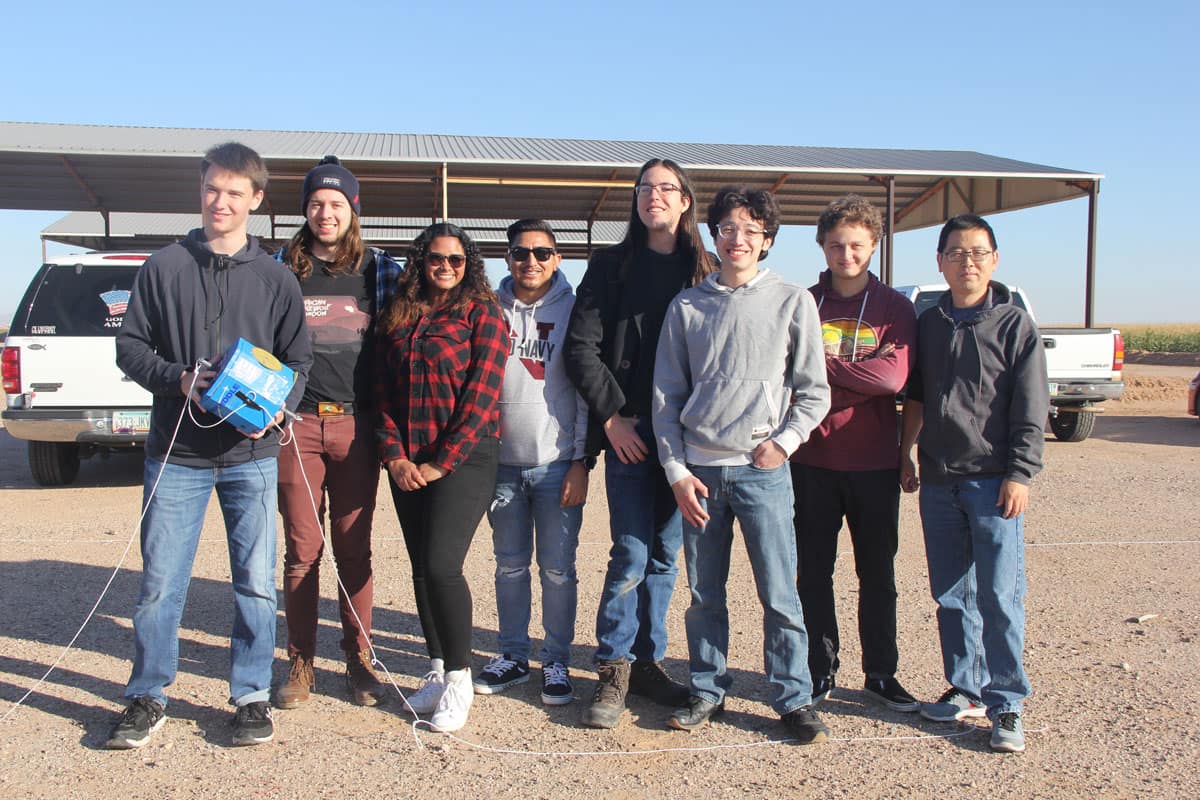 Watching your payload shatter as it hits the ground at 50 mph would be disheartening to most, but to the members of a unique Embry-Riddle Aeronautical University club, failure is just an opportunity to improve.
The Prescott, Arizona-based ASCEND (Aerospace Scholarships to Challenge and Educate New Discoverers) club is part of a network of student teams across the state that design and build small payloads to gather scientific data, funded by the Arizona/NASA Space Grant program.
Last semester, club members were attempting to establish long-range radio communications between air and ground stations. They also hoped to provide live video and data that could be used for things such as tracking an autonomous landing vehicle like the Mars rover.
The effort wasn't a complete success.
"Our payload imploded when its parachute didn't open," said club co-leader Somaralyz Grullon, Mechanical Engineering. "But that's okay because now we know what we need to change. Our payload was too heavy in the middle, and the weight caused it to bend into a u-shape, tangling the parachute lines."
Every failure is a step toward the goal of innovating and improving atmospheric experiments using the NASA space mission cycle of design-build-fly-operate-analyze. It's no easy task; payloads are launched using high-altitude weather balloons that ascend almost 19 miles before bursting and dropping the payload to the ground under a parachute.
"It's all about working out the bugs before our next launch in April," said Zach Howe, the other club co-lead and an Aerospace Engineering major. "Right now, we are divided into two teams: an aircrew working out the payload design and a ground crew working on the base station mounting system.
"Launch days are long but fun," Howe added. "We go way out in the desert and work with Arizona Near Space Research, who provides the weather balloons and handles the FAA clearances for the launch. It's really cool to see all of our work go up and track it until it lands … hopefully, in one piece!"
The club is looking for more members to join in its mission. "It's not that intensive," Grullon said. "We all work together and collaborate with different teams across Arizona. You don't have to know anything. We will teach you when you get here."
One of the club's newest members said she's learned a lot since joining. "I really like the hands-on opportunity and the ability to expand my knowledge," said Winona Roulston, Mechanical Engineering. "You get to practice things like coding and soldering, and you learn concepts that you are going to be applying in your day-to-day career."
Faculty mentor Dr. Yabin Liao, an aerospace engineering professor, compared the club's work to a small space mission.
"They have to go through the entire design and fabrication process," he said. "They take measurements, do testing and perform data analysis. It's a great way for students to prepare for their senior capstone project by working in a team environment."
In addition to the ASCEND ballooning project, the team will work with five other Arizona institutions in the National Ballooning Eclipse Project (NEBP), launching stratospheric ballooning campaigns during an annular eclipse in October and a total solar eclipse in April 2024.
Embry-Riddle will be one of the two main NEBP sites in Arizona (the other is Arizona State University). NEBP teams across the U.S. will conduct scientific field campaigns during the two eclipses, flying helium-filled balloons carrying science and engineering payloads.
Even if the campaigns end with more lessons rather than triumphal payload landings, Grullon and her fellow club members have seen their efforts pay off.
"I was able to get an internship with Aurora Flight Sciences because of my research with ASCEND," Grullon said. "My boss had also done the NEBP as an undergrad, so it was a perfect way to connect our radio and coding experiments with the autonomous flight vehicles they develop."
The Embry-Riddle ASCEND club is always seeking to add science and engineering students interested in designing spacecraft to make scientific measurements at the edge of space. The club meets from 4-6 p.m. Monday/Wednesday/Friday in the Prescott Campus AXFAB building, Room 142.
Posted In: Engineering | Research | Space