Seizing the Moment One Milestone at a Time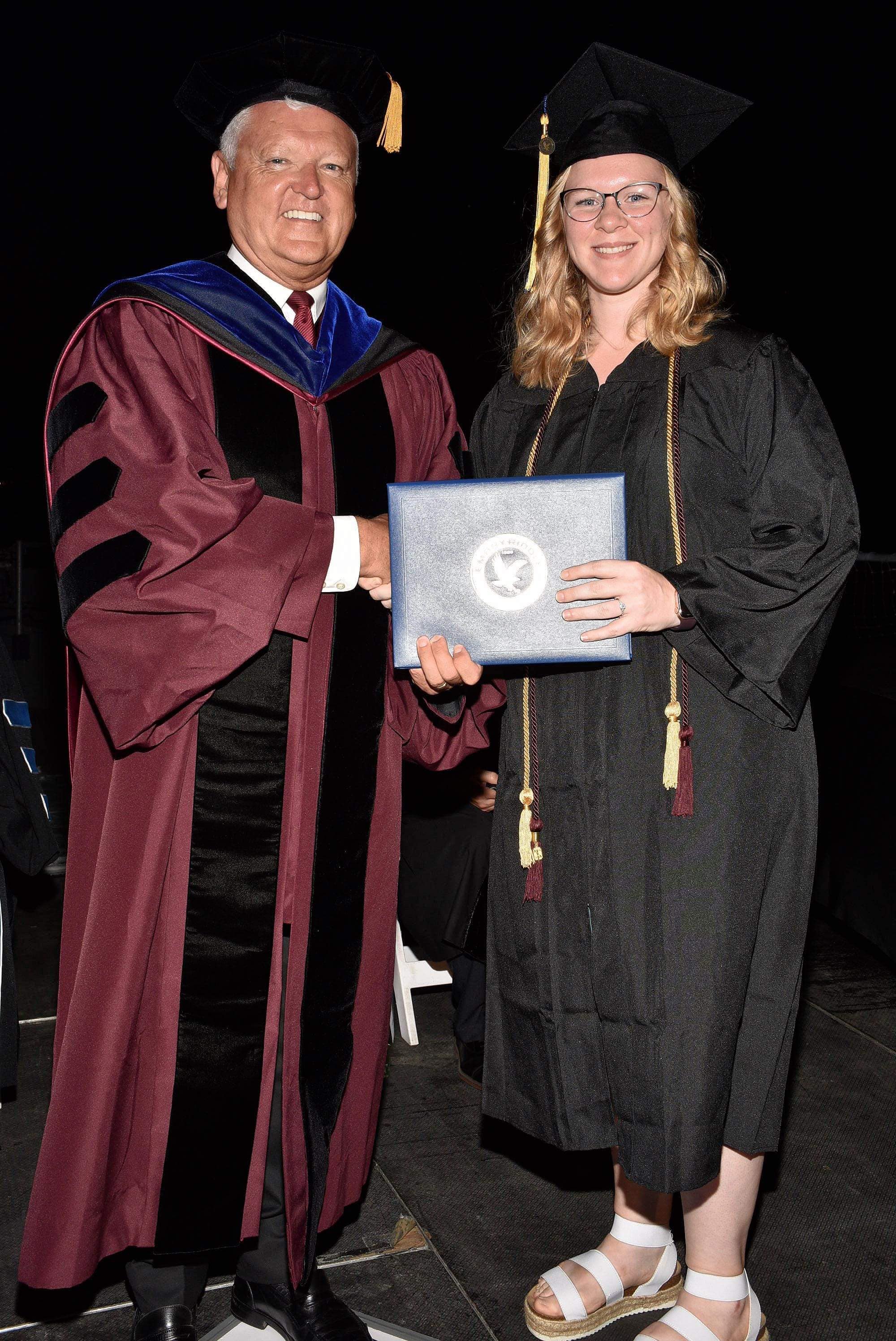 Ayesha Ward could have found plenty of reasons not to pursue her dream of earning a college degree and launching an aviation industry career.
The Kansas native was married in 2017 at age 19 and now has two young daughters. Her husband Denzel is an aircraft mechanic in the Navy and has been deployed three times within the first two years of his enlistment. She suffered a severely broken ankle requiring reconstructive surgery in 2021. And then there was that whole global pandemic.
While she was trying to figure out how to manage her return to school amid all these challenges, Ayesha ran across a quote that became her epiphany: "Don't wait for the perfect moment, take the moment and make it perfect."
So that's exactly what she did.
In August, Ayesha ('23,'25) earned her A.S. in Aviation Business Administration through the online program offered by the College of Business at Embry-Riddle Aeronautical University's Worldwide Campus.
Why Choose Embry-Riddle Worldwide for a Business Degree?
With flexible program delivery, expert faculty who understand the challenges of pursuing a degree while working or parenting, and career support that offers direct industry connections, Embry-Riddle had everything Ayesha wanted.
And the A.S. degree is just a launching point for Ayesha, who is already working toward her B.S. in Technical Management with a major in Business Cybersecurity and a minor in Management Information Systems.
She plans to finish this next milestone by Spring 2025 and is shooting for summa cum laude honors and the chance to be part of the May graduation event held at the Daytona Beach Campus.
Not only did Ayesha discover the focus she was after at Embry-Riddle Worldwide, but she also found programs that are designed to help busy professionals—and busy moms — pursue their passions.
"I needed something that would help me discover myself and who I wanted to be," she said. "I realized that was Embry-Riddle."
The Embry-Riddle experience also helped clarify her professional goal, and she believes the world's leading aviation and aerospace educator will help her reach it.
"I want to be an information systems manager within the aviation industry," she said. "Embry-Riddle helps me achieve that goal by continuing to create and enhance courses that are relevant to the field and by providing networking opportunities with people on the IT side of the aviation industry so I can learn more from them."
Embry-Riddle Worldwide Opens the Door
She credits the Worldwide Career Services team with helping her land a remote internship with the FAA this past summer, giving her the kind of real world experience that will help her stand out in the job market.
"We embrace the challenge of assisting Embry-Riddle Worldwide students to become career-ready by networking with employers innovatively offering remote internships," said Arnold James, executive director of Worldwide Career Services. "These opportunities have been a 'gamechanger' for non-residential students [like Ayesha] who often are unable to take advantage of internships to develop career competencies, gain industry experience and enhance their career marketability."

One Milestone Closer
Among Ayesha's proudest moments of her academic journey thus far was walking in the recent Worldwide Campus graduation ceremony in Norfolk, Virginia.
And although she has a clear career goal in sight, Ayesha hasn't ruled out an advanced
degree from Embry-Riddle. "While pursuing a master's degree was never on my radar, I've been encouraged to pursue one by several professors I've had, including Dr. Deliz," Ayesha said.
"From the beginning of the term, it was clear that Ayesha's academic performance and critical analysis demonstrate a strong potential for success in graduate studies," said Dr. Juan C. Deliz, adjunct faculty and a faculty senator at the Worldwide Campus.
Reflecting on her own path, Ayesha offers this advice to anyone who thinks they are too overwhelmed to pursue a goal that matters to them.
"Don't let your insecurities, worries or fears stop you from taking the necessary steps to achieve your dreams." she said.
What dreams could you reach here? Apply at Embry-Riddle today and find out.