Scientist-Astronaut and Two Aerospace Executives Named to Embry-Riddle's Board of Trustees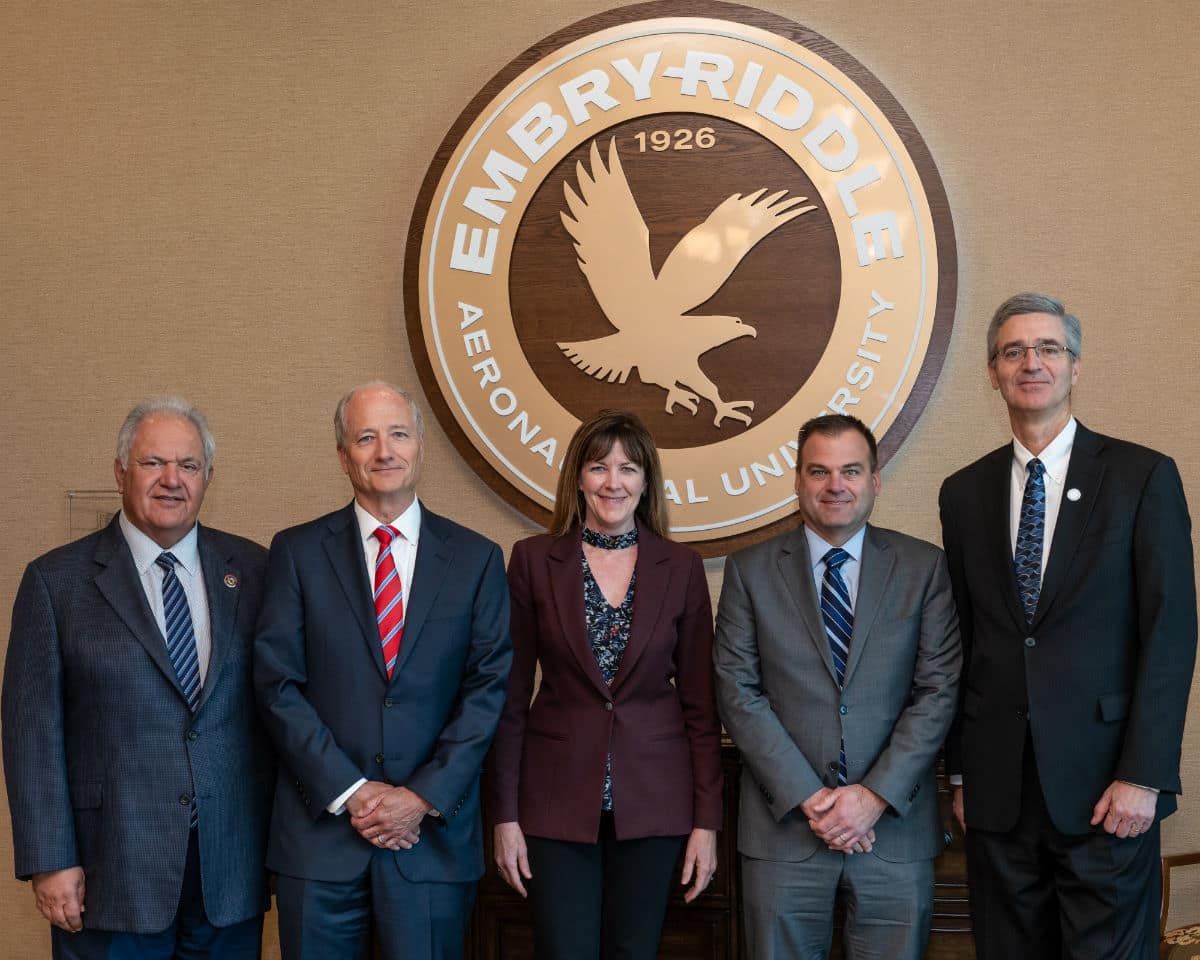 An accomplished scientist-astronaut and two leading aerospace executives were unanimously confirmed to serve on the Board of Trustees of Embry-Riddle Aeronautical University on March 22, 2019.
The new Embry-Riddle Trustees are Dr. Janet Kavandi, scientist and NASA astronaut; Neal J. Keating, Kaman Corporation CEO; and Steve Nordlund, Vice President and General Manager, Boeing NeXt.
"Janet Kavandi will bring deep scientific, operational and business insights to the table," said Mori Hosseini, Chairman of the Embry-Riddle Board of Trustees. "Both Neal Keating and Steve Nordlund are strong leaders with extensive knowledge of aerospace business. All three of these new Trustees have keen energy, vision and business acumen that will serve Embry-Riddle very well. We look forward to working with them to support our mission of service to students."
Embry-Riddle President Dr. P. Barry Butler said, "These outstanding new Trustees have a stellar track record of success, with specific knowledge and connections across the aerospace industry. Their service to society has been truly inspirational. They will make outstanding Trustees. It will be my pleasure to welcome them to the Embry-Riddle leadership team."
Further details on Embry-Riddle's new Trustees follows:
Janet Kavandi – Scientist and NASA Astronaut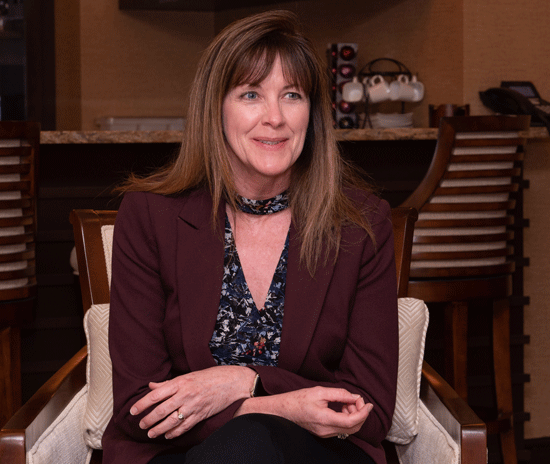 Dr. Janet Kavandi, scientist and NASA astronaut
Scientist and NASA astronaut Dr. Janet Kavandi has logged 33 days in space and 535 space orbits. While at the Johnson Space Center, she served as a mission specialist on three Space Shuttle missions and served as NASA's Deputy Chief of the Astronaut Office, Director of Flight Crew Operations, and Deputy Director of Health and Human Performance. In these roles, she was responsible for operations, training, safety, and habitability of crews onboard the Space Shuttle and International Space Station.
Since 2016, she has served as the Director of the NASA Glenn Research Center in Cleveland, where she oversees the testing of full-scale government and commercial spacecraft, as well as design and testing of DOD and commercial aircraft systems. Her center is also responsible for the Service Module for Orion, the next human-rated spacecraft for NASA, and the first element of the new lunar platform, Gateway.
Prior to her NASA career, Kavandi worked as a Boeing engineer in Seattle, focused on power system technologies for defense systems. While still at Boeing, she earned a Ph.D. in analytical chemistry.
Her honors include a Presidential Rank Award, two NASA Outstanding Leadership Medals, two Exceptional Service Medals, and three Spaceflight Medals. In two weeks on April 6, she is scheduled to be inducted into the United States Astronaut Hall of Fame at NASA's Kennedy Space Center Visitor's Complex in Merritt Island.
She earned her degrees from Missouri Southern State University (B.S.), Missouri University of Science and Technology (M.S.) and the University of Washington (Ph.D.).
Neal J. Keating – Kaman Corporation CEO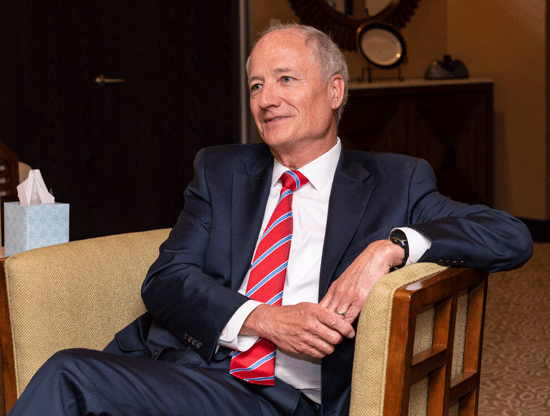 Neal J. Keating, Kaman Corporation CEO
As Kaman Corporation Chairman, President and Chief Executive Officer, Neal J. Keating — a long-time aerospace executive with a deep personal commitment to civic service — provides leadership for his corporation's combined businesses, which serve U.S. industrial markets as well as the global defense and commercial aerospace markets.
Before joining Kaman Corporation in 2007, Keating served as Chief Operating Officer at Hughes Supply, a $5.4 billion industrial distributor, and as Chief Executive Officer at GKN Aerospace, a $1 billion aerospace subsidiary of GKN, Plc. He also served as Executive Director on the Board of Directors of GKN Plc and as a member of the Board of Directors of Agusta-Westland Helicopter.
From 1978 until 2002, he served in increasingly senior positions at Rockwell International, with his final assignment being Executive Vice President and Chief Operating Officer of Rockwell Collins, Commercial Systems.
He also serves on the Board of Directors of Hubbell, Inc., on the Board of Governors of the Aerospace Industry Association, and as a member of the Board of Directors of Avon Old Farms School. He is a past Chairman of the MAPI Board of Trustees.
In addition to his professional activities, Mr. Keating competes in triathlons and marathons. He is a three-time finisher of the Boston Marathon. Since 2001, he has used his participation in these events to raise money in support of the families of fallen heroes through the Injured Marine Semper Fi Fund, the Marine Corps-Law Enforcement Foundation and the Navy SEAL Foundation.
Keating holds a B.S. degree in electrical engineering from the University of Illinois. He earned his M.B.A. degree from The University of Chicago. He resides with his family in Farmington, Conn.
Steve Nordlund – Vice President and General Manager, Boeing NeXt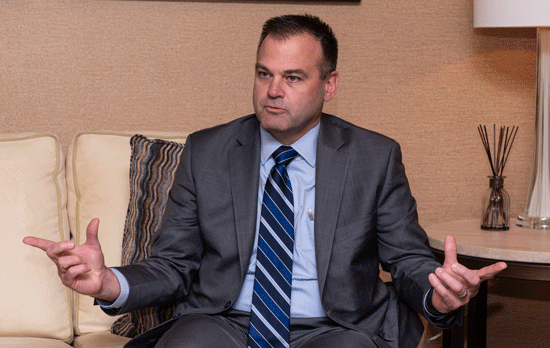 Steve Nordlund, Vice President and General Manager, Boeing NeXt
As Vice President and General Manager of Boeing NeXt, Steve Nordlund leads its mission to define the future of urban, regional and global mobility. This includes oversight of the development of next-generation platforms, cargo and passenger air vehicles and passenger-carrying hypersonic aircraft.
He has held a series of senior positions with Boeing for 10 years, most recently as Vice President of HorizonX, an organization exploring business models for emerging aerospace applications, nontraditional partnerships and investment opportunities with promising start-ups. He also led multiple military aircraft programs.
Prior to his service with Boeing, Nordlund worked for Insitu and IBM. From 1990-1998, he served as Chief Information Officer at Embry-Riddle. Nordlund earned his B.S. degree in Aviation Management at Embry-Riddle, and his M.B.A. from the University of Florida.
Nordlund is a licensed pilot. He is currently on the board of SparkCognition, an AI and machine learning company and Whitfield, a private school in St. Louis, Mo.
Posted In: Institutional News