Sailing To Success Embry-Riddle Student Recognized for Sailing and Academic Achievements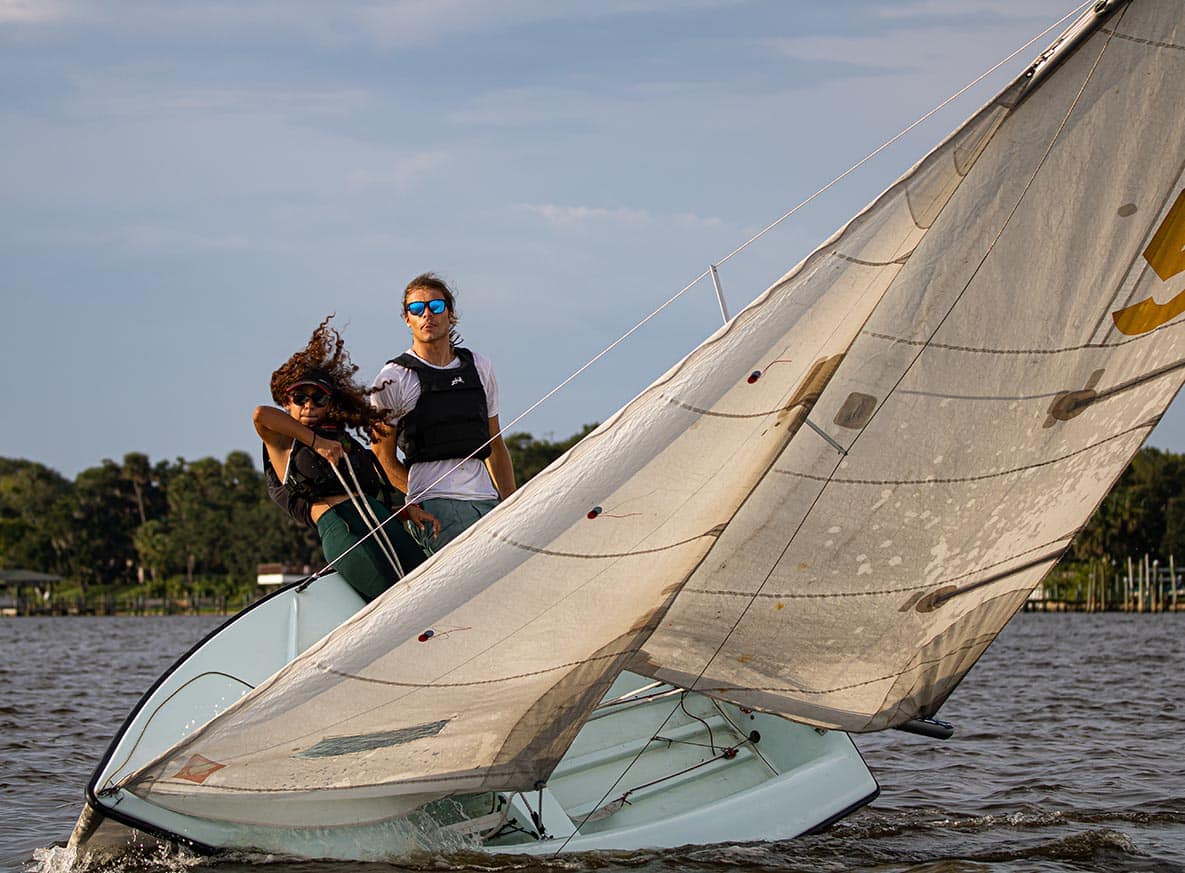 Naomi Sterlingsdottir came to Embry-Riddle for its astrophysics program, but during her studies, she discovered a new passion — competitive sailing.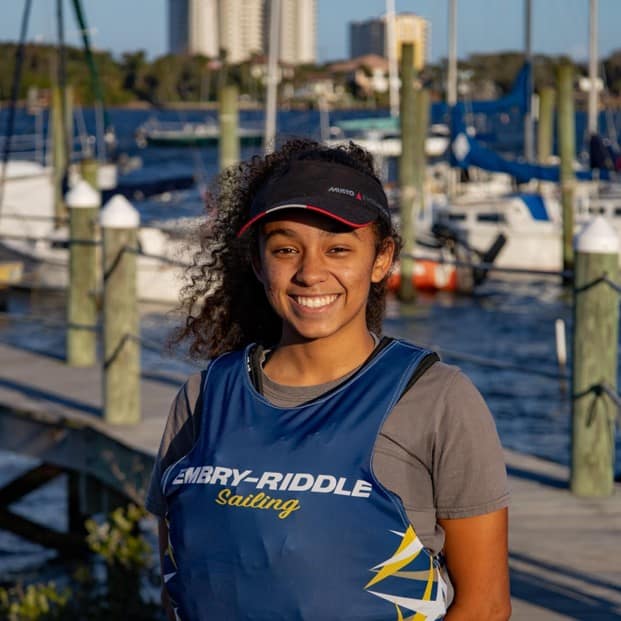 Naomi Sterlingsdottir (Photo: Embry-Riddle Sailing Team)
The Palo Alto, California, senior's success both on the water and in the classroom recently led to her being named to the Inter-Collegiate Sailing Association of North America's (ICSA) All-Academic Team.
She is one of 188 student athletes nationally named to the team, which recognizes juniors and seniors who have participated in seven or more regattas and have a cumulative GPA of 3.3 or higher on a 4.0 scale.
"I actually didn't know anything about the sport of sailing until my sophomore year of college," said Sterlingsdottir, who graduates this December. "Now, I'm super passionate about it."
Embry-Riddle's fledgling sailing team only had a handful of members when she joined in 2019, but that didn't dampen Sterlingsdottir's enthusiasm. She served as team captain for two years, competed on the offshore team and even earned her U.S. sailing level 1 small boat instructor's certification.
"The thing I really like about (sailing) is once you are on the water, you can forget about everything else that is going on in life," said Sterlingsdottir. "Because there is so much you have to think about with sailing — the wind, the current and which maneuvers and tactics to do."
Charting A New Course
Sailing isn't the only new interest Sterlingsdottir discovered while at Embry-Riddle.
Ultimately, she found a new career path – data science – that allows her to use advanced mathematics, data analytics and statistics to analyze and solve complex problems in the real world.
"I was enrolled in four math courses one semester and found I really enjoy mathematics and programming," she said.
The thing I really like about (sailing) is once you are on the water, you can kind of forget about everything else that is going on in life.
Her junior year, she switched her major to Computational Mathematics, with minors in Applied Mathematics, Astrophysics and Applied Meteorology.
Sterlingsdottir, who wants to earn her doctorate eventually, has worked on a variety of research, examining everything from cryptocurrency to voter data. She has presented her findings at the National Conference for Undergraduate Research (NUCR), Florida Undergraduate Research Conference (FURC) and the Society for Industrial and Applied Mathematics (SIAM) Annual Meeting.
She has also been heavily involved in research with Dr. Mihhail Berezovski, an associate professor of mathematics at Embry-Riddle. She worked on data and statistical analysis for a National Science Foundation-funded Research Experiences for Undergraduates (REU) project, involving an advanced analysis of Hispanic voter activity in Florida.
"I've done a lot of research with Dr. Berezovski and he has mentored me along the way," said Sterlingsdottir. "He really made me the researcher I am today."
Dr. Berezovski described Sterlingsdottir as a "tremendous student," who works hard, manages her time well and is eager to learn.
"Energetic and organized, Naomi is always problem-solving oriented and truly a critical thinker in every way," he said.
Sterlingsdottir is excited to pursue both data science and sailing after graduation. She has accepted a job at Northrop Grumman as a systems engineer, doing high-performance computing, in Melbourne, Florida, where she plans to continue to sail.
Although her course changed along the way, she said Embry-Riddle was still the right choice.
"If I didn't come to Embry-Riddle, I wouldn't have had this awesome experience and met all these people," Sterlingsdottir said.