Research Translates to More Opportunities for Students
In an age where massive amounts of data are being collected, professionals with the skills to turn that data into actionable outcomes are essential. A study by McKinsey projects that "by 2018, the U.S. alone may face a shortage of 140,000 to 190,000 people with deep analytic skills," but a couple of Embry-Riddle Prescott students are ready to help fill that void. "I didn't realize just how large the research industry is and how much people are interested in research," said Catie Willard, student researcher and freshman in Aviation Business Administration.
Willard and fellow student Michelle Bennett are both working on research questions involving the Airline Quality Ratings (AQR) and the Airline Passenger Survey (APS) which are projects led by faculty on the Embry-Riddle Prescott campus. The AQR uses data reported to the government by the airlines to compare airline quality based on multiple performance criteria important to air travel consumers and is released each year in April. The APS collects data directly from passengers about their perception and experience with airlines.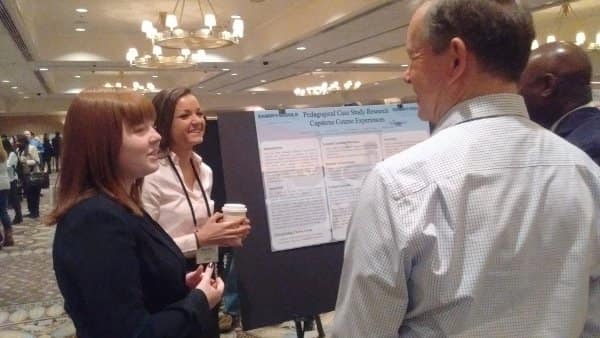 "This is my fourth semester working on research with the AQR," said Bennett, who is a junior in Global Business with Concentrations in Aviation / Aerospace and Arabic. "In the classroom you get good learning, but research directly with a faculty mentor provides a different skillset as it involves critical thinking, execution of research methods, communication skills, and organization. All of this translates to being a very strong candidate for internships and jobs."
At Embry-Riddle, any student, undergraduate or graduate, can work on research and many projects are funded through the Undergraduate Research Institute (URI). College Deans, professors and Anne Boettcher, Director of URI, are available to discuss possible research projects and match students with their interests and future goals.
"I started with AQR research in my sophomore year," said Bennett. "I knew I wanted to do a research project so I reached out to Dr. (Brent) Bowen, Dean of the College of Aviation. Since AQR deals with airlines and that's what I wanted to learn more about, it was perfect. I'm now on my second research question using the AQR results. I'm looking at how AQR was formed as a survey instrument and whether or not it can produce consistent and repeatable results. And I've learned that the answer is yes."
Willard became involved based on a recommendation by Business faculty Dr. Robin Sobotta and is working directly with the raw APS data in order to produce the yearly analysis report.
"I had taken AP statistics in high school and I loved it," said Willard. "At Preview Day for incoming students, I'd talked to Dr. Sobotta about it. So when Orientation took place, she asked me to be involved. It's not anything I expected. It's a new type of learning I haven't experienced before. For example, I'm taking multiple years of APS survey data and analyzing it to prepare a year-to-year comparison of passenger perception of airline quality. Eventually this data will be compared to the AQR to see if what the customer is feeling and perceiving matches the airline's information reported to the government."
The benefits of participating in research extend far beyond the classroom and include internships, professional networking and conferences, and even grant writing.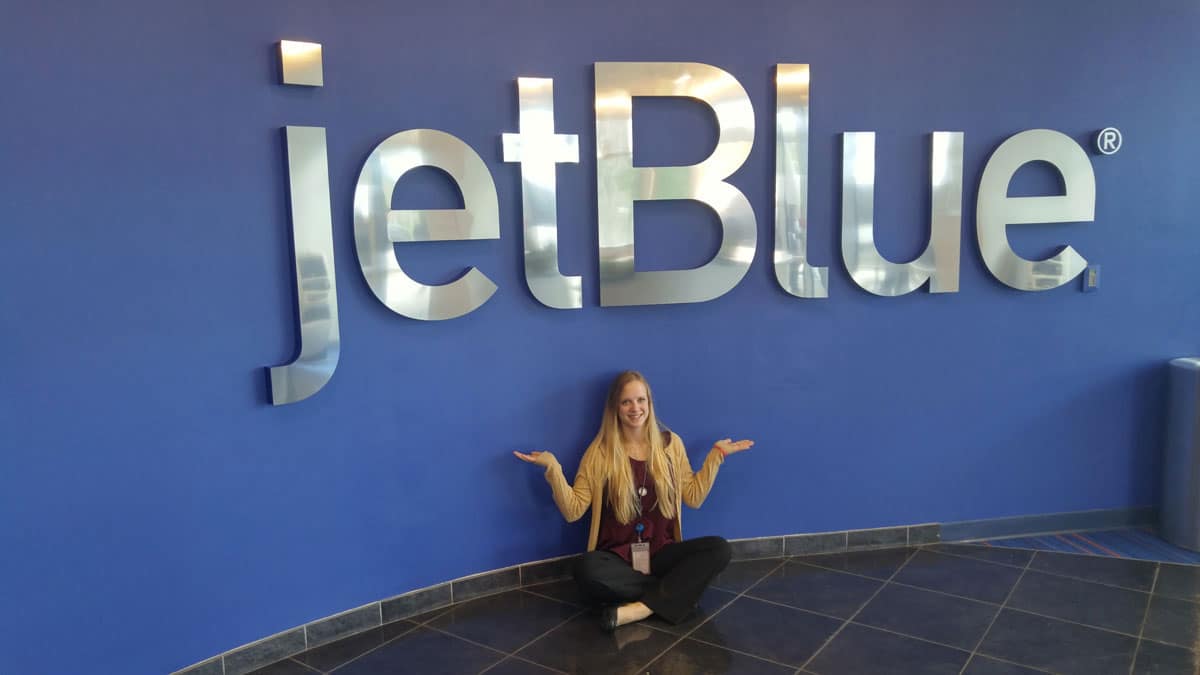 "One does not know how much research can contribute to opportunities in the future. If I hadn't taken this opportunity, I wouldn't know as much about airlines as I do. There's a good chance I wouldn't have had as strong of an interview with JetBlue, which means I wouldn't be in New York City as an intern this semester. You have to know that it ripples out," said Bennett. "Research helps you define what you want to get out of your education and helps you build a strong foundation to get there."
"I lacked strong public speaking skills coming into this project," said Willard. "So far this year I have presented at national conferences like A3irCon and the American Association of Behavioral Sciences and I have two more coming up — one on campus and one at the Arizona Nevada Academy of Science. Every time I can feel myself improving. Because I've dug deep into the data I know what I'm talking about, and that makes me confident and the presenting so much easier. Plus, I've met so many other researchers and faculty through this. It's a really great feeling to be a freshman talking with experts and being treated with respect. Because of my involvement in research, I know I will have an advantage that others won't."
Bennett agrees. "In my internship, I am definitely using my research skills," she said. "Presently, I am in the Sourcing Department at JetBlue where our role is to get as much information as possible about what the business unit wants and then source it. I have to conduct market research to gather information and know the right questions to ask; both are skills I have learned from research. My ability to digest information is better than it would be without having prior research experience."
Research at this level requires commitment, which translates into more one-on-one time with faculty.
"Having Dr. Bowen and Dr. Jacqueline Luedtke as mentors has been fantastic," said Willard. "They know the industry so well and are amazing to learn from. As a complete novice, they are always available to help me so I feel supported. And Michelle has been great. She's a good influence on me and I hope that I can help someone in the future like she's helping me."
"I have worked closely with faculty. They have provided ways to educate myself and I have a much better connection with them. As they hear of opportunities, they share those with me because they know me so well. I also received a scholarship from the International Society of Transport Aircraft Trading after a nomination from the Business Department and letter of support from Dr. Bowen," said Bennett.
Both young women encourage every student to take advantage of this research opportunity.
"You should definitely make sure you are interested in the topic and understand the commitment. You can't go into this lightly but it's definitely been a great experience for me," said Willard. "As a student you hear your professors say it's important. Having done it, I say listen to them. They know what they are talking about."
"I can't imagine having a fulfilled education without this AQR research," said Bennett. "It has opened up many new avenues for research I plan to conduct in the future."
For more information on their research, contact Michelle Bennett or Catie Willard. For more information on research at Embry-Riddle, contact Anne Boettcher.