Research Park Tenant 'SpaceLoon' Aims High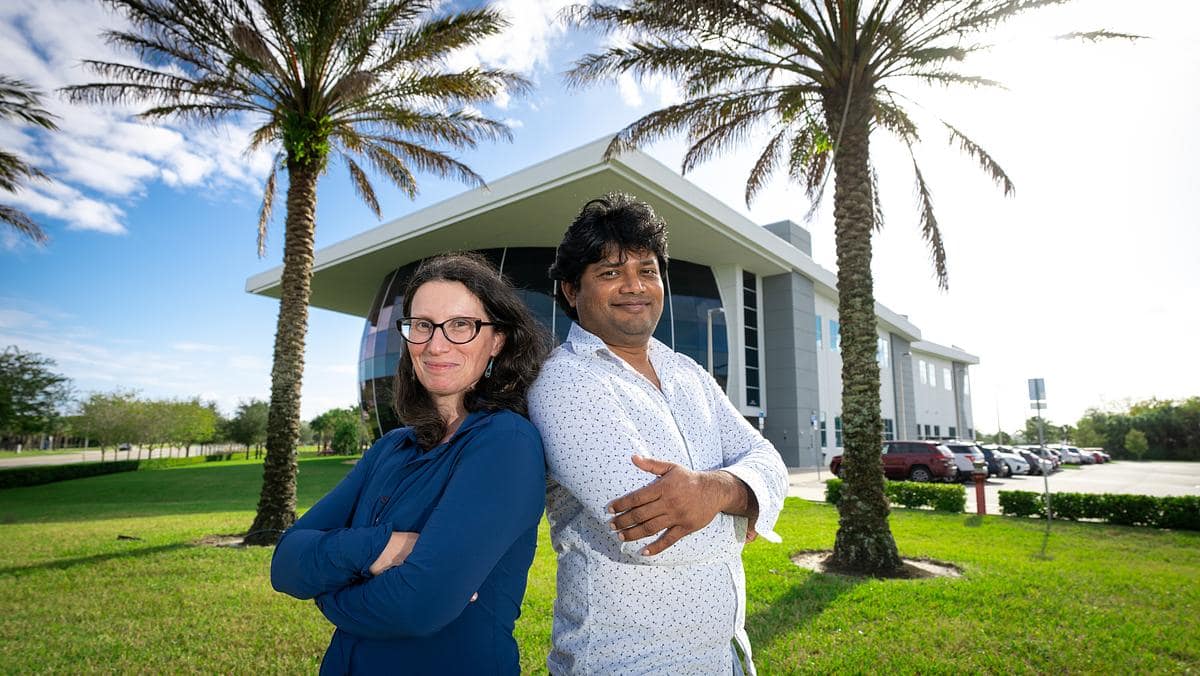 Accelerating lower-cost space exploration and enterprise is the goal of entrepreneur Dr. Pradeep Shinde, founder and CEO of SpaceLoon, a company based at Embry-Riddle Aeronautical University's Research Park that recently garnered support from two federal agencies.
The startup company is exploring a balloon-based concept intended to achieve more efficient, cost-effective capture of data from the mesosphere. If SpaceLoon's idea works, Shinde said, it could someday improve weather forecasts as well as planning for space missions.
Current balloons rely on heritage technological concepts and are mostly used for stratospheric (~20-40 km) measurements, according to SpaceLoon co-founder Dr. Michal Segal-Rozenhaimer, a scientist with the NASA Ames-affiliated Bay Area Environmental Research Institute.
A few platforms have managed to fly slightly higher than 50 kilometers above ground level, Shinde noted, but those balloons are expensive and take a long time to launch.
In the future, SpaceLoon hopes to launch a specially designed balloon, incorporating superior navigational control systems, from Earth to the mesosphere. Details of the plan must remain under wraps while a patent application is pending, Shinde said.
The company has so far launched a balloon to 30 kilometers, according to Shinde. He plans further development of SpaceLoon's concept, thanks to two seed grants from the National Science Foundation (NSF) and the National Oceanic and Atmospheric Administration (NOAA).
Under the NSF grant, Shinde's goal is to transport meteorological sensors on suborbital balloon flights into the mesosphere. This capability could help increase the success rate of space missions, he said, because mission planners would have an opportunity to rapidly test their space technologies in the mesospheric environment, near the edge of space.
A second Small Business Innovation Research (SBIR) Phase I grant from NOAA encourages SpaceLoon's goal to push Earth monitoring and weather forecasting capabilities to the next level, by carrying data collection packages into the upper atmosphere and back down, in a controlled fashion.
As SpaceLoon has been ramping up, the company also provided employment and learning opportunities for a recent Embry-Riddle graduate, Miguel A. Perez ('21), who earned a bachelor's degree in Space Operations before joining the company as a technician for a period of time. Perez, who aspires to be an engineer in the spaceflight industry, said he "acquired many different skills that I likely would not have been exposed to in a regular company environment" during his tenure with SpaceLoon.
Embry-Riddle's Dr. Aroh Barjatya, professor of Engineering Physics and director of the Space and Atmospheric Instrumentation Lab (SAIL), said students and recent graduates benefit by working with Research Park companies such as SpaceLoon. "Those opportunities allow Eagles to easily participate and contribute to game-changing technologies and efforts," he said. "This hands-on experience, not just in engineering but also in business development and the hard work required to maneuver a start-up company, is invaluable."
Posted In: Space