Research on Pilot Mental Health, Drone Swarms Top Student Showcase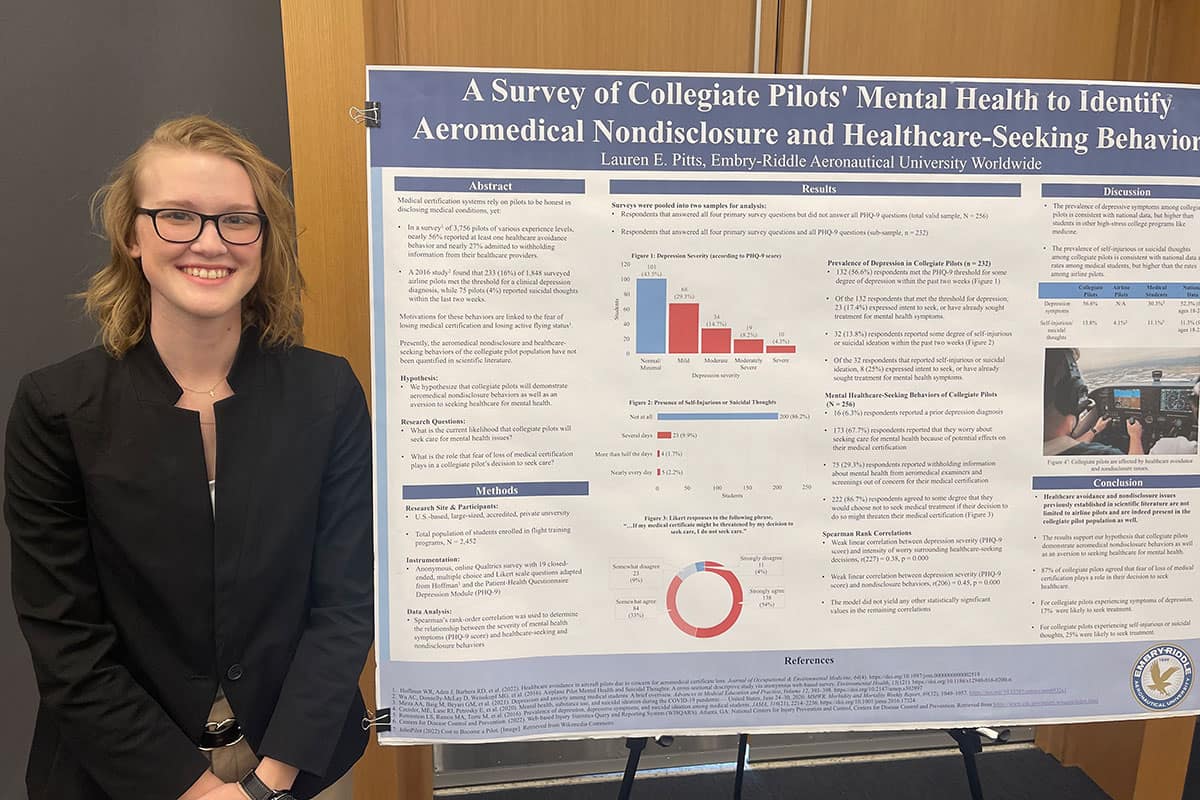 More than 100 students from Embry-Riddle Aeronautical University gathered recently to present research to the campus community and compete for grant funding. Their topics of focus varied greatly, with the top two winning projects each focusing on very different areas of aviation.
Worldwide Campus senior Lauren Pitts, for instance, who won the top prize in one of two undergraduate student sessions, explored how "healthcare aversion" and nondisclosure surrounding mental health diagnoses affect the student pilot population.
"Pilots' reluctance to seek care for health issues has been attributed to fear of losing medical certification and, subsequently, flight privileges," said Pitts, an Aeronautics major. "A better understanding of these topics would benefit the industry in that additional support systems could be implemented to help pilots access the care that they need."
Daytona Beach Campus student Jack Capuano, whose project explored the development and verification of a new search-and-rescue model for drone swarms, won first place in the event's other undergraduate session.
The event also featured graduate research. First-year Engineering Physics Ph.D. student Jared Nelson, also from the Daytona Beach Campus, led the pack in this category with his project that explores how metals interact with "high-voltage" electrical equipment, such as satellites.
Embry-Riddle's annual Discovery Day Research Symposium, hosted by the Office of Undergraduate Research, offers students the opportunity to showcase their work and network with fellow researchers.
"The vision for this event is to increase the visibility of the students' research achievement and increase opportunities for collaboration," said Ronnie Mack, director of the Office of Undergraduate Research. "We plan to increase the impact of the event for the foreseeable future, thanks to our great students who continue to exhibit 'Eagle excellence' through their research."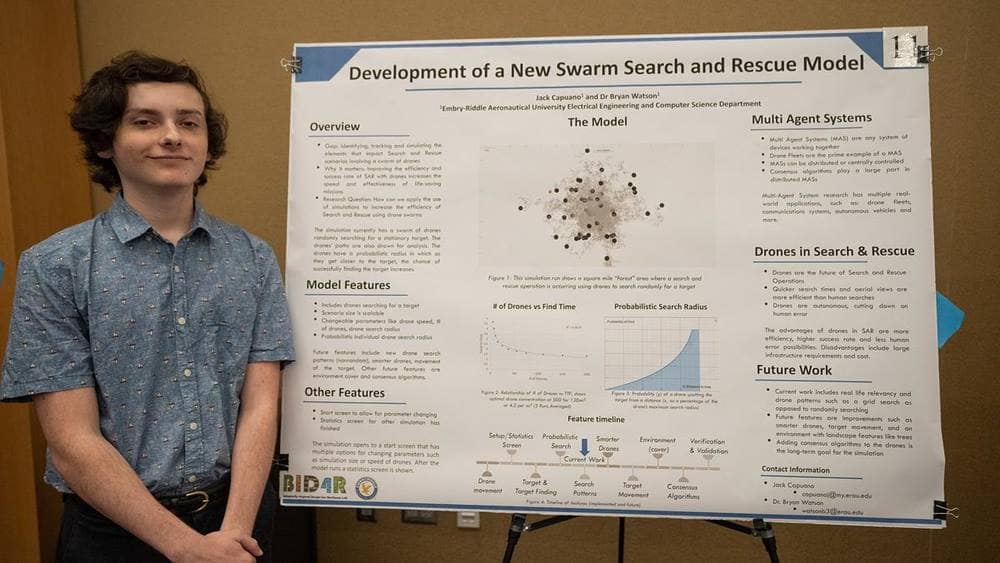 Jack Capuano, a junior Computer Engineering student, won first place in an undergraduate student session at Discovery Day. (Photo: Embry-Riddle/David Massey)
Bringing Mental Health to the Fore
Lauren Pitts dreamed of becoming a pilot.
"I did the aeromedical screening, got a medical certificate and went through most of my private pilot training right up to the point of taking my check-ride," said the Allentown, Pennsylvania, native.
Things were progressing smoothly until she ran into complications with her medical certification ahead of her first check-ride, which put things on hold. In an effort to earn a special issuance medical certificate from the Federal Aviation Administration, she underwent additional testing, submitted medical records and saw specialists.
"After more than two years in the special issuance pipeline, though, I made the hard decision to walk away from my dream of pursuing flight," she said. "I had received three denials, and there was no longer a viable path forward."
Pitts' experience, and her research, aligns with a message Embry-Riddle President P. Barry Butler, Ph.D., recently published in Aviation Week, in which he called to debunk the "right stuff" myth in aviation and embrace programs that offer support for mental health-related issues.
"Going through that experience opened my eyes to the issues of nondisclosure and healthcare-seeking anxiety that surround pilots, specifically in regard to mental health," Pitts said. "As my study and others have found, pilots are reluctant to seek care for their mental health because they fear losing their medical certificate and the arduous process of re-obtaining it once it's lost."
After graduation, Pitts plans to pursue a career in flight operations, combining her passions for aviation, research and meteorology.
Next-Gen Search-and-Rescue
When people are in trouble — say, lost in a national forest — Computer Engineering junior Jack Capuano wants to help search-and-rescue teams find them faster.
"Doing that directly saves lives, as people can only survive for so long in the wilderness without preparation," said the Jacksonville, Florida, native. "My research focuses on using a swarm of drones to achieve that goal."
Inspired by systems in nature that are biologically designed for resilience, Capuano began thinking about how birds and insects travel in swarms in support of collective goals. He wondered how the same concept might be converted to aeronautics, which led to the development of his research plan.
After graduation, Capuano hopes to work in engineering, either in robotics or modeling, and he has an internship lined up this summer with Northrup Grumman.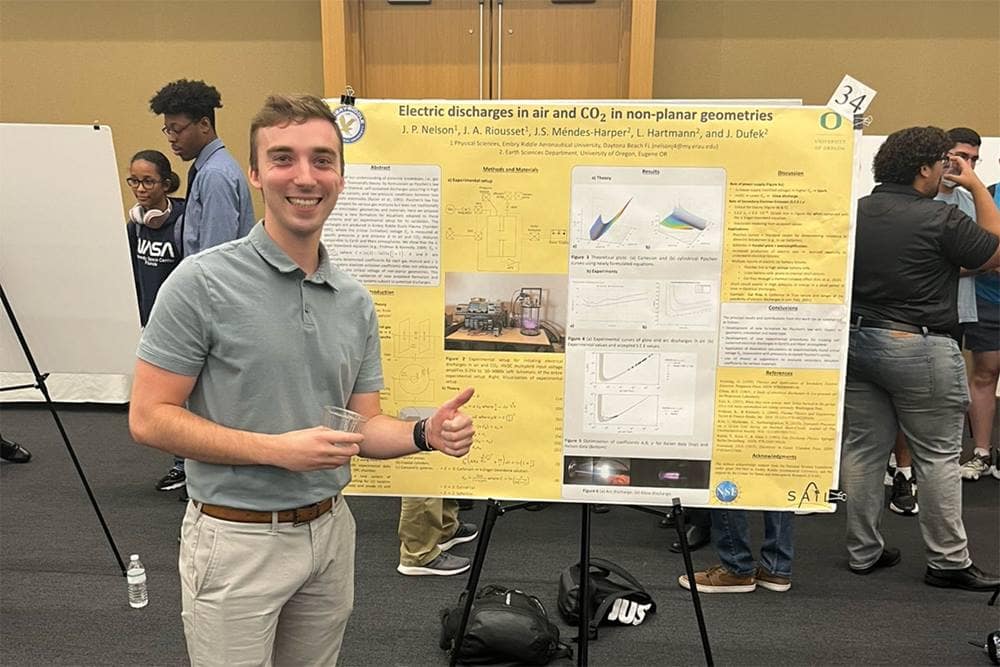 Ph.D. student Jared Nelson won the Graduate Category at Discovery Day for his research on how metals interact with "high-voltage" electrical equipment, such as satellites. (Photo: Jared Nelson)
Better Electric, Better Satellites
Jared Nelson was surprised to realize that the widely accepted theory for electrical discharges, a topic he has been researching since his years as a bachelor's student, is based on experimental factors determined back in 1915.
"I started my research into plasma physics with a focus on electric discharges during my undergraduate years because I wanted to make an impact in the aerospace industry and, specifically, working with satellites," said the Hillsborough, New Jersey, native.
Satellites are powered by solar arrays, he added; however, 49% of electrical failures occur at the solar array, and 12% at the battery. During these discharges, however, power supply cables can be damaged.
"This can be avoided if there was a more in-depth understanding of how these discharges occur and what truly drives them," Nelson said.
After graduation, he dreams of working in research and development for a major aerospace company, focusing on satellites and power systems.
Posted In: Applied Science | Aviation | Computers and Technology | Engineering | Research | Uncrewed Systems