Recent Graduate Publishes Embry-Riddle Research as Lead Author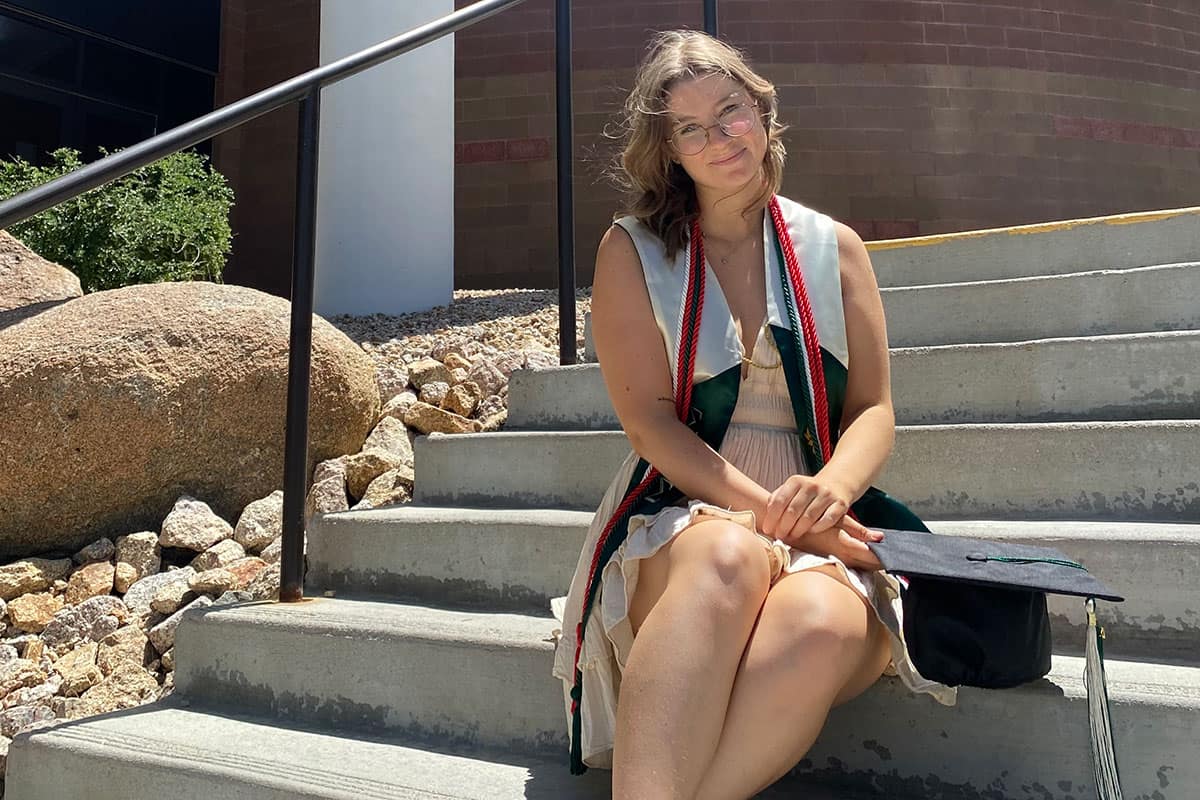 Embry-Riddle Aeronautical University research documenting a discovery into how stardust is formed by a quirky duo of massive, hotter-than-the-sun stars is being published in the Astrophysical Journal, and the lead author on the groundbreaking paper did the work as an undergraduate for her senior capstone project.
Megan Peatt, who graduated from Embry-Riddle in the spring with a major in Astronomy and a minor in Computer Science, was fascinated by the stars and space while growing up in Carroll County, Maryland. In high school, she realized that she "wanted to understand how the universe worked — binary systems, black holes, supernovae."
"It's hard work — and a lot of physics and math, though I secretly enjoy that," Peatt said. "But I thrive when I'm being challenged, and the passion I've always had for this field makes it worth it."
"Having a first-author paper fresh out of undergrad is a feat I'm grateful to have accomplished with the help of my mentor," Peatt said, referring to Dr. Noel Richardson, assistant professor of Physics and Astronomy. "This research has certainly helped me, not only by giving me invaluable experience with the research process but also by sharpening my programming skills and getting me more comfortable with scientific writing."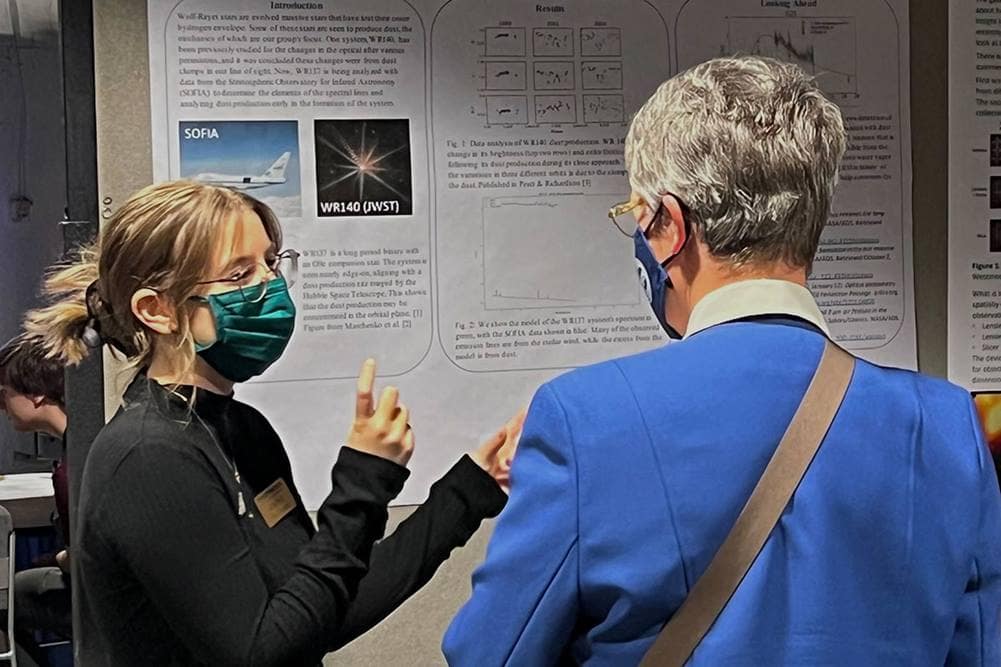 Megan Peatt explained her Embry-Riddle research on Wolf-Rayet star systems to famed astrophysicist Dr. Jocelyn Bell Burnell at PhysCon 2022. (Photo: Megan Peatt)
Peatt's research was based on data from NASA's Stratospheric Observatory for Infrared Astronomy (SOFIA). It was collected in 2021 and 2022 when Richardson and three Embry-Riddle students were able to travel aboard the flying observatory, which contains a large reflecting telescope in a modified Boeing 747. The plane goes above the water vapor in Earth's atmosphere, almost to 45,000 feet, allowing it to capture infrared light better than a ground-based observatory.
The research documented observations during a period when a star and its companion, known as Wolf-Rayet 137 (WR137), were closest to each other in their orbits. When this nearing of the stars occurs — in WR137's case, every 13 years — the violent stellar winds from the two stars collide, and the hot gas from the collision cools and condenses as it moves away from the stars. The combination of compression and coolness allows carbonaceous dust to form.
Peatt's careful analysis of the SOFIA data caught shifts in the properties of the stardust being emitted from WR137, providing insights into its composition and how the process works. Such insights can ultimately shed light on the evolution of stars and the formation of dust in the early universe.
The paper, which Richardson said was 95% produced by Peatt, was accepted by the Astrophysical Journal without revision and will be published during the fall term. It is currently available as a preprint on arXiv.
Peatt hasn't decided yet what her next pursuit will be, but she is enthusiastic to continue in astronomy.
"My next step is going out in the world and finding my place in the astronomy community, whether it be as a data analyst or pursuing my Ph.D. in Astrophysics," she said. "I'm very excited for the next chapter of my career."