Reality Checks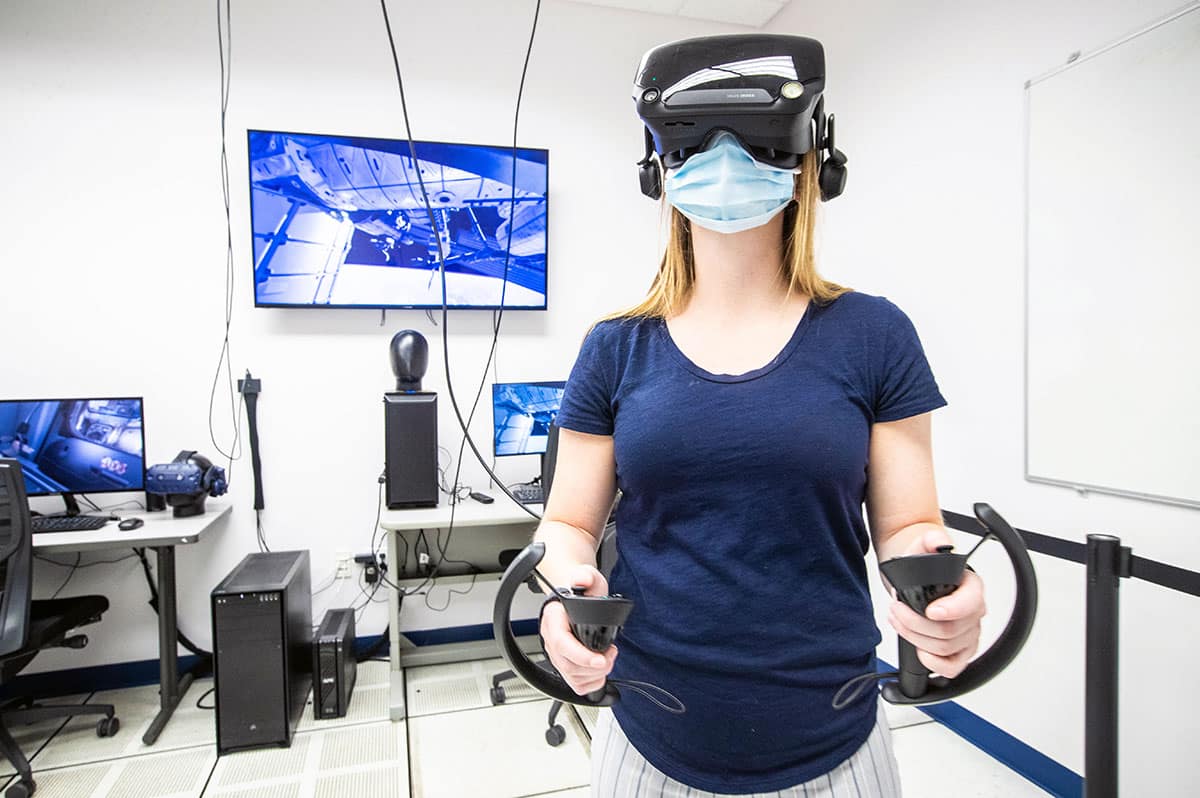 COA's Extended Reality Lab Enhances Students' Educational Experiences
Embry-Riddle students aren't able to actually board the International Space Station and check the spacecraft's systems and equipment for needed repairs.
But they can have that experience virtually, thanks to the College of Aviation's Extended Reality (XR) Lab, which is supported in part by the College of Aviation Dean's Fund for Excellence.
"The XR lab is really important to our future," said College of Aviation Dean Alan Stolzer. "We see it as a valuable addition and the future of training. We plan to use it throughout the college."
The XR Lab – which encompasses virtual reality (VR), augmented reality (AR) and mixed reality (MR) – opened in 2017. XR Lab Manager Trevor Goodwin leads the lab, which continues designing new applications to reach more students and programs.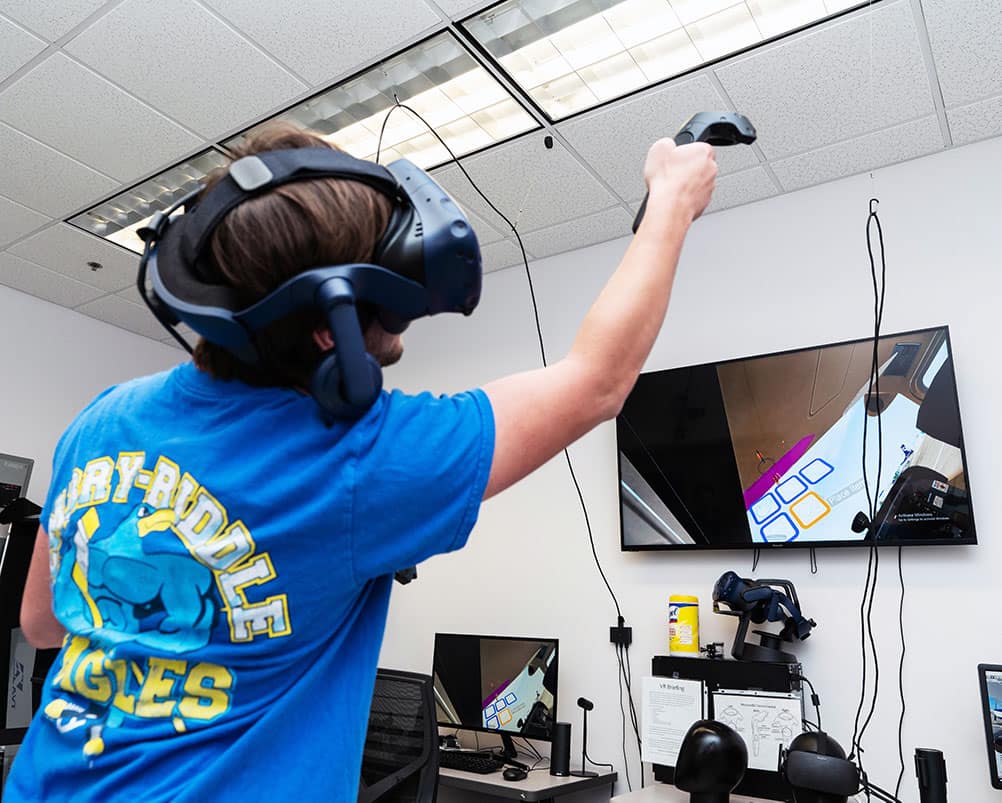 "XR gives students the opportunity to experience key situations and procedures with a meaningful degree of realism," said Goodwin.
The lab allows flight students to perform a simulated Cessna 172 pre-flight inspection from start to finish. Aviation Maintenance Science students in the XR lab use augmented reality to see engine assembly instructions as they work, then use mixed reality to sit in an aircraft and perform mock procedures using physical controls alongside virtual screens.
"The XR Lab enhances students' education and training," Stolzer said.
New Learning Opportunities for Faculty and Students
The XR Lab allows Embry-Riddle students to use extended reality to gain new educational perspectives and experiences.
For example, Daniel Byrnes ('20) a recent Spaceflight Operations graduate, said using XR technology helped him better understand mission control operations.
"By going from a classroom environment into the virtual modality, I gained a tangible understanding of the systems we were discussing in class, and it gave us a more creative perspective on how problems can be solved in orbital operations," Byrnes said.
The XR Lab allows faculty members to create a visual experience for students in order to better understand a problem, said Daniel Friedenzohn, the college's associate dean and an associate professor of aeronautical science.
"Faculty come to us with project proposals and our goal is to support them," Friedenzohn said.
For example, if there is a common maintenance issue in routine repairs, an AR application can emphasize the instruction step as the student performs the procedure and records the process for supervisors to view later. Additionally, the XR Lab permits students to practice procedures or repairs that may be difficult or impossible to do in real life, due to safety, availability or cost issues, Friedenzohn said.
An XR committee made up of faculty and staff evaluates current project proposals, and explores possible research opportunities. Each XR Lab application is later evaluated by a subcommittee of faculty members to ensure it is effective in advancing student learning.
Bob Thomas, assistant professor of Aeronautical Science, is always looking for ways to produce interesting learning experiences for his students, and the lab is a great resource.
"The experiences created in the XR Lab provide faculty with the impetus to push our courses to the next level," said Thomas.