Public, Private Partnerships Key to Combatting U.S. Air Force Pilot Shortage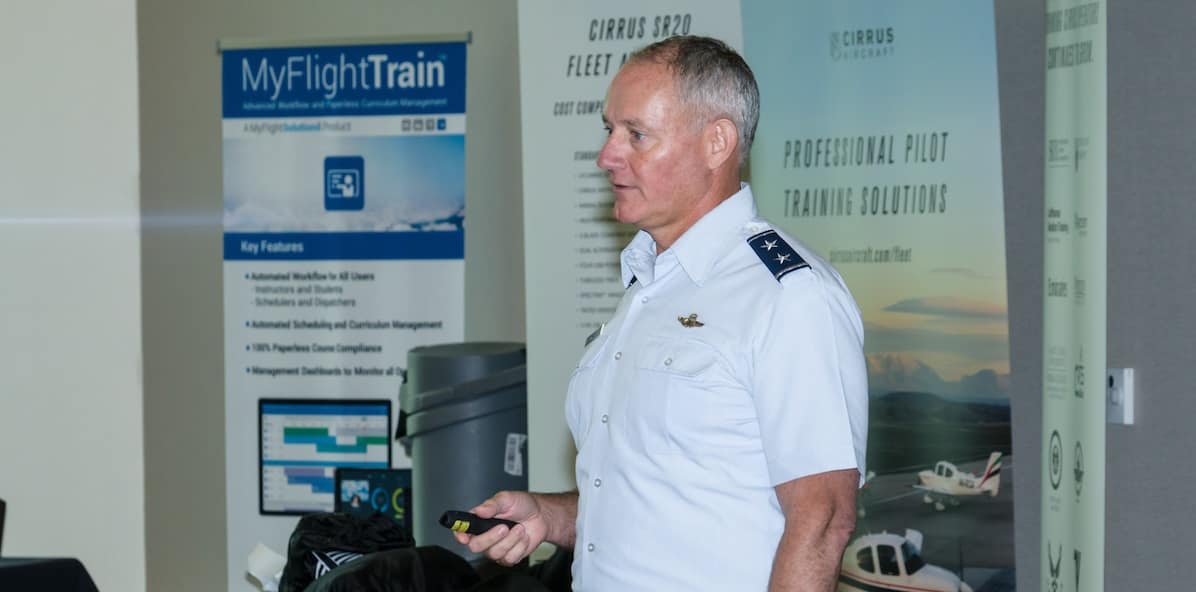 The U.S. Air Force and commercial airlines have distinct missions, but both share a similar problem – a pilot shortage. The U.S. military is taking a hard look at how to produce and retain pilots and is working with industry, educational institutions and others to combat this growing concern.
"We are all in this together," said U.S. Air Force Major General Tommy J. Williams ('81, PC) during the closing address of the National Training Aircraft Symposium (NTAS) at Embry-Riddle Aeronautical University in Daytona Beach.
While both the public and private sectors are grappling with pilot supply, Williams emphasized each field's vastly different work environments.
"It's not like an airline trip," Williams said of the military's 25 years of continued combat operations.
He spoke of a recent trip to Shaw Air Force Base where he met with some of the base's F-16 pilots.
"We have to change the dynamic of how we treat our aviators," Williams said. "These guys are running ragged. We beat them up. We have to if we're going to do our nation's work … But we have to change that."
Quality of life incentives such as larger bonuses and more time at home are just some of the measures the Air Force is working to secure for its aviators.
Williams, who is a mobilization assistant in Air Force Operations assigned to the Pentagon, is also a captain with Delta Airlines. He and other "two-uniform pilots" enjoy flexibility by working for both sectors. However, these pilots create some unpredictability for the airlines.
Working through these issues with the commercial carriers, he believes public and private partnerships can help balance pilot supply and demand. The National Pilot Sourcing Forum is one group the Air Force is working with to cultivate the next generation of pilots through public education and outreach, as well as training incentives and efficiencies.
"Flying in the U.S. Air Force is one of the most wonderful things in the world," Williams said. "We just need to give them (pilots) a reason to keep doing it."