Prescott's Golden Eagles Flight Team Wins 13th National Championship

The first thing you see when driving into Embry-Riddle Aeronautical University's Prescott Campus is a series of 12 prominent signs, one for every year the campus' Golden Eagles Flight Team has won the NIFA SAFECON (National Intercollegiate Flying Association's Safety and Flight Evaluation Conference) National Championship. Following the results of the 2021 competition, announced May 22, it's time to add number 13.
NIFA SAFECON is to collegiate aviation what the Super Bowl is to the NFL or the Stanley Cup is to the NHL. Twenty-eight teams from universities across the country competed this year in a variety of events, including Aircraft Preflight Inspection, Aircraft Navigation, Aircraft Recognition, Computer Accuracy, Ground Trainer and others.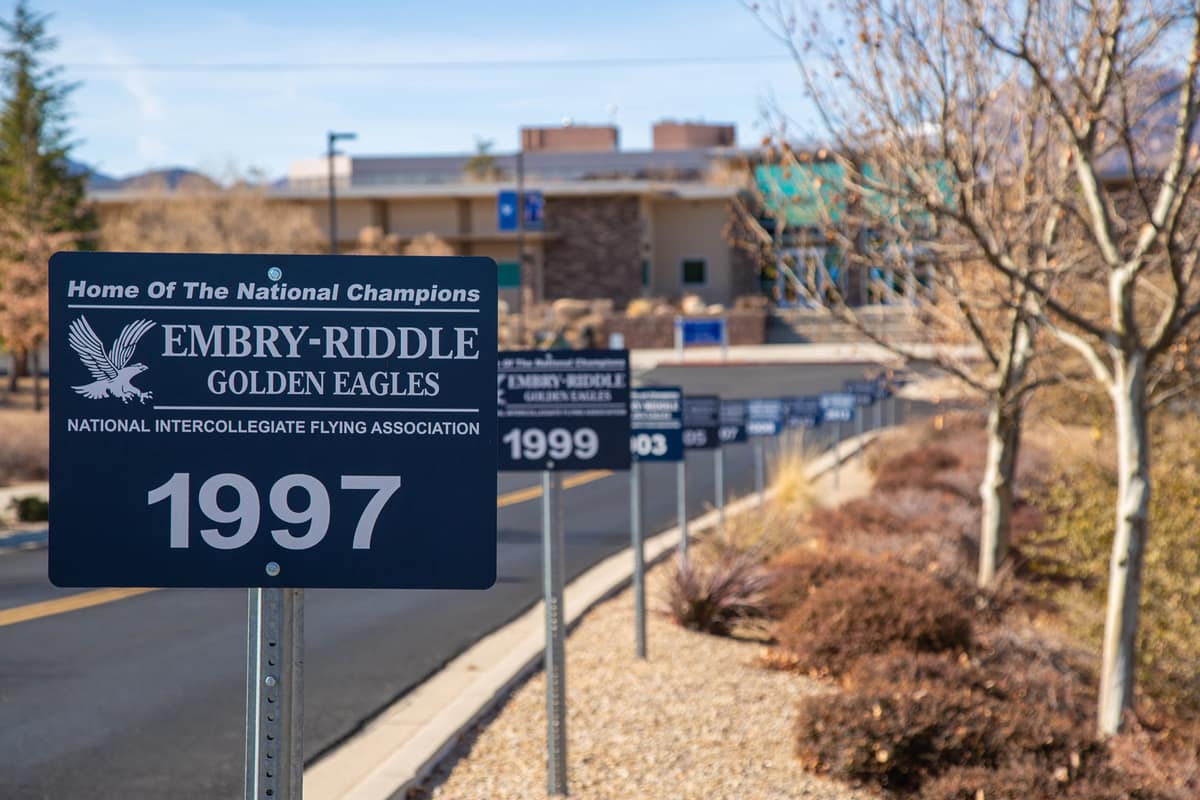 In addition to the team's national championships, the Golden Eagles have won 35 consecutive regional championships.
"I have been a member of the team since 2016, and in my time here I have never seen the team work harder than they did this year," said team captain Colin Ho-Tseung.
The Covid-19 pandemic posed the biggest challenge to the team this year, affecting practice schedules, protocols and procedures. Additionally, competition, normally held in-person by one of the competing universities, took place virtually.
"I am so proud of the team's level of perseverance and the many obstacles that we had to overcome in the last 10 months," said head coach Shaun Shephard. "There were numerous times where we didn't know what was going to come — we had an extended winter break, our regionals were pushed to February, all of our meetings and practices were socially distanced and we had very little time for the team to come together. We were taken out of our comfort zone."
Students from any Embry-Riddle degree program are also welcome to join the Golden Eagles. Although the majority are Aeronautical Science students, several Engineering, Global Security and Intelligence, and Air Traffic Management students are also part of the team.
"The next goal for our team will be to figure out how to defend our title," added Ho-Tseung. "Next year's officers have already begun meeting to discuss strategies and to recap this wild past year."
View the final results of NIFA SAFECON 2021, including individual performances.
The 2022 NIFA SAFECON Nationals are scheduled for next May, in-person at The Ohio State University in Columbus, Ohio.
Under the direction of head coach Shaun Shephard, coach/team mechanic Farrell Harris and faculty advisor Dr. Juan Merkt, members of the Golden Eagles Fight Team are listed as follows:
Matthew Arnovick (Chico, California)
Jon Ballard (Austin, Texas)
Zoltan Belady (Seattle, Washington)
Joseph Bryant (Thousand Oaks, California)
Camden Dellar (Wasilla, Alaska)
Natalie Dow (San Antonio, Texas)
George Fiscu (Dalton, Massachusetts)
Jamie Gallagher (Austin, Texas)
Logan Haynes (Houston, Texas)
Colin Ho-Tseung (Pleasanton, California)
Willem Hunt (Chico, California)
Cami Johnson (Aurora, Colorado)
Brian La Fetra (Sunnyvale, California)
Karen Lau (Honolulu, Hawaii)
Carol Martin (Las Flores, California)
Luke Miller (Cheyenne, Wyoming)
Hayden Morse (Scottsdale, Arizona)
Karl Neserke (Denver, Colorado)
Douglas Niemela (Snohomish, Washington)
Erich Norris (Phoenix, Arizona)
Hunter Nudson (Colorado Springs, Colorado)
Hayden Owen (Las Vegas, Nevada)
Rowan Phlieger (Albuquerque, New Mexico)
Michael Reitmeyer (Mooresville, North Carolina)
John Ritter (Woodlands, Texas)
Matthew Rodgers (Scottsdale, Arizona)
Richard Santi (Winnetka, Illinois)
Anna Scott (Henderson, Nevada)
Zachary Sornoza (Phoenix, Arizona)
Nick Tan (Ellicott City, Maryland)
Kenrick Vail (Tucson, Arizona)
Charlie Vandersteen (Salt Lake City, Utah)
Jonathan Van Schooten (Fullerton, California)
Josh Wiese (Valley Center, California)
Gabe Witt (Monroe, Wisconsin)
Learn more about the 13-time National Champion Golden Eagles Flight Team. Or, follow the team on Instagram, @goldeneaglesofficial, or on Facebook, @TheGoldenEaglesFlightTeam.
Posted In: Aviation