Embry-Riddle Students Receive Prestigious Fellowship from National Science Foundation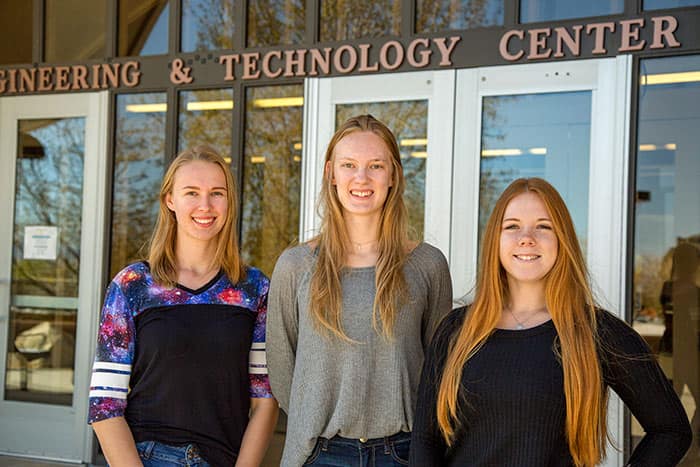 Three aerospace engineering students from Embry-Riddle Aeronautical University's Prescott campus and one from Embry-Riddle's Daytona Beach campus have been awarded or received honorable mention for the National Science Foundation Graduate Research Fellowship Program (NSF GRFP).
Graduating seniors Renee Spear and Rachel Rise will receive a three-year stipend of $34,000 a year for graduate school as well as $12,000 a year to the school of their choice, with all tuition and fees waived. Graduating senior Julia Mihaylov was also recognized for her outstanding accomplishments by receiving an honorable mention.
The prestigious NSF GRFP is a highly competitive fellowship program that supports outstanding graduate students in the STEM (science, technology, engineering, and mathematics) fields by covering tuition and offering a monthly stipend covering cost-of-living for three years of graduate studies. Last year, there were more than 12,000 applicants for only 2,000 fellowships.
Spear plans to attend the University of Colorado (CU) to pursue her Ph.D. in Astrodynamics, focusing on research in mission and trajectory design to produce tools for interstellar space missions. Ultimately, she hopes to make an impact on spacecraft and mission design-- propelling the technology, concepts, and capabilities forward through the optimization of existing procedures and exploration of new avenues in software, technology, designs, and concepts.
"I am grateful to have received this award," said Spear. "The NSF GRFP allows me to pursue my dream of higher education directly after finishing my undergraduate career which will put me on the path to my dream job at the Jet Propulsion Laboratory in Pasadena, Calif., working on interstellar mission trajectory design and optimization faster than I originally thought possible."
Rise is still deciding where to pursue her graduate education. She is considering options at Massachusetts Institute of Technology (MIT) and University of Colorado (CU). At MIT, she would study safety-critical systems where failure can result in loss of life or property. At CU, she would study behavioral and biomedical issues in extreme environments such as microgravity.
"This fellowship opens options that were not previously available to me," said Rise. "I plan to use the funding to pursue my Ph.D. in Aerospace Engineering. Then post-grad school, I hope to make a career at a national lab or NASA space center."
"Renee, Rachel and Julia are all outstanding students who are well deserving of this award," said Dr. Kaela Martin, assistant professor of Aerospace Engineering and faculty mentor at Embry-Riddle. "They have all received the outstanding woman in aerospace engineering award from this campus. I have no doubt that the three of them will have outstanding careers in the future whether as researchers, technical experts, or managers. Their future is bright, and I cannot wait to see what they will accomplish."
Armando Collazo Garcia, an aerospace engineering major at Embry-Riddle's Daytona Beach, Fla. campus was also recognized by NSF GRFP, receiving an honorable mention.
For more information about Embry-Riddle's top-ranked Aerospace Engineering program, go to: https://erau.edu/degrees/bachelor/aerospace-engineering.
To learn more about the NSF GRFP, visit: https://www.nsfgrfp.org/.
Posted In: Engineering | Research | Space