Prescott Campus Educator Earns National Honor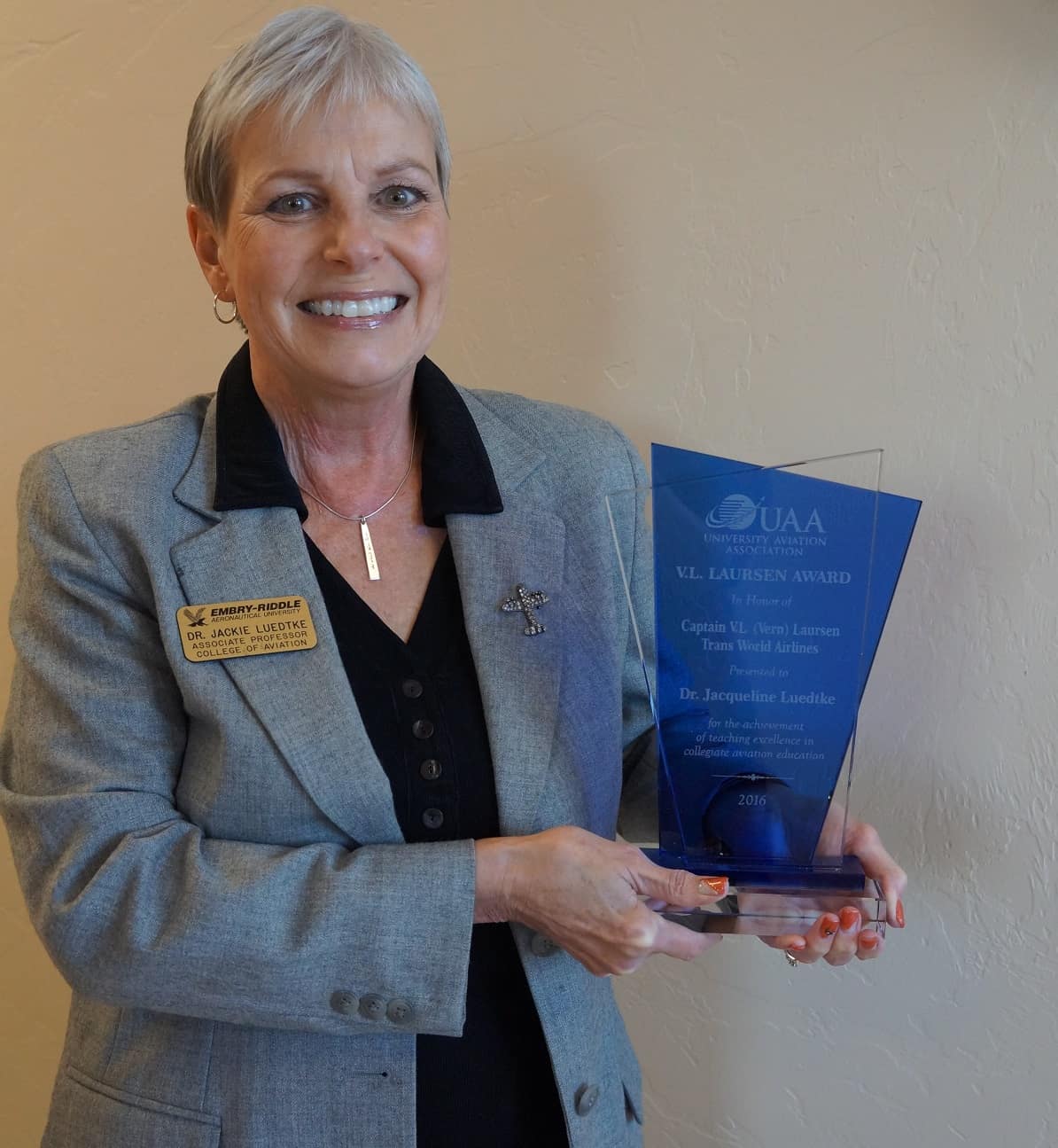 Dr. Jackie Luedtke of Embry-Riddle Aeronautical University's Prescott, Ariz., Campus recently received the V.L. Laursen Award for "outstanding contributions to aerospace education" by the University Aviation Association (UAA).
The award, which is granted to one professional educator annually by the 69-year-old representative body of Collegiate Aviation Education and sponsored by Airlines for America (formerly Air Transport Association), was presented to her on Sept. 30 in Omaha, Neb.
Luedtke, an Associate Professor of Applied Aviation Sciences in the College of Aviation, joins other current and former Embry-Riddle faculty who have received the award in previous years including Dr. Henry Lehrer (1993), Dr. Mike Wiggins (1997), Dr. Brent Bowen (1998) and Dr. Mavis F. Green (2000).
"I am so honored to be recognized by my friends and colleagues of the University Aviation Association by being nominated for and awarded the V.L. Laursen Award," said Dr. Luedtke. "I am proud to have been associated with the UAA for over 26 years and what the UAA represents to our industry."
Each year, the Laursen Award is granted to professional educators who are University Aviation Association actively involved members in good standing and who have at least five years actual experience in the aviation education profession and who have made outstanding contributions to aerospace education. Nominations are made by UAA Professional, Associate, Corporate, or Institutional members. This award is presented in honor of TWA Captain Vern L. Laursen, Staff Vice President-Flight Operations Training who was well-known in the aviation community for his contributions to flight training, equipment and procedures including evaluation of flight simulators and visual system applications.
"This award, which recognizes national-level contributions to collegiate aviation education, is well-earned and well-deserved," said Prescott Campus Dean of the College of Aviation Dr. Brent Bowen, who is a past recipient of the award. "Dr. Luedtke embodies the full intent of excellence that this award honors."