Pilot Moms Say You 'Can' Have It All at Women in Aviation Panel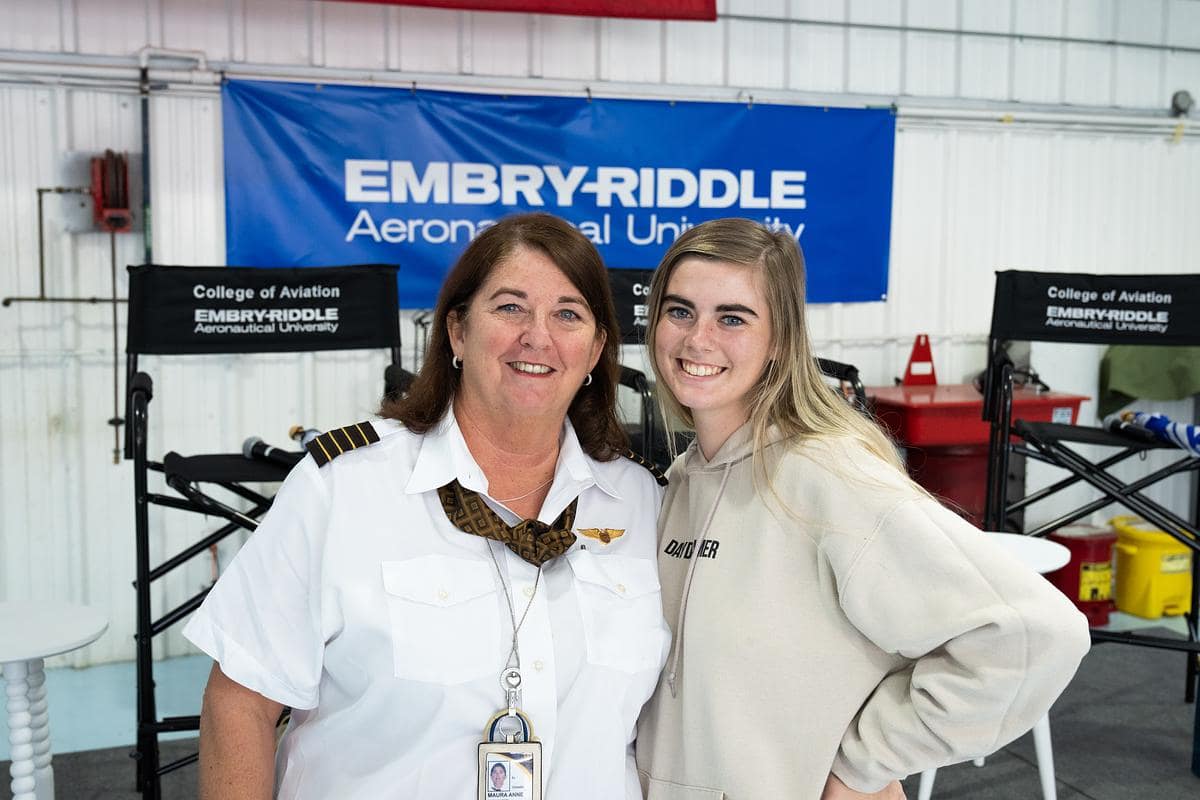 With plans to graduate in December, Embry-Riddle Aeronautical University Flight student Caroline Schmid is looking forward to launching her career as a cargo pilot — as well as following in the footsteps of her mom and fellow Eagle alumna, Maura Schmid ('84), who has flown for UPS the past 34 years.
"Growing up with a mother who is a pilot was very inspirational," said Caroline. "Because she is a woman, she shows me every day that … I can do it, too."
Narrowing the gender gap has become a priority for many aviation firms today, making the path to a successful career smoother for upcoming pilots like Caroline. But the field wasn't always so accessible.
Female pilots Maura Schmid, Meagan Gilbert, Christina Halli and Kim Oberst recently shared their experiences balancing work and family at the Pilot Moms Panel, hosted at Embry-Riddle's Daytona Beach Campus. The group — moderated by assistant professor of Aeronautical Science Samantha Bowyer, who is also a pilot and mother of two — exchanged stories from their pasts: passing up promotions to have more time at home, not having maternity uniform options while pregnant and constantly cobbling together childcare.
"Things have definitely evolved," said Maura Schmid, who now has four adult children.
A 1984 Embry-Riddle graduate, she was hired at age 26 by UPS and lives in Louisville, Kentucky, with her husband, George. While rising through the ranks, she said that she delayed being upgraded to captain until their children were older, and she tried her best to be home at night and for holidays and special events.
"I didn't go back to international flying until my youngest child, Caroline, was a student here," she said.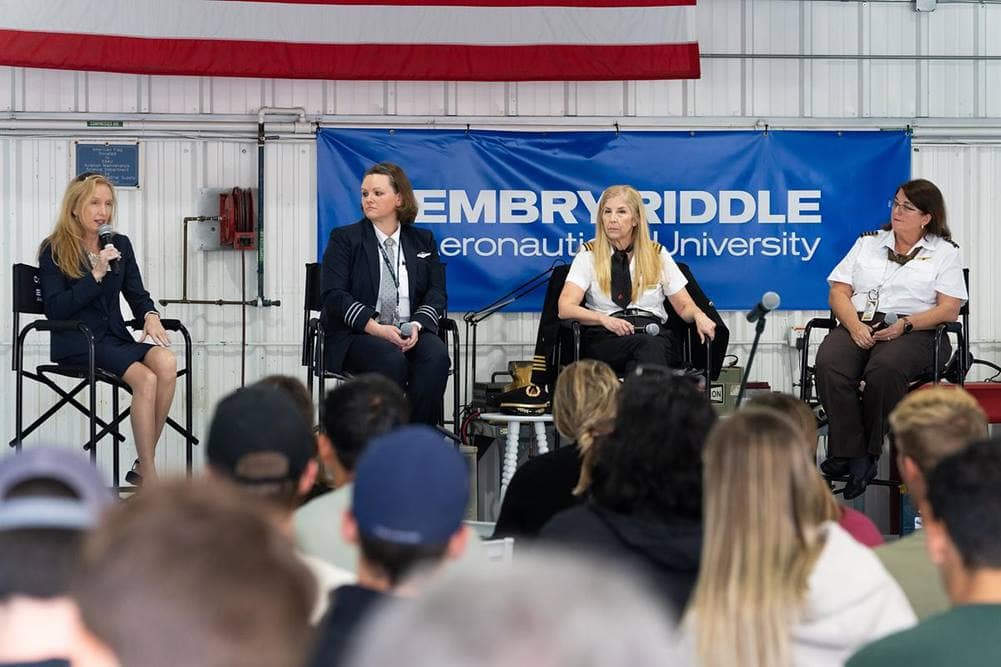 Female pilots Kim Oberst, Meagan Gilbert, Christina Halli and Maura Schmid shared their experiences juggling motherhood and careers at the Pilot Moms Panel, held April 12, on Embry-Riddle's Daytona Beach Campus. (Photo: Embry-Riddle/Bernard Wilchusky)
Halli, an Airbus 350 captain based out of Detroit who has flown for Delta Air Lines for the past 31 years, has two adopted children, both of whom are now grown up. Married 28 years to a non-pilot, Halli said she took up to 12 weeks of work off after each adoption and declined promotions for years to be home more with her family.
"I stayed a senior pilot for 18 years because I had more choice with my schedule," said Halli, who lives in Erie, Pennsylvania.
When she began her career, she said she met few female pilots who were also mothers. But now, airlines have increased their benefits for both women and men to take parental leave and spend more time with family, she said. Plus, she added, technology has made it much easier today to stay connected.
"I think that myth, that paradigm that 'You can't have it all' is completely busted with the next generation," said Halli.
Meagan Gilbert, a fleet training manager and Global 7500 pilot with NetJets Aviation, has twin five-year-old sons and is currently pregnant with a third child, due in August.
Living in Columbus, Ohio, her job allows her to be home most nights. She met her husband in flight school, but he has since agreed to put his career as a pilot on hold to care for their children, which she said she appreciates.
"(My husband) tried being a stay-at-home dad and found out that he loved it," she said. "And it really has been working for us. So, he's been home with the boys since they were born."
Oberst, who teaches Blackhawk Helicopter systems and simulation at Flight Safety International, said both she and her husband are pilots. She was a helicopter pilot in the U.S. Air Force and also served in the Air Force Reserves from 2006 to 2017.
Living in Jupiter, Florida, she said she misses flying regularly, but she chose to be home with her children, who are now teenagers.
"It's all about working as a team with your partner," she said. "You definitely have to work together as a family."
In spite of their challenges, the panelists agreed that they love being both a pilot and a mother, and they demonstrated with their own lives that there are many ways to be both simultaneously.
"We're showing our children they can do anything," said Maura Schmid.
The Pilot Moms Panel was organized by Michele Summers Halleran, a professor in the Department of Aeronautical Science and director of Diversity Initiatives for the College of Aviation. A video of the panel can be viewed here.
Posted In: Aviation